Recipes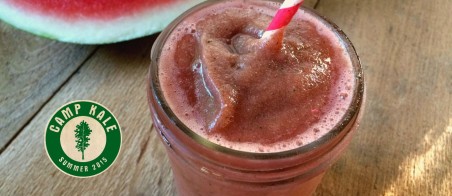 Watermelon Brain Freeze
This requires a fair amount of watermelon, so make sure you buy a big one (or get two).
That way, you don't have to be greedy and tell your kids there's no watermelon left — because you're secretly saving it for happy hour.
Ingredients
4 cups of cubed watermelon (freeze ahead)
1 romaine heart, chopped
3/4 cup of coconut water or filtered water. If adding vodka, only use 1/4 cup of coconut/water to start.
the juice from one lemon
a couple sprigs of fresh mint (leaves only)
Optional: 4 ounces of vodka — give or take, depending on how strong you like your drinks.
Directions
Step 1

Prepare the watermelon — wash the melon well and dry. Cut into big slices, and then into cubes, discarding the rind. Place the watermelon into a ziploc bag or airtight container, arranging the watermelon in a single layer. Freeze for several hours or overnight (or while you're at work).

Step 2

Place the frozen watermelon cubes, romaine, coconut water (or water), lemon juice, mint leaves and vodka (if using) into a high speed blender. Process until slushy, adding a small amount of water to reach desired consistency.

Step 3

Garnish and serve — salud!