Recipes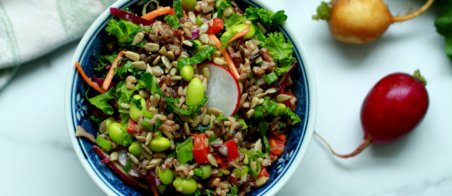 Wild Rice and Edamame Salad
Prep-ahead grain salads are simple to make, and can be a great weekday staple for an easy lunch or dinner.
In addition, they keep well in the refrigerator for a few days, meaning you can make a batch on the weekend and have a ready-made meal at your fingertips all week long.
Related recipe: Ginger Miso Dressing
NOTE: I recommend making a double batch of the Ginger Miso Dressing. If you have extra, you can use it for green salads throughout the week. 
Ingredients
1 cup wild rice blend, rinsed
Double batch of Ginger Miso Dressing (see link in the recipe intro)
6 radishes, sliced thinly with a sharp knife or mandoline
3 cups of kale, stems removed and sliced into ribbons
3 carrots, peeled into strips
1 bunch scallions, thinly sliced (green and white parts)
1 cup frozen edamame (shelled), cooked according to package instructions
1/3 cup toasted sunflower kernels
Flaky sea salt (i.e. Jacobsen's Salt Company) and ground pepper, to taste
Directions
Step 1

First, prepare the Ginger Miso Dressing (see recipe link in the intro) and set aside.

I recommend making a double batch so you'll have enough dressing for the salad, and some extra for other salads throughout the week.

Step 2

Cook the wild rice blend according to package instructions. I like to cook mine in the rice cooker, using the "brown rice" setting. Set aside and let cool.

Step 3

While the rice is cooking, cook the frozen edamame according to package instructions. Basically, you'll be dropping the frozen edamame beans into boiling water and reducing to a simmer. They only take a few minutes to cook. Once cooked, drain the beans and set aside.

Step 4

To assemble the salad, add a few tablespoons of dressing into a large mixing bowl, then add the grains, edamame, and the rest of the ingredients. Toss gently with a rubber spatula. Taste as you go along, and add more dressing if needed.

Step 5

To serve, garnish with the sunflower kernels and flaky salt (if needed). You may not need the salt since the miso from the dressing has a fair amount of salt already.

Step 6

Serve immediately, or store in the refrigerator for up to 3 days. Before serving, let the salad sit on the counter for awhile to come up to room temperature. Drizzle with extra dressing if needed.
Notes
Bonus! Get your free Healthy Meal Planning and Prep Guide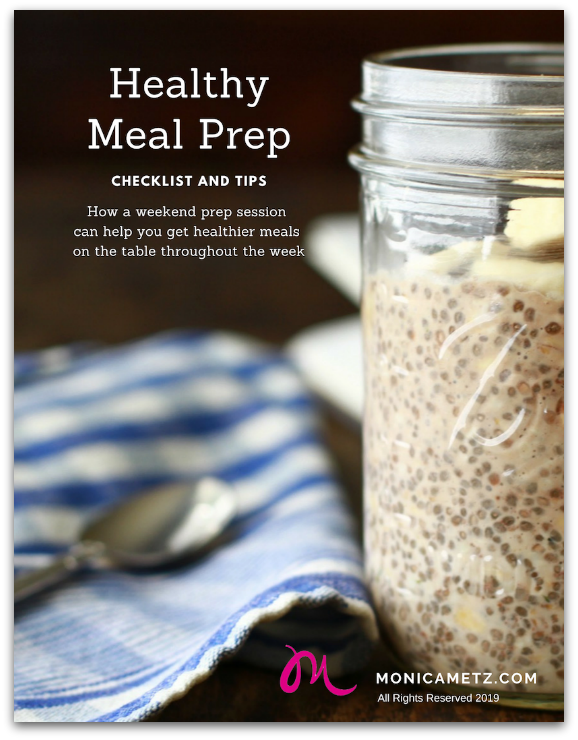 Life is busy, and weekends can be super busy, whether you're doing errands, having fun, or dedicating your entire weekend to youth sports LOL.
However, if you make the time for meal prep, you won't regret it. Especially when you realize it takes you only 15 minutes to make dinner during the week, instead of the usual 30-60.
Here's even more good news: I created a new freebie for you! It's my downloadable and totally printable Healthy Meal Prep Guide.
Inside, you'll find more details about my approach, as well as:
Shopping and meal prep strategies.
A blank meal planning template.
Sample meal plans.
Downloadable and printable shopping list.
Weekend prep session checklist.
Ready to download the guide?
Great!
Just click here to get your Healthy Meal Prep Guide.