Are you trying to live healthier habits this year? If so, I've got you covered! Throughout January, my healthy living segments on Fox-12 Oregon's "More Good Day Oregon" show will explore healthy and delicious ways to detox.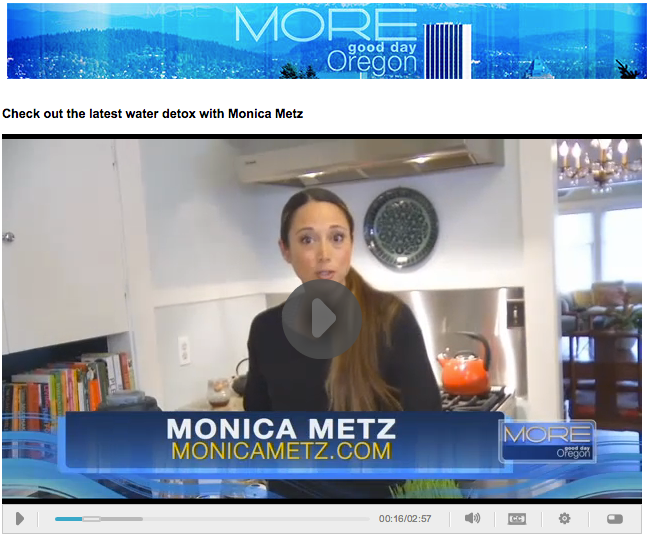 I've even created a special 3-Day Detox Guide, which you can download using the link below.
Getting Started: Hydrate!
One of the most important steps is to get your hydration levels on point.
Most people know they "should" be drinking about 64 ounces of water a day (eight 8-ounce servings), but come up short when it comes to hydrating properly.
Why? Most people forget — they get busy, forget to keep water on hand, etc.
And others don't like water, or think it's boring — especially if they're used to drinking sweetened beverages.
So here are a couple of tips to help with both issues:
#1: Hydrate early (and then often)
Right after you wake up in the morning, drink 8-12 ounces of water right off the bat. This will help wake you up, activate your digestive system, and hydrate your body after a night of sleep. If you drink coffee, I recommend having another 8-12 ounces after you have your coffee. Coffee can be dehydrating, and it can be acidic on some people's systems. Water can help restore the balance.
Next, I recommend the following "water breaks" throughout the day: mid-morning, 20 minutes before lunch, mid-afternoon, late afternoon, 20 minutes before dinner, and sometime before bedtime. And you'll want to drink extra if you're enjoying sweaty workouts. Why water before mealtime? This helps fill up your belly a little, and can help prevent overeating.
#2: Make infused water
If you're used to drinking sweetened beverages, then water may initially be boring to your palate. To spice things up, I recommend making fruit-infused water.
To prepare, fill a large mason jar with water, then add sliced fruit and/or herbs of choice. Secure the lid, and refrigerate overnight. In the morning, you'll have delicious, vitamin-infused water, without the sugar or additives! The 3-Day Detox Guide includes a list of my favorite ingredients, including sliced oranges and a sprig of rosemary. Yum!
Download the Free 3-Day Detox Guide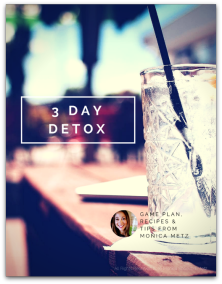 Download your free 3-Day Detox Guide, as featured on More Good Day Oregon. This free, 40-page eBook (PDF) includes:
Game Plan: Tips and guidance on how to prepare for your detox
Recipes: 18 delicious and nutrient-packed recipes for smoothies, soups, salads, and snacks
Meal Plan: Recommendations for breakfast, lunch and dinner.
To download your free PDF, simply click on the pink box below.