Today's post is all about how to have a healthier holiday season.
I know, I know. Health and holidays aren't exactly two words that typically go together.
However, this year presents an interesting opportunity for us have a healthier November and December.
Why?
Let's be honest. This holiday season is going to look real different.
I'm guessing most of us will be traveling less.
We'll be spending less time out shopping.
We'll be going to fewer parties and gatherings.
And if we do go to some gatherings, they'll probably be outside… so we won't be at the parties as long (assuming you live in a cold weather climate like I do).
And while all of this sounds depressing at first glance, I'm always looking for the silver lining.
Why this year is a good time to have a healthier holiday season
So here it is: because we're spending less time running around and partying this holiday season, that means we'll probably more time on our hands, right?
In addition, given the current circumstances (because: pandemic), it'd be a good time to strengthen our immune systems.
Here's what I'm proposing…
Given these unique circumstance, what if we made this our healthiest holiday season yet?
I mean, have most of us even ever had a healthy holiday season?
No!
Most of us go crazy… too many parties… too many cookie exchanges… too many cocktails.
We spend the holiday season amid a big, albeit exciting, blur of parties and treats and boozy drinks.
And then, when it's all over, we set foot into the new year: hungover, bloated, and thinking, "this has got to stop."
Cue the new year's resolutions. The new diets. Dry January.
Not that resolutions and a healthy diet and dry January are bad things… but what if you didn't need them as much this year?
What if your holiday season involved more healthy meals, less drinking, and more rest than you've ever made time for before?
How do you think that would feel? During the holidays… and after?
I think it would feel freaking amazing.
That's why I recorded this video (and audio) for you.
Let's do this. Let's make this holiday season our healthiest yet.
How to have a healthier holiday season
Ready to dive into my top tips for making that happen? Check out the video and audio below!
Or listen to the audio, just like a podcast
Before I sign off… have you signed up for my free Plant Powered Starter Kit? If not, please do! It would be a great resource for you to have on hand for your healthy holiday season.
Click here to download your free Plant Powered Starter Kit.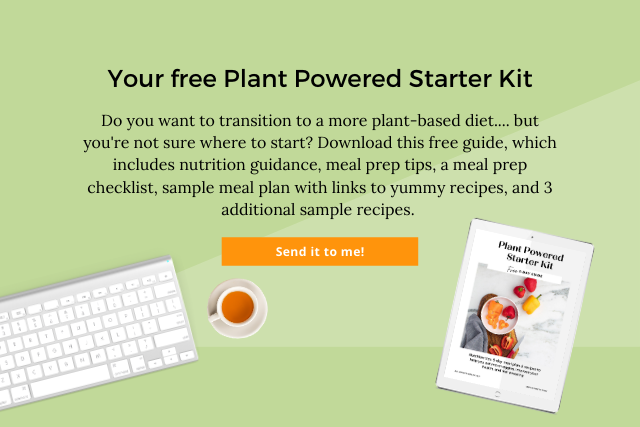 I hope today's post — and my free Plant Powered Starter Kit — help you enjoy your healthiest holiday season yet!