Back in my 20s, I thought I was living my dream life. I was working for the Portland Trail Blazers, I was on TV, and I was finally able to shed some of the awkward shyness that clung to me throughout high school and college.
However, my self care was atrocious. I was working long hours, living on arena food, and completely sleep deprived.
Also, I hardly ever cooked at home — the one kitchen appliance I splurged on was a Fry Baby… so I could make Buffalo wings!
No wonder I struggled with migraines, acne, IBS, and high cholesterol — and eventually, infertility and pre-diabetes.
As you can see in this photo, I was very serious about my work (and my purple eyeshadow, apparently).
Self care? Not so serious.
I didn't find the healthier path until years later, when I gave birth to our son. As an "older" mom, I realized that I needed to get serious and start taking care of myself, for real.
And even though my life looks much different than it did when I was mainlining coffee and pizza, I still love fried food — french fries, fried brussels sprouts, fried cauliflower. I'm not that picky.
Fortunately for me, the air fryer has been invented, and I can get my fried flavor and texture, without all of the unhealthy oil and frying.
What I Love About the Air Fryer — and Air Fryer Tofu
One of my favorite things to make in the air fryer is tofu.
After a proper marinade and a few minutes in the air fryer, the tofu comes out seared and golden brown. Crispy on the outside, and tender on the inside. So delicious when you add it to a bowl of veggies and noodles or rice, alongside a drizzle of peanut sauce or sweet chili sauce.
The air fryer makes quick work of the tofu, and anything else you cook in it. The tofu, which would take about 35-45 minutes in the oven, only takes about 8-10 minutes in the air fryer.
Big time saver, which is so important when trying to get dinner on the table on a busy weeknight.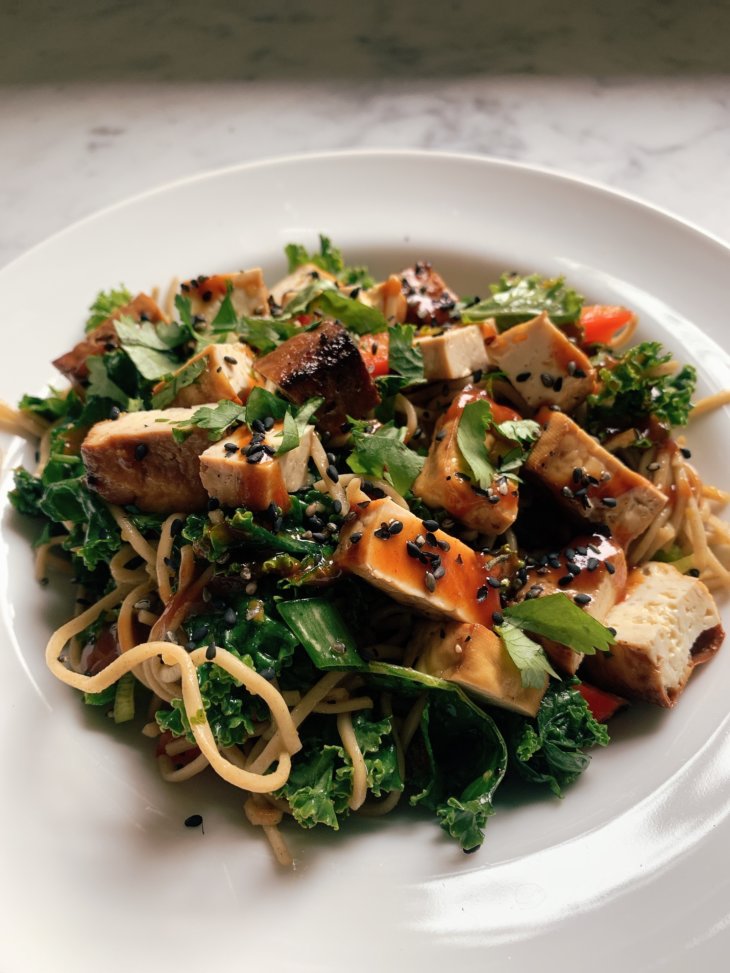 This Air Fried Tofu (or the oven baked version) is such a simple recipe, which makes it a weekly staple in our household.
Because when it comes to cooking, I want things to be healthy, flavorful, and easy.
Extra emphasis on the "easy."
I made this recipe for a cooking segment on More Good Day Oregon this week. And now you can watch as I make this recipe step by step.
I also included an oven-baked version of this recipe in case you don't have an air fryer.
And if you're putting an air fryer on your holiday wish list this year, you may be curious about the types of air fryers that are available.
For the record, I got the Cuisinart model because it doubles as a toaster and convection oven — but there are smaller models available at Costco.
I hope you enjoy this recipe for Air Fryer Tofu. Let me know if you try it!
Get your free Plant Powered Starter Kit
And be sure to download my free Plant Powered Starter Kit if you haven't done so already. It has lots of cool resources, such as:
Meal planning template.
Meal prep checklist.
Sample meal plan with recipe links.
Shopping list.
Bonus recipes.
Just click here to grab your freebie.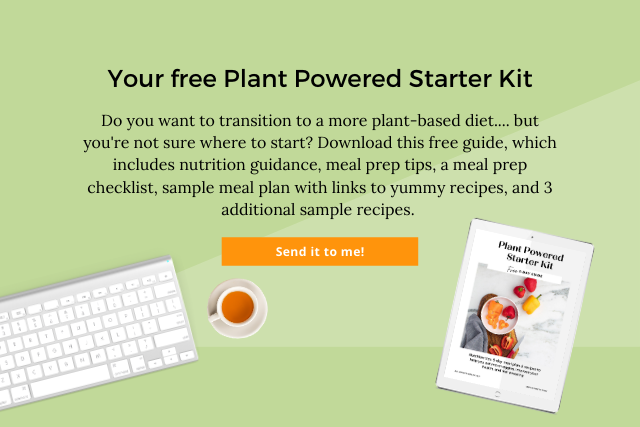 Wishing you peace, love and broccoli,