Recipes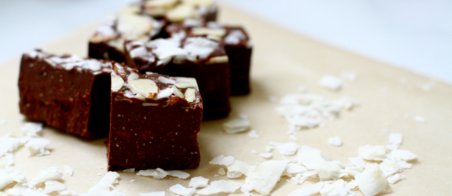 Almond Coconut Freezer Fudge Recipe
This Almond Coconut Freezer Fudge recipe is super quick and easy to make — and it only requires a handful of ingredients!
This fudge is a great recipe to make with kids. Much easier than making fudge with a candy thermometer, etc. Plus, we're using dark chocolate (less sugar than milk chocolate), almond butter, and coconut oil.
It's still an indulgent sweet treat, but it's a lot healthier than most store-bought sweets.
If you're looking for some other chocolatey treats, check out my other recipes such as:
Ingredients
1 1/2 cups dark chocolate chips (I really like the plant based chocolate chips from Enjoy Life brand)
½ cup unsalted, natural creamy almond butter
Optional: a teaspoon or two of maple syrup or coconut nectar for additional sweetness
1/4 cup coconut oil, melted
For garnish: coconut flakes, sliced almonds, and a pinch of flaky sea salt
Directions
Step 1

First, prep your pan. Line an 8-inch loaf pan or a square glass dish with parchment paper or wax paper. Set aside. Also, make sure you have a free shelf or some free space in your freezer. The pan will need to sit flat while the fudge is firming up.

Step 2

Next, melt the chocolate. You can either use a double boiler method by setting the chocolate chips, almond butter, and maple syrup or coconut nectar (if using) into a glass bowl over a simmering pot of water. Stir the chocolate and almond butter with a rubber spatula until the chocolate is melted. Stir in the coconut oil.

Or, you can use the microwave method, which is definitely easier. Add the chocolate chips, almond butter, and maple syrup or coconut nectar (if using) to a medium, microwave-safe bowl. Heat in 20-second increments until the chocolate chips are melted. Stir in between heating increments, until smooth. Then, stir in the coconut oil.

Step 3

Pour the mixture into the prepared pan. Use a spoon or spatula to smooth the top, or tap the pan on the counter to even things out.

Step 4

Sprinkle the coconut flakes, sliced almonds, and sea salt over the top.

Transfer pan to freezer. Freeze until completely firm. Remove from freezer and let the fudge soften for a couple of minutes, then slice into squares. Either serve immediately, or keep in the freezer for about a month.

This fudge can't sit around at room temperature for too long, or it'll get too soft. Store your leftovers in the freezer, or in the refrigerator for about a week.
Notes
Bonus! Get your free Healthy Meal Planning and Prep Guide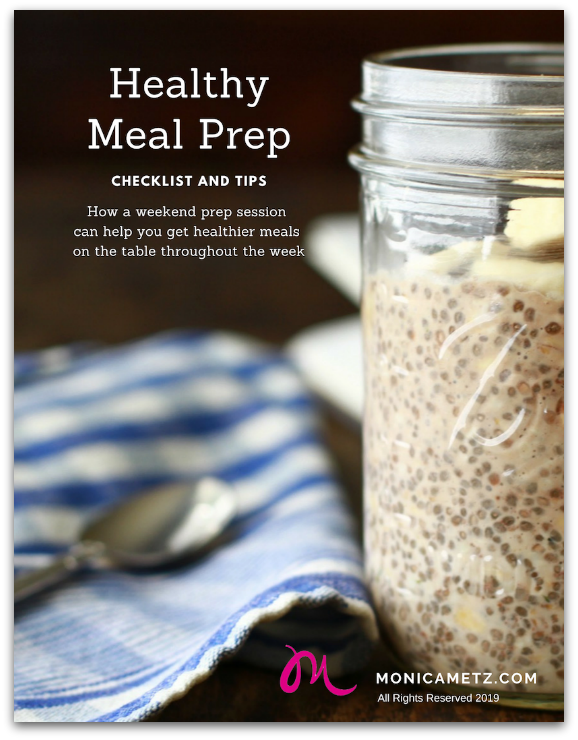 Life is busy, and weekends can be super busy, whether you're doing errands, having fun, or dedicating your entire weekend to youth sports LOL.
However, if you make the time for meal prep, you won't regret it. Especially when you realize it takes you only 15 minutes to make dinner during the week, instead of the usual 30-60.
Here's even more good news: I created a new freebie for you! It's my downloadable and totally printable Healthy Meal Prep Guide.
Inside, you'll find more details about my approach, as well as:
Shopping and meal prep strategies.
A blank meal planning template.
Sample meal plans.
Downloadable and printable shopping list.
Weekend prep session checklist.
Ready to download the guide?
Great!
Just click here to get your Healthy Meal Prep Guide.