Recipes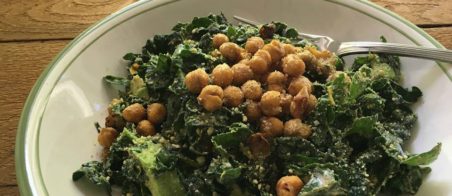 Kale Caesar Salad
Kale salad — it's everywhere!
And for good reason. Kale is high in fiber and nutrients, including glucosinolates that have been reported to fight five kinds of cancer. Five kinds! Kale is also high in nutrients that help the body detoxify and reduce inflammation.
I'm a practical girl, so I love kale because it's the perfect foundation for a make-ahead salad — the sturdy greens stand up to a creamy dressing, and often the salad tastes even better the next day. Non-dairy "parmesan" provides the cheese-like flavor and texture to the salad.
Related Links:
Watch the Video on More Good Day Oregon
Ingredients
¼ cup unsweetened, unsalted almond butter
1 clove garlic, minced
the juice from one lemon
2 tablespoons white wine vinegar
1 teaspoon Dijon mustard
1 tablespoon nutritional yeast
1/3 cup of water; you'll likely add more for a thinner consistency
1/3 cup extra virgin olive oil
1 large bunch of Lacinato kale — remove the stems and thinly slice leaves. If in a rush, you can also use bagged kale. Optional: use a mix of kale and chopped romaine.
1 ripe avocado, pitted and sliced
¼ cup toasted pumpkin seeds
sea salt and pepper, to taste
Garnish with Plant-Based Parmesan Sprinkle (see link in recipe intro)
Add a protein: Try the Crispy Chickpea Croutons (see link in recipe intro)
Optional: add a few strips of dried dulse (or a teaspoon of flakes)
Directions
Step 1

For the dressing: add the almond butter, garlic, lemon juice, vinegar, mustard, nutritional yeast, and water to a blender.

Step 2

Pulse until incorporated. Alternatively, you can simply whisk the ingredients in a mixing bowl.

NOTE: If you keep the blender running for too long, the dressing may emulsify too quickly and develop a pudding-like consistency.

Pulse (or whisk) until smooth.

Step 3

Then, with the blender running (or while whisking), stream the olive oil in through the hole in the top of the blender lid.

Blend or whisk in a few tablespoons of additional water at a time until you reach the desired consistency.

Step 4

Add salt and pepper to taste and blend/whisk again. Transfer the dressing to a glass jar or salad dressing container.

Step 5

Add the kale to a salad bowl. Drizzle some dressing onto the greens and use clean hands to mix and massage the kale so the leaves are coated evenly with dressing. Do this until the leaves are coated and the kale is slightly wilted.

Step 6

Add the avocado and pumpkin seeds, and give everything a gentle toss.

Step 7

Transfer the salad to a serving platter and garnish with the Plant-Based "Parmesan" Sprinkle.