Recipes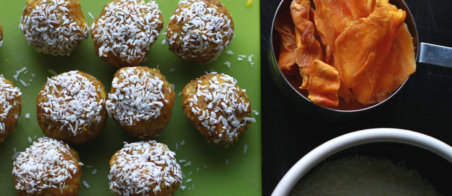 Mango Macadamia Nut Energy Bites
When it comes to energy bites, I'm usually mixing up a combo that includes peanut butter, oats, or chocolate chips — or all three!
Well, one day I was craving energy bites, but I needed something different. Something to wake up my winter palate. Something tropical. Fruity. Bright. And, of course, energizing for pre- and post-workout.
And as I was walking through the grocery store, it hit me: mango! It'd be the perfect ingredient to incorporate into an energy bite recipe. And when it came to deciding which nut to pair it with, macadamia nuts were a no-brainer. I mean, mangos and macadamia nuts are such a classic tropical combo. And blending them up together in a recipe means you get a little taste of Hawaii in every bite!
I use a combination of cashews and macadamia nuts in this recipe because — hello — macadamia nuts are so darn expensive! I also throw in some turmeric because… why not? It's a great anti-inflammatory ingredient, and besides that it really pumps up the color on these cuties.
These Mango Macadamia Nut Energy bites also include some hemp seed (extra protein), as well as chia seeds (fiber). The extra fiber can help you avoid a blood sugar spike from the mango's natural fruit sugar. Plus, chia seed is amazing for our digestion – I use it every day!
This recipe's a little different than other versions, such as my Almond Butter Chickpea Energy Bites or my Chocolate Hazelnut Energy Bites. That's because dried mango can be quite a bit tougher than dates — so, you'll need to soak the mango in some warm water for a few minutes before getting started.
Not to worry, though. The recipe still comes together very quickly, and there's no baking required. My favorite kind of "baking."
Ingredients
3/4 cup raw, unsalted cashews
1/2 cup raw, unsalted macadamia nuts
1 cup firmly packed dried, unsweetened mango
8 medjool dates (remember to remove the pits!) — use 10 if you want a sweeter version
1/4 cup hemp seeds
2 tablespoons chia seeds
1/2 teaspoon turmeric
A squeeze of fresh lime juice
1/4 cup unsweetened almond butter (you can also use cashew butter)
1/3 cup unsweetened coconut flakes (the fine flake works best), plus more for rolling the energy bites in
1 pinch sea salt
Directions
Step 1

Preheat oven to 350 degrees F. Put the macadamia nuts onto a baking sheet and bake for about 5 minutes. Then, add the cashews and keep baking for another 4-5 minutes. Continue roasting until the nuts are a light golden brown. Watch them carefully, as they can burn quickly. Set aside to cool.

Step 2

While the nuts are getting all toasty, prepare the mango by adding it to a small bowl filled with warm water. Pre-softening the mango will help it blend more smoothly. Let it soak for about 5 minutes, until it's soft but not mushy. Dry off the mango pieces and set aside.

Step 3

Once the nuts are cool, add them to the bowl of a food processor. Process until the nuts resemble a fine meal. Be careful not to overblend — you don't want a nut butter here.

Remove the nut meal from the food processor and set aside.

Step 4

To the food processor, add the mango, as well as the pitted dates. Blend until a paste is formed.

Step 5

Add the mac nut-cashew nut meal to the mixture. Then, add the almond butter, hemp seeds, chia seeds, shredded coconut, turmeric, lime juice, and sea salt. Mix until it resembles cookie dough. Take a spoonful into your hands and roll it into a ball. If it feels to sticky to handle, mix in some more hemp seed. And if it's too dry, add some more dates.

Step 6

Using a pair of soup spoons or an ice cream mini-scoop, scoop out the dough and roll it between your palms to make a small ball. Then, roll the ball in shredded coconut.

Place the energy bites onto a small plate or sheet, and refrigerate until firm (10-15 minutes should do the trick), then enjoy.

You can store the energy bites in the fridge for about 4-5 days, or keep them in the freezer for several months.
Notes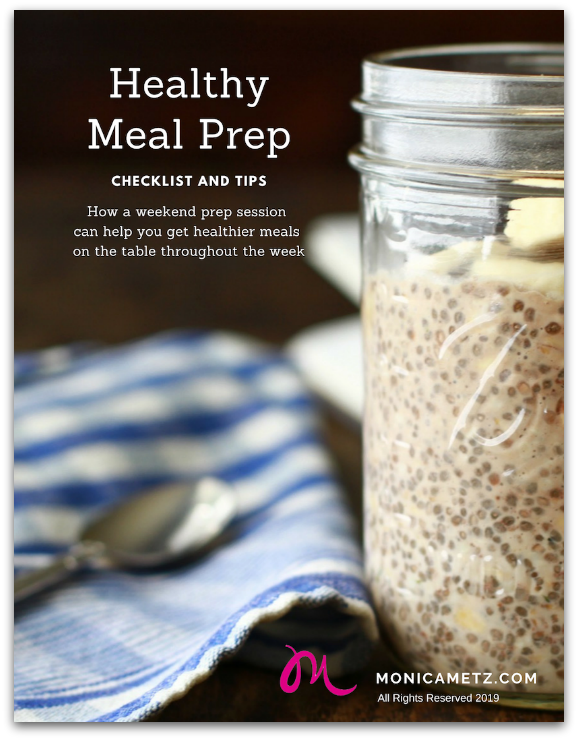 Need some extra help with healthy meal planning?
Check out my fun freebie, the Healthy Meal Prep Guide.This free PDF is downloadable/printable and includes:
Shopping and meal prep strategies
A blank meal planning template
Sample meal plans
Downloadable and printable shopping list
Weekend prep session checklist
Ready to download the guide?
Great!