Earlier this week, I made No-Bake Oatmeal Chocolate Chip Energy Bites on the More Good Day Oregon show. Today's post is all about how this simple snack can fuel your next workout…
Has this ever happened to you?
… You show up for your workout, sail through a warm-up, and are in the middle of what you hoped would be a great run and then — bonk! — your legs say, "Sister. This workout is over."
Sure, you might slog along for a little while longer, but you're only going through the motions. The hard workout you dreamed about will have to wait for another day.
Or… you have a great workout, and then you hit the showers. After you're dressed and ready to go, you plan on getting some food later. But then you run off to work and make do with a coffee. Or, you decide to run a quick errand before you eat, which leads to another errand. A couple of hours later, you still haven't eaten.
But now, you're STARVING, and you start to panic. Must. Eat. Now!
Today's recipe for No-Bake Oatmeal Chocolate Chip Energy Bites can solve both issues — because it's a protein-rich, portable, and oh-so-delicious little snack you can enjoy either before a workout, or as part of your post-workout recovery.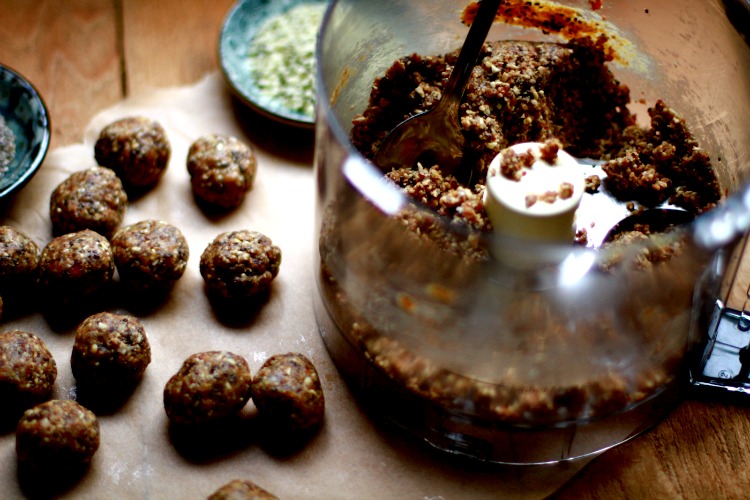 Easy No-Bake Oatmeal Chocolate Chip Energy Bites
These tasty Oatmeal Chocolate Chip Energy Bites are a snap to make — no baking necessary. They firm up in the freezer, and then they're ready for you to pop a couple into your bag before a workout.
These Energy Bites are packed with flavor and healthy fats from peanut butter, hemp seed, flax seed, and chia seed. Plus, the oats provide fiber and energy. The dates provide whole-food sweetness and minerals, as well as potassium and copper. The (optional) chocolate chips make them taste a bit decadent. Which they are — you only need to eat a couple of these cuties since they're so rich.
I love this recipe because it adapts so easily to whatever you have on hand. For example, feel free to sub out the peanut butter for almond butter, or use almonds or sunflower seeds instead of cashews. It all works, and it's all delicious.
These Energy Bites are perfect for workouts, as well as the kiddo's lunch box. They're much tastier than store-bought energy bars, and much more wholesome, since you control the sweetness and the quality of the other ingredients. They're also really fun to make with your kids — just like rolling out cookie dough, but much healthier, of course!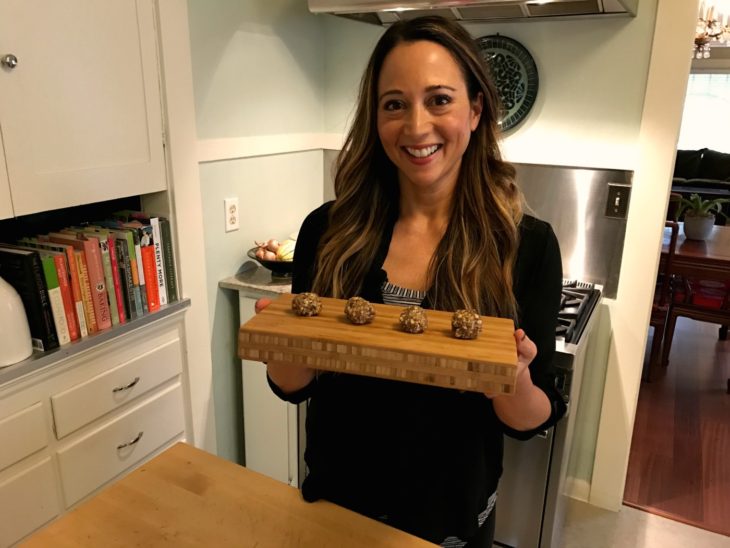 Watch the Video on More GDO
I recently made these Energy Bites during one of my segments as the Healthy Living Expert on the More Good Day Oregon show on Fox-12 Oregon.
If you'd like a step-by-step demo of the recipe, just click on the video below.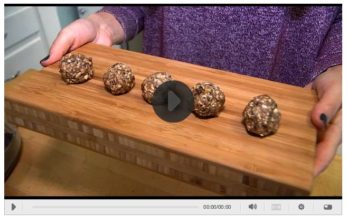 Looking for the Recipe?