Let's face it. We all get into breakfast ruts.
I hear about this all the time from my clients.
First, they get on the smoothie bandwagon — yay! — but then weeks and months pass, and they're still drinking that same smoothie every morning.
Same spinach-and-blueberry combo. Or spinach-and-bananas. No wonder they're burned out!
And what if you don't even like green smoothies? Or any smoothies, for that matter?
Is there no hope for smoothie-haters who want to be healthy?
Heck no!
That's where oatmeal comes in handy. It's great for people who either don't like smoothies, or are burned out on them.
Or, for people who want something satisfying and warm on a chilly morning.
Or for people who are trying to break their pumpkin scone habit, and replace it with something healthier.
Or for people — women, especially — who are struggling on a low-carb or Paleo diet: hormone imbalances, lack of energy, weight loss resistance, etc.
A "good-carb" breakfast like oatmeal is also a great option for those days when you're planning on an intense workout, or you're recovering from one.
THE PUMPKIN SPICE OATMEAL BOWL
This isn't just any old regular bowl of oatmeal. It's a Pumpkin Spice Oatmeal Bowl with Caramelized Banana and Chia — a fiber-packed breakfast that's tricked out with all sorts of healthy toppings.
Adding some nuts and seeds provides some protein. In addition, this recipe includes some coconut oil for additional flavor and richness — plus, the healthy fat can help you feel more full throughout the morning.
Now, the caramelized banana — I mean, come on! It's downright magical, I tell you. And you don't even need butter or sugar. Just spray a little coconut oil or cooking spray onto a non-stick pan, and your bananas will caramelize just fine.
This recipe gets an extra nutrition boost from turmeric and unsweetened pumpkin puree — both of which are great anti-inflammatory foods.
Turmeric has been shown to improve brain and cardiovascular function, and is also helpful for those dealing with arthritis and joint pain.
Pumpkin, and other winter squash, have a unique combination of antioxidant and anti-inflammatory compounds that are being researched for their potential effect on cancer prevention, and specifically, prostate cancer. Pumpkin is also helpful for stabilizing blood sugar.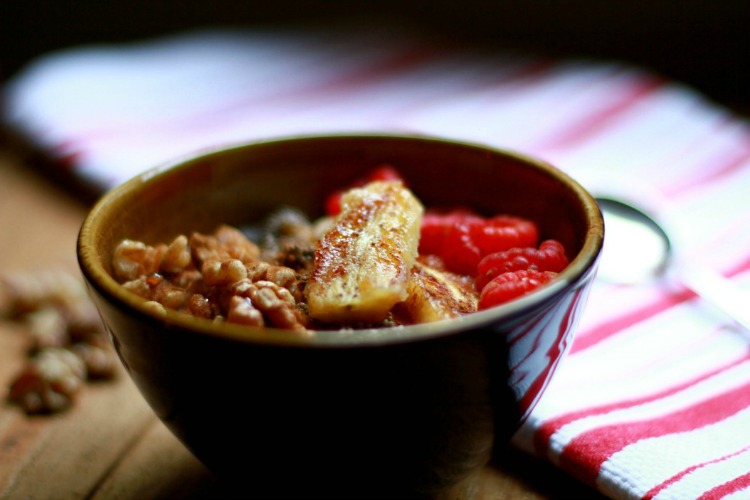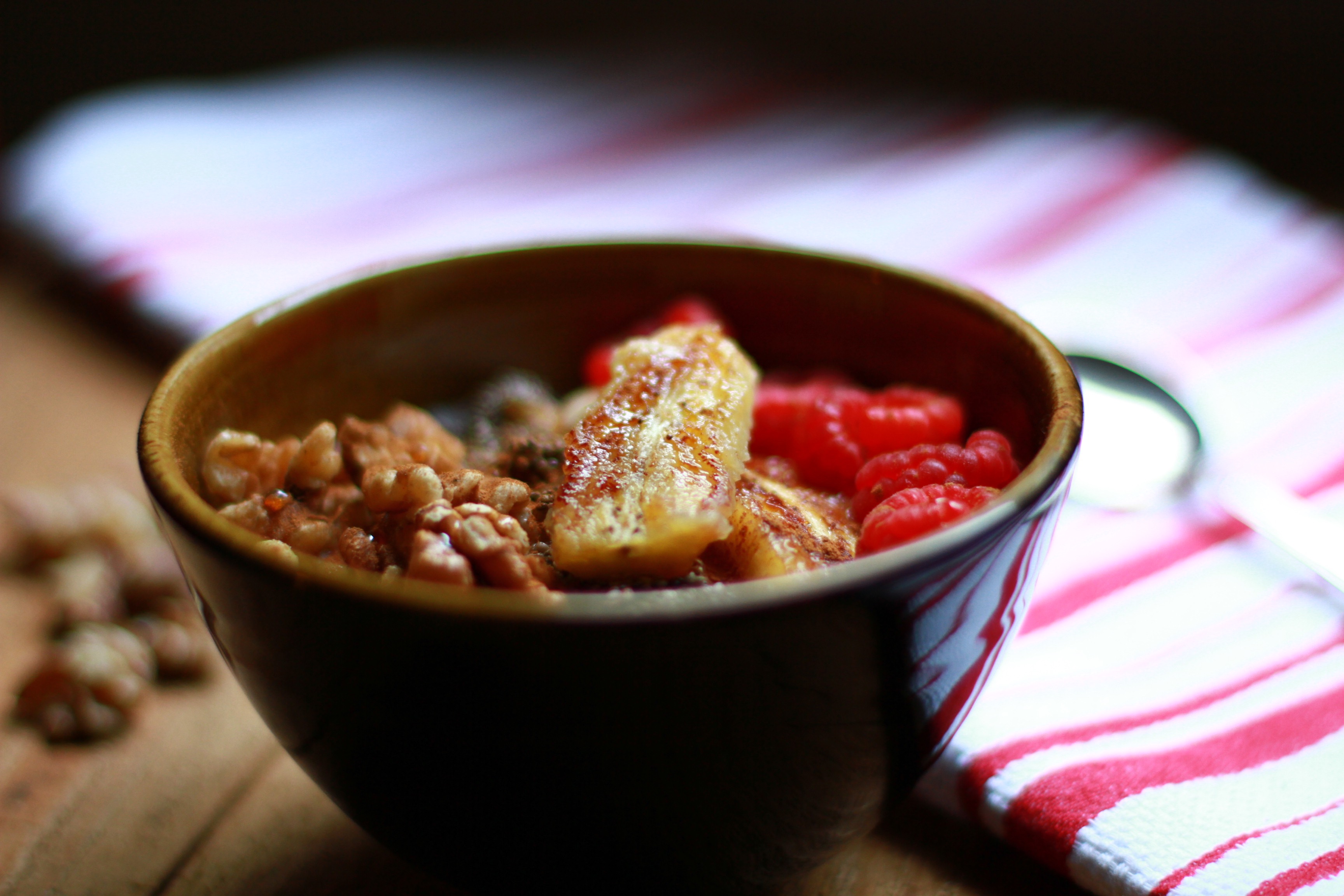 PREP AHEAD FOR BUSY WEEKDAY MORNINGS
This Pumpkin Spice Oatmeal Bowl with Caramelized Banana and Chia starts with steel-cut oats that have been soaked overnight. This cuts down on cooking time on busy mornings.
In the morning, all you have to do is heat the oats, add spices and flavors, and give the mixture a few minutes on the stove to help the flavors meld together.
PUMPKIN SPICE OATMEAL BOWL — GET THE RECIPE
This recipe calls for additional toppings of walnuts, chia seed, and maple syrup. But of course, you can use whatever you have on hand. I often like to add some fresh berries alongside the caramelized banana for a little pop of color, and bright flavors… and antioxidants, of course!
I hope you like this oatmeal recipe as much as my family and I do — we're having a lot these days, especially on those cold, rainy mornings here in Portland.
WATCH THE VIDEO
I prepared the Pumpkin Spice Oatmeal Bowl during one of my healthy living segments on More Good Day Oregon.
Click here to see my step-by-step cooking demo, or click on video graphic below.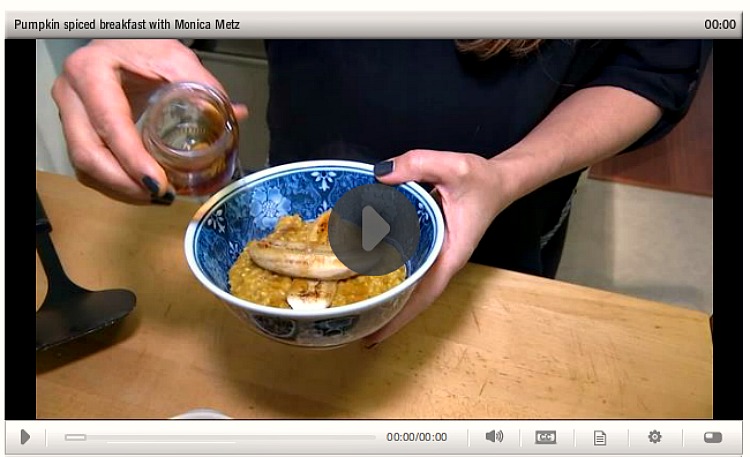 For the recipe, just click on the green box below!