Recipes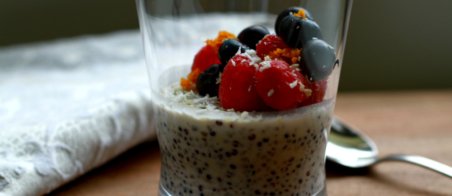 Overnight Quinoa Cups
If you're a fan of overnight oats, you're going to love this variation using quinoa.
So let's put our meal prepping hat on for a minute. Let's say you make a big batch of quinoa on Sunday, and you use it for taco or buddha bowls. And then you have some quinoa left over.
You could use that leftover quinoa in a salad, of course, such as my Quinoa and Black Bean Salad. Or, you could just throw a scoop on top of your favorite salad greens.
Or, you could use the quinoa to make a delicious breakfast parfait. These Overnight Quinoa Cups combine that leftover quinoa with some plant-based milk, coconut yogurt, and a few other ingredients to make a delicious and satisfying grab-and-go breakfast.
Ingredients
1 cup cooked quinoa
1/2 cup unsweetened plant milk of choice
1/4 cup plant based yogurt, unsweetened. My fave is Coyo coconut yogurt.
1 tablespoon chia seeds
1 tablespoon hemp seeds
Dash of cinnamon
1 teaspoon vanilla extract
1 teaspoon maple syrup (optional) — or more, to taste
A handful of fresh berries
Garnish: coconut flakes and/or bee pollen
Directions
Step 1

Mix all of the ingredients (except for the berries and garnishes of choice) together in a small bowl. Stir well, and then divide the mixture between two small bowls or mason jars. Refrigerate for at least 4 hours or overnight.

Step 2

The next morning, remove from the fridge. Add a handful of fresh berries on top, and any other garnishes that sound tasty. Enjoy with a little drizzle of additional maple syrup and a shake of cinnamon.
Notes
Need some extra help with healthy meal planning? Check out my fun freebie, the Healthy Meal Prep Guide.This free PDF is downloadable/printable and includes:
 Shopping and meal prep strategies.
 A blank meal planning template.
 Sample meal plans.
 Downloadable and printable shopping list.
 Weekend prep session checklist.
Ready to download the guide? Great!