Recipes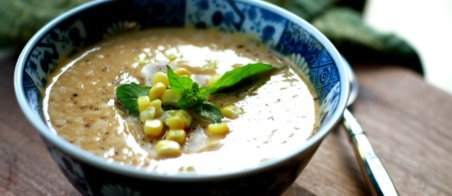 Thai Curry Cauliflower Soup
Growing up, I detested cauliflower.
In fact, cauliflower and brussels sprouts were often cited as the most dreaded vegetables, at least in my family. But this was back in the dark ages, when canned or boiled vegetables were the norm, and cauliflower rice hadn't even been invented yet. I'm talking about a really long time ago. You know, pre-Internet.
But now look at cauliflower — how it has changed!
We're roasting it until it tastes like french fries, or serving it whole like a turkey. Heck — some of us are even throwing frozen cauliflower into our chocolate smoothies.
And a head of cauliflower makes a great soup, of course.
I make several variations of cauliflower soup, and this Thai Curry Cauliflower Soup is my new favorite. It's what I make for people who think healthy food is boring or bland — this soup is the exact opposite!
This soup is lush and creamy, and full of exotic flavor. It's also dairy free and gluten free (assuming your curry paste is gluten free… check the label).
Ingredients
2 tablespoons avocado oil — or extra virgin olive oil
½ medium onion, diced
2 cloves garlic, sliced thinly
1 tablespoon Thai red curry paste, or more if you want it spicy. For mild, start with 1 teaspoon or two. You can always add more!
½ teaspoon fresh ginger, grated (or ¼ teaspoon powdered)
1 medium/large head of organic cauliflower, separated into florets. Reserve a few florets for roasting.
2 cups low sodium vegetable broth
1 can (15 ounces) light coconut milk
1/2 teaspoon coconut nectar or maple syrup
sea salt and ground pepper to taste
2 teaspoons rice vinegar, or more to taste
Lime wedges for serving
Garnish ideas: some cooked corn kernels, thinly sliced radish, or minced mint or basil
Directions
Step 1

Heat the oil in a medium soup pot over medium heat. Add the onion and sauté until translucent but not browned — about 5-10 minutes.

Step 2

Toss in the garlic, curry paste, and ginger. Stir for a minute so the garlic won't burn.

Step 3

Then add the veggie broth, coconut milk, maple syrup (or coconut nectar), and the cauliflower. Bring to a boil, reduce the heat to low, and simmer for 10-15 minutes, or until the cauliflower is tender. Stir in the rice wine vinegar, and let cool for 5 minutes.

Step 4

Working in batches, pour the soup into a blender. Remove the hole that's in the center of the blender lid so steam can escape during the blending process. Cover the lid with a towel (hot liquid tends to erupt), and blend on high.

Alternatively, you could use an immersion or stick blender for this part.

Step 5

Return the soup to the pot and warm gently to desired temperature. Season with salt and pepper to taste.

Step 6

Ladle into bowls and garnish with the chopped herbs, if using.

Step 7

Serve with lime wedges and other garnish of choice.
Notes
Bonus! Get your free Healthy Meal Planning and Prep Guide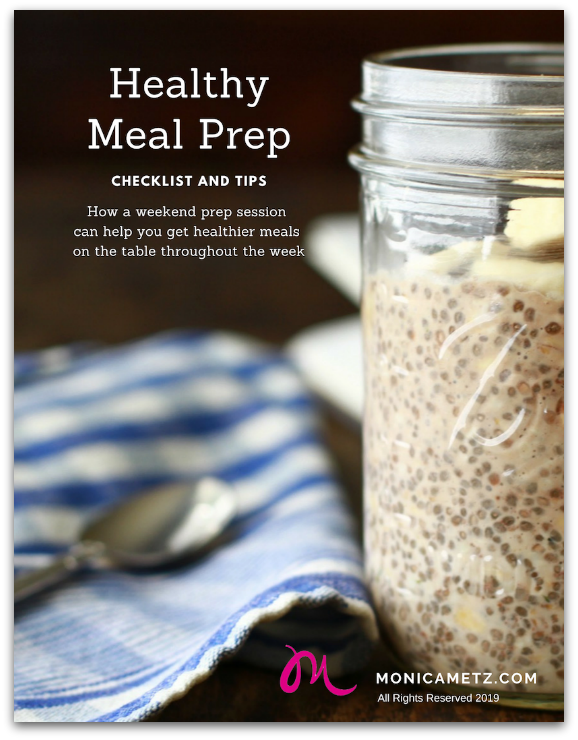 Life is busy, and weekends can be super busy, whether you're doing errands, having fun, or dedicating your entire weekend to youth sports LOL.
However, if you make the time for meal prep, you won't regret it. Especially when you realize it takes you only 15 minutes to make dinner during the week, instead of the usual 30-60.
Here's even more good news: I created a new freebie for you! It's my downloadable and totally printable Healthy Meal Prep Guide.
Inside, you'll find more details about my approach, as well as:
Shopping and meal prep strategies.
A blank meal planning template.
Sample meal plans.
Downloadable and printable shopping list.
Weekend prep session checklist.
Ready to download the guide?
Great!
Just click here to get your Healthy Meal Prep Guide.