This week's freebie
Before we get into today's post, I wanted to point out that I created a special freebie to go along with today's topic. It's called the Spring Break Prep + Recovery Plan, and it includes a cheat sheet with tips, recipes, and a 7-day planner for pre- or post-spring break.  You can check out this downloadable, printable PDF here.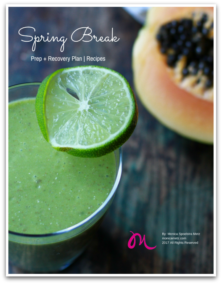 Okay. Now let's get into today's post…
The problem with spring break
Here's the problem with spring break — or vacation in general.
On one hand, we love it. No work deadlines, no meetings, no commute.
We get to sleep in. Hit the hot tub. Soak up the sun or hit the slopes.
And then there's day drinking: wine tasting, poolside piña coladas, a cold beer with lunch.
We eat whatever we want. Skip our workouts. And damn right we'll have fries-with-that!
What's not to love?
What spring break does to our bodies
On the other hand, our body might not love spring break so much. Specifically, our digestion, liver, and immune system — not loving it.
After all, before spring break, we were working out, eating clean.
We were in. The. Groove.
Because we wanted to feel better in our swimsuit. Or be in better skiing shape.
But now it's spring break, and we're flooding our body with all sorts of noise we don't usually expose it to on a daily basis.
That means french fries, being sedentary, extra alcohol.
After a few days of this, we can start to feel pretty crappy. We start to feel bloated, and our digestion gets wonky. Our skin breaks out.
And — our biggest fear – we catch a cold while on vacation.
How is it even possible to get a cold in 90-degree weather, we ask.
Well, it's definitely possible, especially when our vacation self is so much more impulsive — and less vigilant on the healthy habits — than the person we are when we're at home.
The game plan for a healthier spring break
Here's the good news: it's completely possible to take your healthy habits with you on vacation — no extra baggage fee required!
All it requires is intention, some creativity — and a consistent mindfulness practice.
You might be wondering: what does mindfulness have to do with all this?
Well, in short: everything. The more you can get grounded, and cultivate your own self-awareness, the more you'll be able to bring positive change into your life. Period.
And if you don't yet have a daily meditation practice, now's your chance. Try getting up 10 minutes earlier than normal so you can sit quietly and observe your breath flow in and out. Or, try a smartphone app such as Headspace. Those ten minutes, practiced daily, can be life-changing. I promise you!
Meditation actually makes a great travel partner: using a meditation app on the plane can reduce travel stress. When you get to your travel destination, meditation on the beach can help you unwind from the world you left behind, and help you be present so you can enjoy all of your vacation experiences without distraction.
Now that we've covered meditation, let's move on to the rest of the game plan. Here are my top 3 tips for staying healthy during spring break.
Of course, these are powerful habits you can utilize before and after spring break as well.
Hydrate
When we're on vacation, our food and drink choices can generate a higher toxic load for our bodies. Proper hydration will help you flush these extra toxins from the body. It'll also support healthy digestion and help reduce bloating.
Adequate hydration also nourishes our tissues, muscles, brain, and skin — especially helpful if we're in a sunny or high-altitude vacation destination.
Here's my tip for hydrating: upon waking, drink 12-16 ounces of water. This helps hydrate the body after a night of sleep, and it kickstarts the digestive system.
Not sure how much water to drink throughout the day? Here's a simple formula: divide your body weight in half. Then, use that number as the number of ounces of water you should drink in a day. For example, if someone weighs 140 pounds, they'll drink around 70 ounces in a day. Feel free to add more water if you're in a hot environment or sweat a lot through hard workouts.
And remember, you can also hydrate by eating foods that are high in natural water content: cucumbers, melon, celery, salad greens — basically any raw vegetables or fruits will help keep the body hydrated.
Eat nutrient dense foods (a.k.a. fruit and veggies)
You can actually do a lot to keep your body healthy while on vacation — and all you need to do is eat more.
Yes, eat more. Fruits and vegetables that is!
Instead of thinking about restricting calories — in other words, being on a diet (which no one does on vacation) — simply focus on adding in more fruit and vegetables to each of your meals.
The extra servings of fruit and vegetables will flood your body with nutrients and fiber, which will help support detoxification, support the immune system, and provide clean energy for your favorite vacation activities.
So let's take a look at what this would look like while you're on vacation…
For starters, you could visit the nearest grocery store and get an assortment of fruit for your hotel room. Or, if you're staying in an Airbnb or rental home, you can easily stock your refrigerator with berries, avocado, apples, oranges, carrots, cucumber, mini bell peppers, and other healthy snacks. While you're there, pick up some prepared hummus, as well as some nuts and seeds for healthy snacks.
At breakfast, simply add some berries to your meal. At lunchtime, try to have a big salad with lots of fun toppings and some avocado. At dinner, try to add a serving or two of vegetables to whatever you're having. For example, share a salad as a starter, then make sure your entree includes some vegetables such as asparagus or broccoli. Or, order your own salad as a starter, then share an entree.
I actually eat a lot of salads for lunch — at home, and on vacation. Except that while on vacation, I also get a side of fries (see pic above). Yay for vacation!

Be a health tourist
One of my favorite ways to get to know a vacation destination is to check out the local health scene.
Here's what that might look like:
Drop-in classes — Google "10 best workouts" for your destination, and then research which studios you can visit for a drop-in workout (great tip via Jessi Duley at BurnCycle). I'll also search for yoga and pilates studios in the same zip code as my hotel. This is a really fun thing to do if you're traveling with a friend or family member who likes to work out. That way, you don't have to feel intimidated about walking into a new studio alone.
Hotel workouts — If you're staying at a hotel or resort, ask about on-site or nearby workout options and classes. Some hotels even have personal trainers on hand, which is a great way to splurge on some self-care while you're on vacation. Make a plan to exercise at least every other day, even if it's only a 15-minute stretching stint in the hotel gym.
Healthy restaurants and farmers markets — Google "best vegetarian restaurants" for your vacation destination, and check out local juice bars, smoothie bars, salad restaurants, and other healthy fare. You don't have to be vegetarian or vegan for this tactic — I just recommend seeking out vegetarian restaurants because they're pros at making healthy food taste delicious — and, often decadent. While searching for healthy restaurants, you can also check out happycow.net and Yelp reviews. For example, the screen shot above links to a Happy Cow search for the Palm Springs area.
Get outside — Check out Trip Advisor for local hikes, running trails, bike tours, and other outdoor activities.
Use the buddy system — Are you traveling with someone who likes fitness and healthy stuff back home? Then make a vow to be each other's health/workout buddies for the week. Sure, you might both drink too many margaritas one night, but you'll also be accountable to each other to go for a long walk on the beach — or seek out that green juice bar — the next morning.
Download the Spring Break Prep + Recovery Plan
If you're looking for even more support to help you before, during and after spring break, download this week's freebie: the Spring Break Prep + Recovery Plan.
Inside this downloadable and printable PDF, you'll find:
A cheat sheet with ways you can prep for (or recover from) spring break
Recipe: Tummy Tamer Smoothie
My tried-and-true formula for tasty salads
Recipe: 5-Second Salad Dressing
Recipe: Creamy Cauliflower Soup
7-Day meal planning/healthy habits planner for before or after vacation
All of the recipes are plant-based, gluten-free, and dairy-free.
I hope this PDF helps as you navigate (and recover from) all of the awesomeness that is spring break.
If you have any questions, drop me a line at .
Or tag me over on Instagram. I'd love to hear from you… and see where spring break is taking you this year!
To download the PDF, please click here — or on the graphic below.