For this week's healthy eating segment on More Good Day Oregon, I blended up a deliciously dairy-free Vegan Mango Spinach Lassi. Check out the video as I make this simple smoothie recipe step-by-step…
The inspiration behind the Vegan Mango Spinach Lassi
This smoothie gets its inspiration from Indian cuisine, and a boozy mango margarita I used to enjoy at Portland's old Bombay Cricket Club.
The restaurant, along with its legendary margaritas, may be gone — but my love for mango beverages remains. And this time, I'm channeling my craving into a healthier version.
In traditional Indian cuisine, mango lassi is made with fresh mango (or puree) and yogurt. This version uses frozen mango chunks because they're pretty easy to find in most grocery stores. And, to benefit from gut-friendly probiotics — without having to deal with dairy drama — I use non-dairy yogurt such as cashew or coconut yogurt.
Sidenote: if you haven't tried dairy-free yogurt yet, scope out your the dairy case (or non-dairy, as the case may be) at your local grocery. There are lots of great options to choose from these days. The consistency may be different than the full-fat Greek style yogurt I have loved in the past, but the dairy-free alternatives deliver creaminess and good flavor, without the digestive issues that a lot of us can experience with cow's milk products.
OK. Back to the lassi. Instead of using the traditional refined sugar, this recipe calls for medjool dates. I love to use dates as a natural sweetener because they add some fiber along with the sweetness, plus healthy bone-promoting minerals such as potassium, magnesium and phosphorus.
Admittedly, traditional mango lassi isn't made with spinach, but I say: why not?
Spinach has such a mild flavor, you'll never taste the difference. While you're savoring the this creamy, sweet-tart, dairy-free smoothie, you'll also be benefiting from spinach's vitamin K, magnesium, and a whole host of other anti-inflammatory and bone-building nutrients.
What makes this Vegan Mango Spinach Lassi so healthy
The Vegan Mango Spinach Lassi is a great alternative to your every day green smoothie.
The citrus lends a cheery and bright note — perfect for those mid-winter blues. Fresh coconut water (Harmless Harvest is my fave!) provides a naturally sweet nutty flavor. And, a pinch of cardamom transports your taste buds to a different realm altogether.
Besides the delicious flavor, you'll get:
Vitamins A and E — as well as anti-inflammatory phytonutrients — from the spinach
Vitamins C and A — as well as magnesium — from the mango
Fiber from the spinach, mango, and dates
Hydration from the spinach, mango and coconut water
Bone-healthy minerals from the dates, spinach, and mango
Digestive support from the cardamom
Gut-friendly probiotics from the non-dairy yogurt
Yep — you get all this nutrition power wrapped up in a creamy, dreamy smoothie!
I hope you try the recipe — let me know if you do by tagging me on Instagram at @mospo.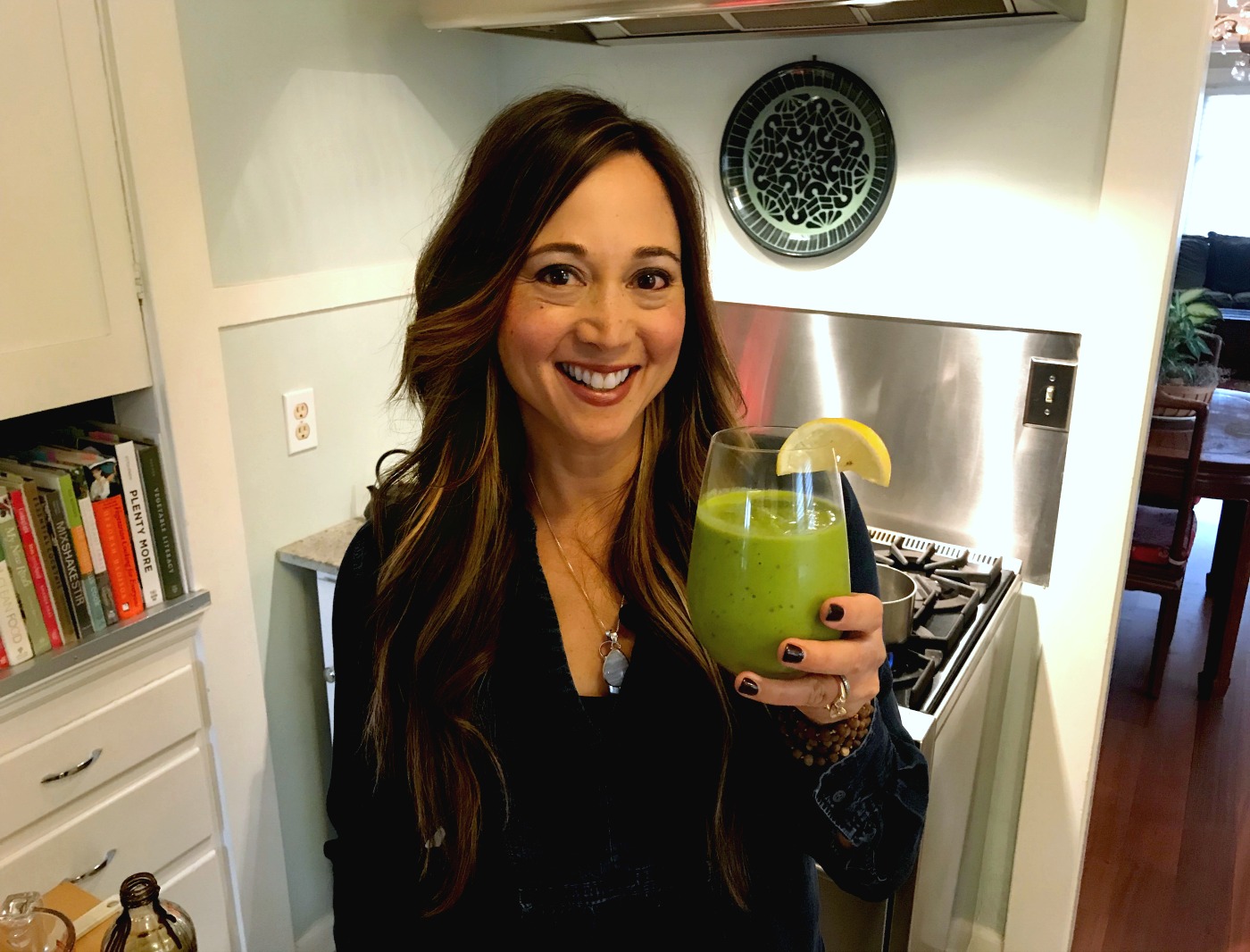 Download my latest freebie: 5 Reboot Recipes for a Healthier New Year
In celebration of the new year, I created a fun freebie for you!
This special PDF includes 5 recipes to keep your body healthier and happier in the new year.
All of these delicious recipes are plant-based, gluten-free, and dairy-free. They're also very simple to prepare. Because we're all busy, right?
Here are the recipes you'll find in this PDF:
Blueberry Flax Smoothie: Packed with antioxidants, fiber, and healthy fat.
Green Tangerine Smoothie: Take advantage of citrus season with this healthy smoothie.
Kale Salad with Maple Tahini Dressing: Tame those bitter greens with this subtly sweet dressing.
Creamy Dairy Free Tomato Soup: My makeover of the Pioneer Woman's Sherried Tomato Soup.
Coconut Curried Lentil Soup: Hands down, one of my most popular recipes.
Ready to get started?
Great!