Today, I started a new series on Facebook Live to cover one of the biggest mistakes I see when people are trying to get healthier dinners on the table more consistently.
This issue is so common — and it's easy to understand why.
You may even be struggling with that issue, especially if you're:
Strapped for time.
Too tired to cook at the end of a long Zoom/homeschool/remote school day.
Stressed out — takeout-and-Cobra-Kai seems easier.
Cooking 2 different meals to accommodate family members with dietary preferences.
For example, take this DM I got on Instagram:
"The amount of work it takes after taking care of 2 small children, homeschooling, going to school (getting my Bachelor's degree), making home-cooked breakfast and lunch. By the time dinner comes around, I have zero f$%ks to give."
Zero $%*&s to give.
I've been there. And I know you probably have too. 

Meal prep can be challenging for lots of people in good times, but during this pandemic…. it's a lot!
Facebook Live Series
So that's why I've started a new series of Facebook Live sessions that'll address the root problem of why it's so hard to get dinner on the table — and what you can do to make the whole process easier and faster.
Throughout this series of Facebook Live sessions, I'll cover how to:
Get more organized.
Reduce overwhelm.
Save meal prep time on busy weeknights.
Save money on groceries.
Minimize food waste.
Here's the recording for the first class in this series.
Oh, and I also have an audio version you can listen to — on the audio player below!
Join me live for Parts 2 and 3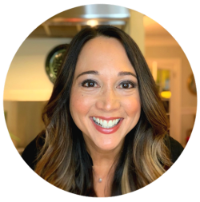 To join me live for the next session, just head over to Facebook and "like" my page. That way, you'll be notified about future live sessions.
Part 2 – How to Create an Effective Meal Prep Plan: Thursday, October 8 at 12pm PT / 3pm ET.
Part 3 – How to Execute Your Plan and Get Dinner on the Table More Quickly: Monday, October 12 at 9am PT/12pm ET.
Hope to see you on my one of my Facebook live sessions sometime!