Food prices climbed nearly 8% for the year ending February 2022. That said, I'm always on the lookout for good deals on organic produce, and one of my favorite places to shop is Trader Joe's. 
It's Thursday as I'm writing this, and you're probably planning the weekend's first margarita… or chilling a bottle of rosé.
So before the party starts, let me chime in with a little reminder to take some time to speak your body's love language this weekend.
Wait a minute — our bodies have a love language?
You bet they do. And it may not look (or sound) like you think!
You see, our bodies have a love language that most of us aren't exactly fluent in. Not yet anyway. It takes time to learn that language, especially since it's a dialect that goes largely ignored in our standard American culture.
Here's what I mean. Eating healthy might seem boring sometimes, but all those antioxidants, nutrients and fiber are anything but boring to your heart, brain, digestive system, hormones, skin, eyes and hair.
In fact, when you eat vegetables, fruit, beans and legumes, and other healthy plants foods, you're actually speaking your body's love language!
So this weekend, be sure to stock up on some veggies and fruit.
And then carve out some time on Sunday to do some meal prep — rinse, chop, slice, store all those goodies in the fridge in cute containers — and get them ready for the week ahead.
My Trader Joe's shopping list (and prep notes)
One of my favorite and most affordable places to get organic produce these days is Trader Joe's.
And yes I know all about the PB pretzels and other treats at TJ's, but when I eat those regularly I'm definitely not speaking my body's love language.
When I'm really listening to what my body wants me to buy — not my emotions or my brain or my upbringing or my cravings — I stick to a lot of the same foods each week. Foods I can use to make healthy meals all throughout the week ahead.
Wanna know what I buy most weeks? And, maybe more importantly, what I do with these oh-so-basic, kinda boring ingredients?
Let's dive in…
View this post on Instagram
My top five
✅ Celery hearts and rainbow carrots: on the weekend, I slice these into sticks and store in a mason jar for easy snacking.
✅ Broccoli florets: separating crowns into florets isn't my favorite, so I save myself some time and buy them already prepped. I can use them in a quick veggie soup, throw them onto a tray for roasting, or steam in the microwave for a couple of minutes.
✅ Avocado: I eat 🥑 pretty much every single day. And TJ's is as good a place to get them as any. I add 1/4 or 1/2 an avocado to my daily salads, bowls and veggie sushi.
✅ Asparagus: my family loves grilled asparagus, and it's also great air-fried and finished with a squeeze of lemon. I can also use this to make my Creamy Asparagus Soup for a light dinner.
✅ Limes and lemons: I use a LOT of citrus in my salad dressings, sauces, smoothies, matcha lemonade and other dishes. Next time your salad or bowl seems boring, add a squeeze of fresh lime and you'll be amazed at how much brightness and flavor this delivers.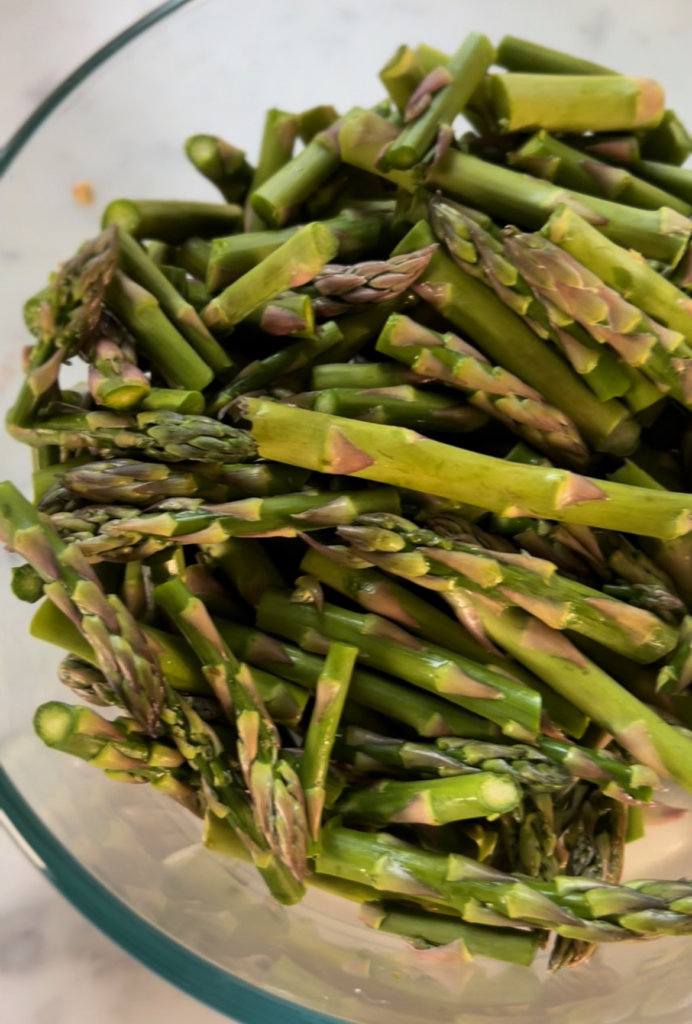 Your turn
How are you speaking your body's love language this weekend?
In other words, what veggies or fruits do you plan on picking up at the grocery store? And if you shop at Trader Joe's, what are your go-to's in the produce department?
Let me know by heading over to Instagram @thehealthycookingcoach— I'd love to hear from you.
---
Need more support for your healthy cooking journey?
Get on the waitlist for my monthly membership: the More Veggies Cooking Club
Each month, I provide new recipes and step-by-step cooking videos to help people learn more about healthy cooking and add yummy recipes to their rotation.
If you could use some more support for your healthy cooking game, sign up for the waitlist and I'll let you know when enrollment opens.