Recipes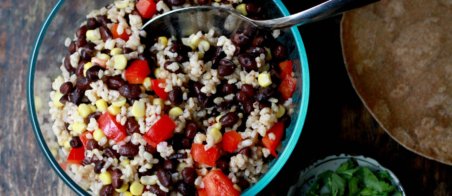 Prep-Ahead Burrito Bowls
If you struggle to put healthy meals on the table during busy weeknights, this is your meal!
I eat this all. of. the. time.
Here's how it works: on the weekend, make a big batch of rice. After it cools, add it to a big bowl and mix it with the beans of your choice, some chopped vegetables, and a bag of frozen corn kernels. Then, you gently mix, and store the mixture in a airtight container in the fridge.
When you want to eat, simply heat up a couple of scoops of the mixture, and add some shredded kale or baby spinach. To serve, drizzle with your favorite sauce (like my dairy free Chipotle Lava Sauce or Vegan Nacho Cheese Sauce), and add some salsa or chopped avocado.
See how easy that is? Dinner on the table in 5 minutes. It's that simple. I promise!
Ingredients
1 cup of uncooked brown rice. You can also get pre-cooked brown rice at most grocery store salad bars. If you buy the rice cooked, you'll need about 3 or 3 1/2 cups.
2 cans low sodium black beans, rinsed and drained
1 bag organic corn (frozen, about 14 ounces) — pour the corn into a bowl and let it thaw out for about half an hour.
1 red bell pepper, seeded and diced
To serve: a couple handfuls of shredded kale or baby spinach
For garnish: chopped avocado, salsa, chopped cilantro, non-dairy yogurt, hot sauce, etc.
Directions
Step 1

Cook the brown rice in a rice cooker, or on the stovetop. Either way, give the rice a good rinse-and-drain before cooking.

If using a rice cooker, add the cup of rice, as well as the appropriate amount of water (as indicated by the markers on the inside of the rice cooker bowl). Close the lid and set the rice to cook.

If using stovetop method, add 2 1/4 cups of water to a large pot and bring to a boil. Once water is boiling, add 1 cup brown rice, cover, and reduce to a simmer. Simmer for 45 minutes, without removing the lid. After 45 minutes, turn off heat and let sit for 15 minutes — no peeking! Don't lift the lid, or it'll affect the cooking process.

After 15 minutes, take the lid off the pot and fluff the rice.

Step 2

Let the rice cool. To do this more quickly, you can spread the rice out onto a couple of sheet pans.

Step 3

After the rice has cooled, add it to a big bowl. Now, add the drained beans, as well as the chopped red bell pepper and corn kernels. Give everything a gentle stir with a rubber spatula.

Step 4

Now, transfer the mixture into a big bowl with an airtight lid. Store in the fridge for 3-4 days.

When it's time to eat, either heat some of the mixture in a pan, or in the microwave. Before heating, I like to add a handful of fresh greens, such as shredded kale, shredded cabbage, or baby spinach.

Step 5

Once the mixture is heated through, you can serve it up in a bowl, or wrap it up in a tortilla.

Add simple condiments and garnish of choice: chopped avocado, store-bought guacamole, hot sauce, sriracha, chile paste, chopped onion, etc.
Notes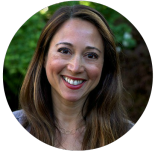 Remember to tag me on Instagram if you try the recipe.