One question that comes up frequently in both informal conversations and client sessions is this:
Should I get a juicer or a blender?
Of course, there are numerous lifestyle changes people can make if they want to be healthier — and many of these things don't involve buying a fancy piece of hardware.
But I think a lot of people see a juicer or blender purchase as a lifestyle change that is not only practical but symbolic as well.
They want to go all in.
So: juicer vs. blender? I have to admit — this question isn't easily answered.
It's a bit like talking to someone who's just starting to set up their home kitchen, and he or she asks, "Should I get a saute pan or a soup pot?"
It's hard for me to decide on an answer because I think once people get hooked on the healthy lifestyle, they'll eventually want both.
However, since both a juicer and a high-speed blender (i.e., Vitamix, Blendtec, etc.) are relatively expensive — which do you get first?
How do you know which machine will best suit your needs?
A Juicer Removes Fiber. A Blender Keeps it Intact.
First of all, it's important to know how the functionality of a juicer differs from a blender. Although the processing method may differ among high speed and "slow" models, a juicer basically works like this: you push produce down a tube, and the produce is processed through the machine to extract the juice and remove the pulp and fiber. When finished, the pulp has been diverted into a separate container, and you have a pitcher full of smooth, refreshing juice.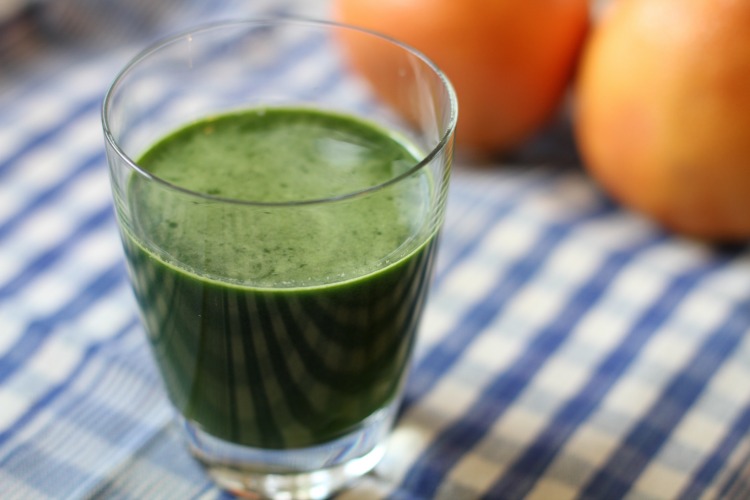 The juicing process, especially with a high-speed juicer such as a Breville, can speed oxidation and compromise the nutrients — which means you'll want to drink the juice as soon as possible to enjoy the full nutritional benefit. Slow juicers such as my Omega "vertical" model, employ a masticating method that reportedly reduces oxidation and helps preserve nutrients.
A high-speed blender, on the other hand, processes everything you put into the pitcher whole — the resulting liquid retains all of the pulp and fiber from the vegetables and fruits you've blended. You can drink the contents as is — smoothie-style — or remove the pulp by straining the liquid using a colander or nut milk bag. Leaving the pulp intact means that you'll be consuming the "whole food" with its full nutritional benefit — enzymes, vitamins and minerals, as well as dietary fiber.
Is a High Speed Blender Worth the Extra Money?
What does a high-speed blender do that a regular blender can't?
A lot.
A high-speed blender can pulverize pretty much anything that would burn out your regular blender — hard vegetables such as beets, carrots and squash, nuts, and frozen berries are processed easily.
Liquids and ice blend beautifully into a creamy consistency, and you can easily make nut milk — and even nut butters — in a blender such as the Vitamix. Or even blend up soft serve "ice cream" out of frozen fruit and a splash of liquid.
So, I say yes. It's worth it.
And if you want to save some cash, consider buying a factory reconditioned blender from Vitamix — it's a great value!
How I Utilize My Blender and Juicer
Both the juicer and the Vitamix play an important role in my efforts to maintain a healthy diet. Here's how I use them:
Morning: Juicer — A freshly pressed green juice. This has replaced coffee as my go-to morning energy drink — far more nutritious, and no caffeine crashes. I think of green juice as a magical supplement as opposed to a full meal.
Morning: Breakfast or Snack — I almost always have a healthy smoothie for breakfast. If I'm having a green juice that morning, then I'll likely have a smoothie for a mid-morning snack since I don't consider a juice a full meal.
Lunch: Blender — My mid-day meal is usually a fresh salad with homemade salad dressing that I've made using the blender. Or, if I'm in a rush, I'll make another smoothie.
Late Afternoon/Evening: Juicer — I occasionally use the juicer for an after-work pick-me-up — or a fresh juice cocktail.
Dinner: Blender — I use the blender to puree soups, make salad dressings and blend sauces. It's also great for snacks such as hummus, dips and nut cheeses. Making nut milks and creams in a high-speed blender is a dream, something that couldn't easily be accomplished in a regular blender.
As you probably guessed, the juicer is mainly a breakfast thing for me; I simply get more "all day" use out of the blender.
However, I really treasure that morning juice — I believe the daily green juice habit has helped me ward off many a cold and bug. I enjoy the flavor of green juices and, since juice doesn't contain the naturally occurring fiber, my body doesn't have to work very hard to digest it. It's the perfect pre-workout beverage, as opposed to a smoothie, which I sometimes find a bit heavy right before a workout.
But as much as I adore my morning juice, I equally love my smoothies. Each one is packed with vitamins, lots of fresh greens, protein (nuts or seeds), some fruit, a bit of (good) fat like some avocado or almond butter, and usually a teaspoon of spirulina, chlorella or maca for good measure.
So you see, I don't like choosing between the two — I depend upon both my juicer and blender!
Try (Both) Before You Buy
I guess the best advice I can offer is for you to start by sampling some fresh juices and smoothies.
Find a health food store or restaurant near you (note: many Whole Foods locations have juice bars) and try a green juice.
The next day, try a smoothie. Maybe you'll discover that you prefer the flavor or consistency of one over the other.
Also consider your lifestyle and schedule — the juicer can require about 20-30 minutes of additional prep and cleaning. Juicing also requires a lot of produce and therefore, more budget and time at the market.
Are you currently trying to decide between a juicer and a blender? If you have any specific questions, please post a comment below — I'd love to hear from you!
In the meantime, I'm including a recipe for one of my favorites — my spicy mango smoothie.
Spicy Mango Smoothie (Serves 2)

1 cup of nut milk (homemade or store-bought)
1 cup of filtered water
2 gi-normous handfuls of washed spinach
6 tablespoons of shelled hemp seeds (easily found at Whole Foods and other natural grocers)
About 1 1/2 cups frozen mango chunks
1/4 avocado or 1-2 tablespoons raw almond butter
1/4 to 1/2 teaspoon cayenne pepper
1-2 teaspoons spirulina or chlorella powder (optional)
Place all ingredients into high-speed blender and process until smooth and creamy. Serve immediately or store in the fridge to enjoy later. Salud!
For more healthy recipes and lifestyle tips, sign up for my newsletter — it's free!