This week on More Good Day Oregon, I'm making a delicious Roasted Beet and Arugula Salad. It's the perfect combination of bitter and sweet — the arugula is balanced by the earthy sweetness of the beets, and a cumin tahini dressing.
Tune into More Good Day Oregon on Monday, June 19 at 9-10 am Pacific time to watch me make this recipe step-by-step.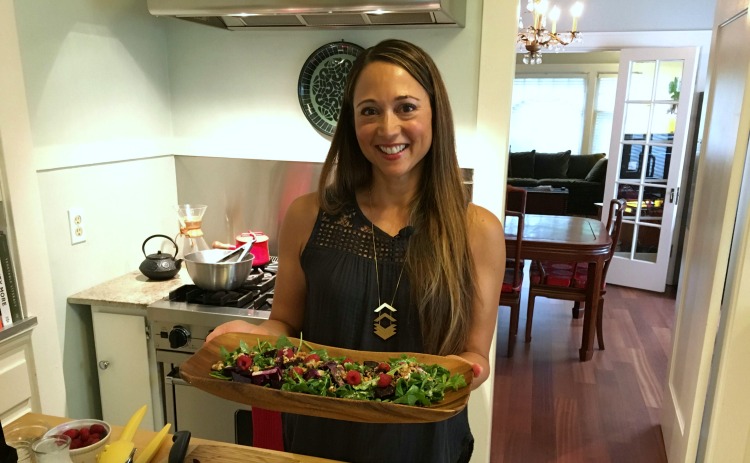 Why Beets?
Beets are an amazing food to incorporate into your diet — they're heart healthy, and rich in antioxidants.
As you may recall from my earlier post on the Heart Healthy Smoothie, beets are a natural source of nitrates, which the body then converts to nitric oxide (NO), which is needed to dilate the coronary arteries that enable blood flow to the heart.
In fact, a study published in the Journal of Applied Physiology in 2009 found that beet root juice improved endurance in test subjects by enabling them to utilize less oxygen during exercise, making their energy use much more efficient.
I suppose that's all well and good for athletes, but what about us regular folk? Are there similar benefits?
Yes, according to a study funded by the British Heart Association, beet juice reduced systolic blood pressure by about 8 points among study participants, with a cumulative effect that showed improved results week after week. As a result, the study concluded that "nitrate-rich vegetables may prove to be both cost-effective, affordable, and favorable for a public health approach to hypertension."
So get those beets into your rotation! I think they're especially good roasted, and then paired with a bitter green such as arugula.
Prep Tips
Here's a handy prep-ahead tip: roast and peel the beets earlier in the week, and the salad comes together in a snap on busy weeknights.I also recommend rinsing and spinning the greens — and making the dressing — over the weekend, to make this salad even easier to prepare during the week.
For the recipe, just click on the green box below.