New Video: Quinoa + Black Bean Salad with Corn and a Jalapeño Vinaigrette
Recently on More Good Day Oregon, I made a delicious Quinoa and Black Bean Salad with Corn and a Jalapeño Vinaigrette. So yummy!
This salad is so satisfying — so many fresh flavors from the green onions, jalapeño and cilantro. Plus, the combination of quinoa and black beans makes this salad full of protein and fiber.
This is a great prep-ahead meal you can keep in the fridge to enjoy throughout the week. You can enjoy the salad served alongside some dressed greens, or wrap it up in lettuce leaves. It's also yummy tucked into a tortilla with some avocado wedges.
Lastly, it makes a great potluck dish. Which is where I first encountered this salad, which had been made with white rice. That version was delicious as is, but for this recipe I decided to use quinoa for extra fiber and protein.
To make things even easier, prep ahead by making the quinoa, and cooking the corn, the day before you want to assemble the salad. Better yet, get your kiddos, partner or roommates to help as sous-chefs, and the salad will come together that much more quickly.
Here's a time-saving tip: did you know you can make your quinoa in the rice cooker? I always do! It turns out perfectly cooked grains every time.
Why this salad is so healthy
One of the reasons I love this salad is because it's healthy. Of course.
To be honest, though, I'm currently obsessed with pickled jalapeños, and I use the brine for this dressing. It's the perfect complement to the fresh flavors of nutty grains, sweet corn, scallions, and cilantro.
So that makes the salad super delish. But let's get back to why this salad is so healthy, starting with cilantro.
A few words about cilantro
So let's talk about cilantro for a minute. You may think of it a standard garnish for Mexican, Thai, or Southwestern fare, but cilantro is actually a powerhouse of an herb. For starters, it has been shown to flush heavy metals such as arsenic, cadmium, aluminum, lead, and mercury from the body.
Cilantro is also high in antioxidants, and can help reduce damage from free radicals. It has also been shown to have a protective effect against colon cancer.
And if that wasn't enough, cilantro helps manage blood sugar levels, can reduce blood pressure and cholesterol, protects against stomach bugs such as salmonella and listeria, and can  soothe the skin (Source: Draxe.com)
All that plant power in one simple herb — pretty amazing, right?
So if you like cilantro — and you're not one of those people who's genetically predisposed to thinking it tastes like soap — do yourself a favor, and enjoy this powerful herb several times a week.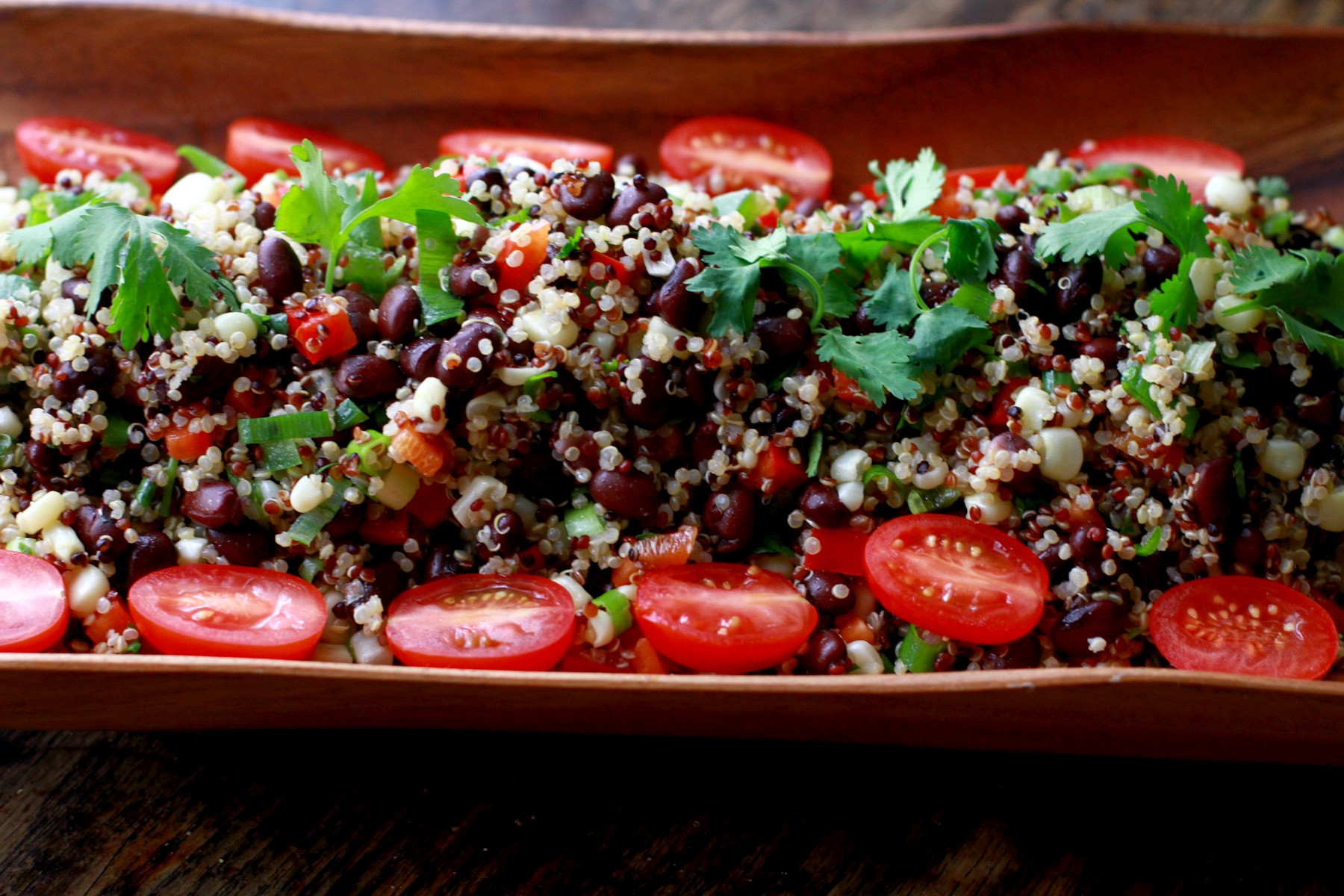 And yes, this salad has plenty of protein…
One of the most annoying questions you can ask plant-based people is:
BUT WHERE DO YOU GET YOUR PROTEIN?
I've written about this before: why you don't need to obsess about getting enough protein. 
Bottom line, protein deficiency is virtually non-existent in the U.S. Basically, if you're eating enough calories, you're getting enough protein. Protein can be found in beans of course, but it's also found in grains such as quinoa, and even in fruits and vegetables.
So don't worry so much about protein. Chances are you're getting plenty. And probably more than you need, if you eat chicken, meat or seafood.
Why is excess protein an issue?
It's true, eating a lot of protein can help with weight loss. But it comes with a heavy price tag: excess protein has been linked with osteoporosis, kidney disease, calcium stones in the urinary tract, and some cancers (Source: Physicians Committee for Responsible Medicine).
And fiber…
Now what we do have in this country is a fiber deficiency problem. In fact, 97% of Americans don't eat enough dietary fiber.
That's because the standard American diet is woefully low in fresh fruits and vegetables — which is where all of the fiber is. In other words, there's little to zero fiber in processed carbs such as chips, breads, and pasta. And there's no fiber in meat, chicken, eggs or fish.
Why is this so important?
Because a diet that is rich in dietary fiber — lots of whole food fruit, vegetables, and whole grains — has been protectively associated in population studies with the risk of diabetes, metabolic syndrome, cardiovascular disease, obesity, and various cancers as well high cholesterol, blood pressure, and blood sugars (Source: nutritionfacts.org)
So get your fiber people. It's important!
And by the way, it's not the same if you just slug down some Metamucil every night. Which is what I used to do when I was trying to resolve my IBS.
No, what you need is the real deal. Healing, toxin-flushing, restorative, and gut-healthy fiber from whole food fruits and vegetables. No shortcuts, okay?
Ready to try the recipe?
Ready for a delicious protein-rich, fiber-packed treat? Great! Just click on the green box below for the recipe.
And remember to tag me on Instagram if you try the recipe. I love seeing your kitchen creations!