New week, new video! This week, we're making a new roasted cauliflower salad that I absolutely love. Check out the video below as I make the recipe step-by-step for my weekly TV appearance on More Good Day Oregon.
Cauliflower: yay or nay?
It's okay if you don't like it. Or if you think you don't like it. Yet.
Or maybe you're one of those evolved types who fell in love with cauliflower at an early age, dipping raw florets into hummus and ranch dressing while your mother beamed with pride.
Well, I wasn't one of those kids.
If I had been fully in charge of my childhood diet, my staples would have been pizza, Doritos (the original taco flavor), and pixie sticks. Fortunately (or unfortunately, as I thought at the time), my parents didn't let me eat like that very often. And they definitely made me eat my fair share of cruciferous veggies: broccoli and cauliflower.
Seeing broccoli and cauliflower on the dinner table literally made me cry. I can still remember that telltale sulphur smell wafting out from the kitchen — oh, how that filled my ten-year-old heart with dread. Because I knew that while I could sneak fatty pieces of meat to our dog under the table, I couldn't get rid of boiled veggies. Rufus had her limits (yes, Rufus was a she).
You see, this was back in the day, before veggies were lovingly roasted, or dressed with a beautiful sauce, or sliced elegantly thin with a mandoline and finished with 30-dollar vinegar, artisanal olive oil and crushed pistachios. This was also well before grocery stores were full of off-season produce. No January tomatoes or watermelon for us. Most of the year, vegetables were bought frozen, or in a can.
Kids these days have no idea. Veggies back then were primarily boiled, at least in my house. And boiled until soft, at that.
Yuck.
No wonder the mere mention of certain vegetables triggered culinary PTSD well into my adulthood.
But that's all in the past, isn't it?
Vegetables are increasingly taking their place at the center of the plate, and for good reason. They're packed with fiber, cancer-fighting antioxidants, and inflammation-cooling compounds. And it turns out they can taste pretty damn good, too!
Which brings me to cauliflower.
I still don't love raw cauliflower, or steamed for that matter. But roasted? I'll eat a whole head of it by myself.
A whole head — does that seem crazy?
I don't think so. Here's a little secret, between you and me and the internet: roasted cauliflower tastes like french fries. Yes, french fries! The cauliflower gets all crispy and brown on the outside, and tender and creamy on the inside.
Cauliflower gets restaurant-fancy in my new salad recipe
Here in Portland, you'll find roasted cauliflower on menus all over town. There's Toro Bravo's roasted cauliflower with cracked olives, fried cauliflower salad (with sour cherries: yum!) at Trifecta Tavern, and the beloved brussels sprouts and cauliflower salad at Boke Bowl, just to name a few.
My new recipe for Roasted Cauliflower with Pomegranate and Hazlenuts is inspired by these fancy restaurant dishes I've had the pleasure of enjoying here in foodie town.
It begins with crispy and golden cauliflower, paired with a creamy, tahini-based dressing sweetened by a bit of pomegranate molasses. Then, we add some thinly sliced celery for crunch, some pomegranate seeds for sweetness, crushed hazelnuts for earthiness, and some flat leaf parsley for fresh herbaliciousness.
These are such simple ingredients on their own, but when combined, pure magic happens. So much magic, in fact, that I barely remember all of that boiled cauliflower from my past.
Why you need more cauliflower in your life
So we've talked about why this new recipe for cauliflower is tasty. Now, let's talk about the frosting on the cake, as it were: why cauliflower is so good for you.
As I wrote in a previous blog post, cauliflower is a nutrient powerhouse, just like its fellow cruciferous vegetables such as broccoli and kale. All of these vegetables are high in glucosinolates — sulfur-containing, plant-based compounds that can provide:
Improved cardiovascular health
Better digestive function
Stronger immune system
Anti-inflammatory effects
Enhanced detox function
Reduced risk for colorectal and prostate cancer
Healthy bones
Eye health
Hormone balance
Thyroid balance
Cauliflower is also high in vitamin C, which is one of the most important antioxidants for reducing inflammation, and boosting immune system function. In other words, vitamin C plays an important role in keeping us strong against infection, harmful bacteria, and cold-and-flu season.
Here's another cool fact: cauliflower is high in vitamin K. This nutrient isn't a household name like vitamin C, but it's super important for maintaining bone health and reducing risk for osteoporosis.
People who take antibiotics or cholesterol-lowering drugs like statins are especially vulnerable to vitamin K deficiency. Another great reason to get more cauliflower into your diet.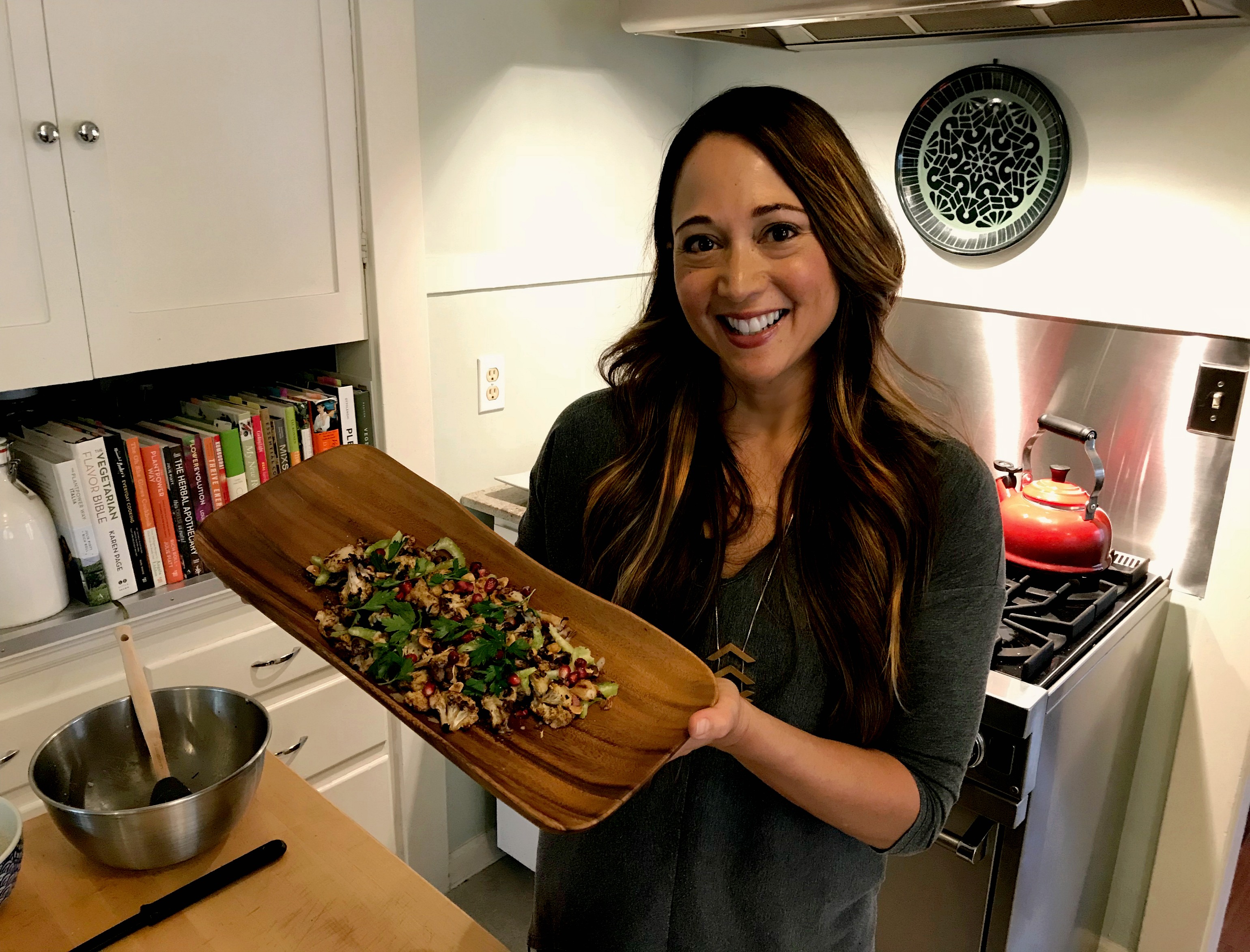 Ready to try Roasted Cauliflower Salad with Pomegranate and Hazelnuts?
OK let's do this!
Bust out that head of cauliflower that's been loitering in the back of your fridge and give it a new lease on life — by NOT steaming it, and by making this crunchy, savory, crowd pleaser of a salad.
For the recipe, just click on the green box below.