Today we're talking healthy meal prep with sweet potatoes — an approach I use almost every single week. But before we get into the how and why, I wanted to share a little story…
We moved to a new house over this past weekend, which was a complete circus. Definitely not my favorite experience, even though we had great movers (shout out Two Brothers). I mean, staying in the same house for more than a decade means that some serious (ahem) stuff can build up.
For me, moving was like an episode of Tidying Up with Marie: Kitchen Edition and I'm still a little embarrassed about it. As I write this post, my many boxes of cookbooks — and more than a few boxes of extra pots, pans and glassware — are sitting idly by in the basement, waiting to be unpacked. And wait a bit longer they will, because I wanted to get this post out to you in time for potential weekend meal prep.
So back to the sweet potatoes. They're part of this whole moving story, too.
Here's how: sweet potatoes were among the first items that I brought over to the house before moving day.
I know — some people start with their clothes or artwork, but I'm weird like that. Sweet potatoes!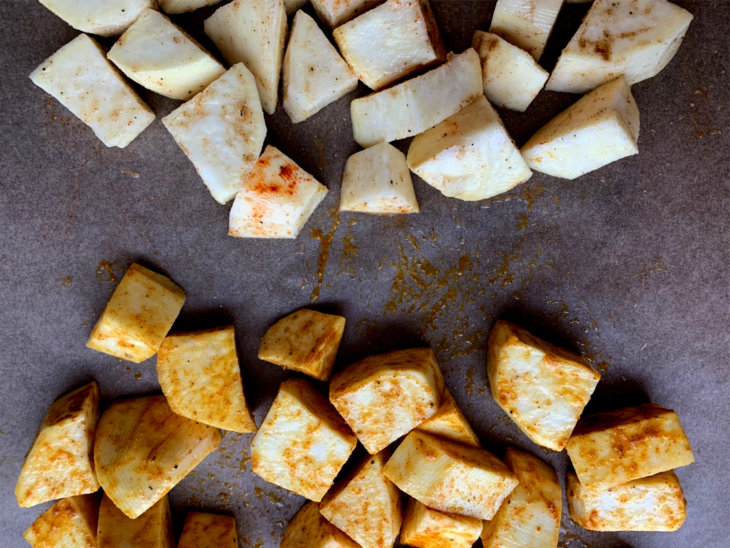 Why sweet potatoes? Because they're healthy!
I almost always have sweet potatoes on hand, and here's why you should too. Having a supply of sweet potatoes in the house is  like healthy meal prep gold hidden under a mattress.
One: they're healthy, of course! Here's how: sweet potatoes are really high in beta-carotene, which the body uses to make vitamin A. So if you like having glowing skin, healthy eyes, and a strong immune system, get your beta-carotene/vitamin A. Sweet potatoes are an exceptionally rich source — just one cup has more than 200% the daily recommended amount of vitamin A.
In addition, sweet potatoes are a good source of vitamin C (52% of the daily recommended amount), as well as manganese, which supports healthy bones and reduces inflammation.
Sweet potatoes are also a good source of fiber, which keeps the digestive system moving along and happy. Lastly, sweet potatoes are a whole food source of carbohydrate, which means they won't spike your blood sugar like pasta or other products made with flour. This "good carb" can help satisfy hunger, and it's great for your brain, too.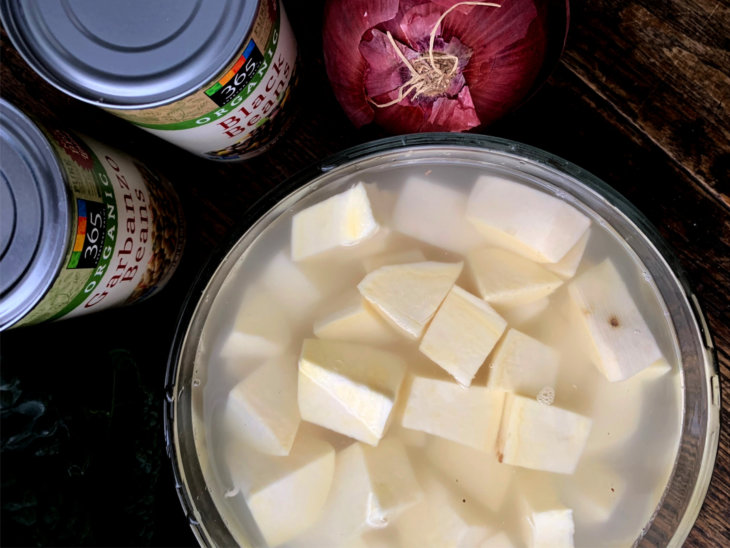 Sweet potatoes are easy to prep
Number two: sweet potatoes are super easy to prep, making them a favorite among seasoned and new (or infrequent) cooks alike.
Sweet potatoes are easy to steam, roast, or throw into a soup and simmer. All you need to do is give them a good scrub with a vegetable brush and running water. This would be just fine if you're roasting them whole.
If you're going to slice the sweet potatoes into wedges or chop them, you can also do the scrub-and-rinse thing, or remove the skin with a carrot peeler. It's totally up to you.
Sometimes I peel the sweet potatoes, and sometimes I don't. No real reason. It just depends on how much time I have, how the sweet potatoes look (i.e. if they seem kind of muddy or dirty), and what I want the finished dish to look like.
Sweet potatoes are a pretty forgiving bunch, all in all. Easy to roast without a whole lot of babysitting. It's not like roasting nuts or coconut, which you need to watch like a hawk!
That's why sweet potatoes are my go-to when I do weekend kitchen prep. They're easy to prep and cook, which means I can get healthy meals on the table more quickly on busy weeknights.
Sweet potatoes are family friendly
I hear from a lot of folks who are into healthy recipes, but struggle because their family members don't share that same veggie love.
Here's where sweet potatoes come in — most people like them. And most kids love them! Which means music to a mama's ears when the kids ooh and aah at dinnertime.
Having a simple dinner of roasted sweet potatoes and a side or two (like a big green salad) is how I weaned my kid off his "special meals." You know what I mean, like when you make a healthy dinner for the adults, but then make something else for the kiddo? I lived in make-two-dinners land for a long time — a bad habit that was hard to break.
But then sweet potatoes saved me. And they've been saving me ever since.
How to use sweet potatoes for healthy meal prep
Overall, my healthy meal prep strategy is to use the weekend to prep (and sometimes cook) ingredients so that making dinner on a busy weeknight will take less time and be hassle-free. You can read all about this strategy in last week's post, Healthy Meal Prep Ideas for a Healthier Week.
Ideally, I like to use what I prepped on the weekend for at least two meals. This saves me even more time and hassle — and money, BTW — during the week. For example, if I chop and roast sweet potatoes on a Sunday, we can enjoy them for dinner that night — and then I can throw some of them into a salad later in the week. Or use them as the base for a bowl with other roasted veggies.
That's it. Simple, right?
Healthy meal prep mini-plan
To recap, here's what your healthy meal prep with sweet potatoes might look like:
Saturday: Go grocery shopping. If you need a master list, you'll find one in my free Healthy Meal Planning and Prep Guide.
Sunday: Scrub sweet potatoes under running water. Then leave a few whole so you can enjoy roasted sweet potatoes on Sunday night. Peel and chop a couple more, toss with avocado oil and some salt and pepper, and roast at 400 degrees until golden brown on the outside and tender on the inside. Let cool, and store in an airtight container in the fridge.
Monday: Throw some of those roasted sweet potato cubes onto your lunchtime salad — use like a healthier and heartier version of croutons. These will help that salad keep you satisfied for longer.
Tuesday: Use the sweet potato cubes to make a third meal. You could throw them into my Quick Chickpea Curry, or wrap them up into a burrito with some black beans, rice, and store-bought salsa and guacamole. Or, you could try my easy Sweet Potato and Black Bean Salad. You can serve it warm or at room temperature. Or cold. I think it's still good then. Kind of like cold pizza, except better for you of course. If you'd like to see me make the Sweet Potato Salad recipe step-by-step, just scroll down to see the video.
See how that works? Instead of having to cook meals from scratch every day, you get a 3-for-1 out of that one weekend prep session.
Video: Sweet Potato and Black Bean Salad
For me, the most successful meals are often the simplest. The ones that are quickly made. And the ones that the whole family loves. Trifecta!
I hope today's blog post inspires you to add more sweet potatoes to your healthy meal planning and prep. Your skin, eyes, brain, and immune system — and busy schedule — will thank you!
If you have any questions along the way, tag me on Instagram. I'd love to hear from you.
Get your free Healthy Meal Planning and Prep Guide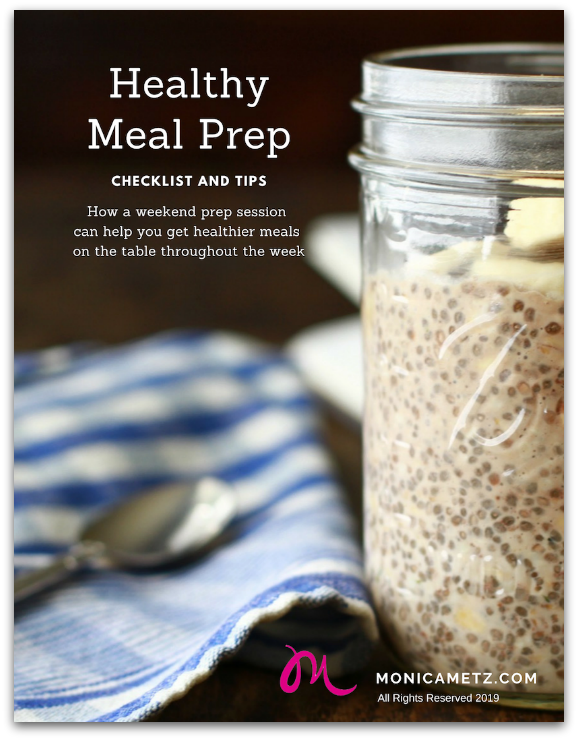 Life is busy, and weekends can be super busy, whether you're doing errands, having fun, or dedicating your entire weekend to youth sports LOL.
However, if you make the time for meal prep, you won't regret it. Especially when you realize it takes you only 15 minutes to make dinner during the week, instead of the usual 30-60.
Here's even more good news: I created a new freebie for you! It's my downloadable and totally printable Healthy Meal Prep Guide.
Inside, you'll find more details about my approach, as well as:
Shopping and meal prep strategies.
A blank meal planning template.
Sample meal plans.
Downloadable and printable shopping list.
Weekend prep session checklist.
Ready to download the guide?
Great!