Today we're talking about why green tea is good for you. Trust me when I say that coffee's okay, but green tea is the real wellness super hero here. 
I know it can sound a little boring compared to coffee — well, maybe not when we're talking about matcha lattes, because those are pretty exciting. 
But hear me out — there's tremendous power hiding under green tea's subtle exterior. 
Here's why…
Both black and green tea are high in antioxidants, but green — as well as white and oolong tea — is different. 
It's especially high in an antioxidant called EGCG.
This compound has been shown to boost metabolism and actually support fat burning when we're at rest. 
 At rest!
So what else does it do?
Benefits of green tea
Green tea can be an impressive multi-tasker when it comes to our bodies. 
Here are its most impressive benefits:
Less caffeine than coffee and offers more antioxidants

Boosts metabolism and fat burning

Can lower cholesterol

Can prevent colon polyps

Has a phytochemical called L-theanine that improves focus and reduces stress

Also has prebiotic polyphenols – good for the gut!
And… it can help reduce breast cancer risk by 30-50%, depending on the study.
Do's and don'ts
Of course, reading all this may inspire you to shotgun a gallon of the stuff right away. 
But it's important to take it slow, especially if you're sensitive to caffeine. 
Here are some tips if you want to try green tea:
Do
Buy high quality, organic tea. There have been some studies showing that a lot of the product coming from China is high in lead, so you definitely want to buy high quality, especially if you're consuming the whole leaf (as you do in matcha).

Start with 1 cup – especially if you're sensitive to caffeine. 

Enjoy up to 3 cups a day, but definitely pay attention to your body in terms of caffeine. 

Add a squeeze of lemon – this can 5x the benefits.
Don't
Don't use green tea extract supplements – there have been a lot of safety issues with these kinds of supplements. 

If you're super sensitive to caffeine, this may not work for you.

Don't drink it after noon if you have trouble falling or staying asleep. 

Don't drink green tea beverages that are sweetened with sugar or artificial sweeteners. Artificial sweeteners can be especially bad for gut health. Just drink regular green tea. 
Recommended reading and resources
If you want to take a deeper dive into green tea, check out:
I hope you found this post helpful. Let me know what you think by connecting with me over on Instagram at @thehealthycookingcoach 
Watch the video on Instagram
Last week I went live on Instagram to talk about all this. You can check out the video below — and if you have questions, head over to Instagram and post your question in the comments.
View this post on Instagram
---
Want to eat more veggies… without going 100% plant based?
Grab the free Eat More Veggies Starter Kit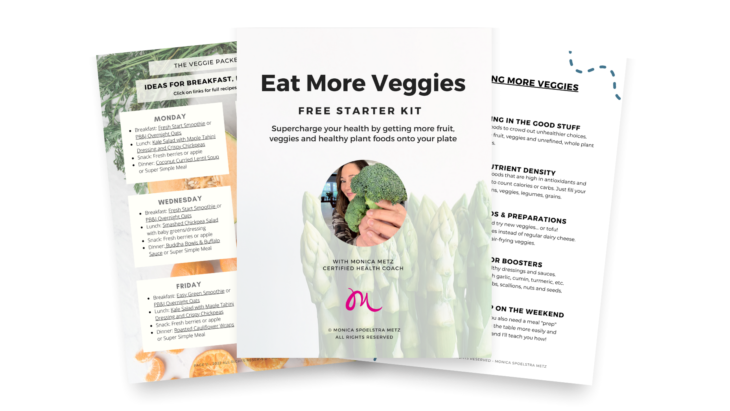 This free, downloadable PDF will help you get started on getting more veggies (and healthy plant foods) onto your plate so you can boost your health, improve digestion, and feel better in your body.