Making quick and delicious smoothies and smoothie bowls is so much easier when you set up a DIY smoothie bar in your own kitchen
Not so many ears ago, I remember taking great pains to set up our home bar. I was doing public relations for some restaurant clients at the time and, Portland being the foodie town that it is, I was inspired to create an impressive home bar.
Beautiful cocktail books were bought. Obscure bitters procured. Glassware polished. Specialty spirits stocked. Recipes scrutinized and adjusted.
In the end, my husband and I did assemble a pretty solid home bar, and it certainly comes in handy when people come over for dinner.
However, life has changed.
I'm now a health coach — so there's that whole healthy living thing. And while I still enjoy the occasional cocktail, it's no longer an every day indulgence.
Plus, I'm older! And sometimes I feel tired or hungover on as a little as two drinks.
So these days, I'm way more focused on healthy recipes than I am chasing after the perfect cocktail set-up.
Which got me thinking… there's a ton of information out there — not to mention furniture, barware, books and beverages — to help people set up their home bar.
And there's relatively few resources about how to set up your own smoothie "bar," which is of course a much healthier thing to do.
So let's talk about how to set up your own smoothie bar…
NOTE: this page includes affiliate links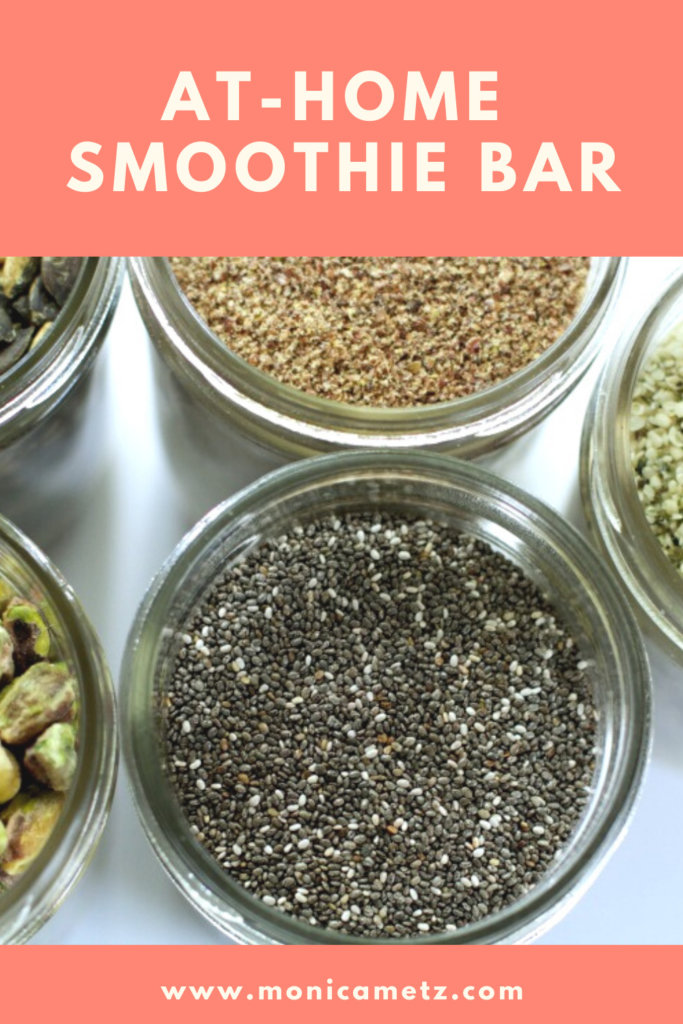 Smoothie bar equipment
If you're new to making smoothies, or are stuck in a rut, here are a couple things to consider when setting up your smoothie bar…
Invest in a good blender. This is one of the all-time best purchases you can make. Hands down. It doesn't have to be a high-end blender like a vitamix, although I certainly recommend them. I have a very basic model, and it's still going strong after 12 years of daily use. Your blender should be strong enough to pulverize and liquefy ingredients such as nuts and greens, and it should be easy to clean. Bottom line: if you're committed to enjoying smoothies on the regular, you're gonna need a strong blender. Because no one likes lumpy smoothies.
Glass mason jars. I love me some wide mouth mason jars! This is my to-go cup of choice for my husband's morning smoothie. They're inexpensive, easy to find, and you can buy durable plastic lids for them. I mean, travel mugs are okay. But I like drinking out of glass better.
Microplane. This is definitely in the "extras" department, but a microplane is an inexpensive grating tool that has all sorts of uses, from zesting a lemon to grating ginger so you won't get fibrous strands in your smoothie. It's also helpful for grating whole nutmeg or cardamom, which may sound like something you'd never do. But once you start exploring the wide world of smoothies, you may just find yourself inspired to grate something fancy over a smoothie or bowl of morning oats.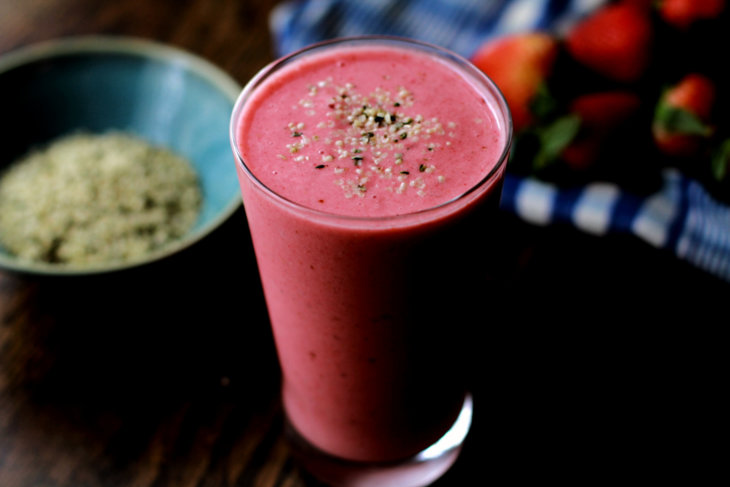 The well stocked smoothie refrigerator and freezer
Did you know that nuts and seeds can go rancid if you store them in a kitchen drawer or on your counter? Keep them in the fridge — or the freezer if you won't be using them for awhile — this retains the flavor and nutrients.
Here are other smoothie bar ingredients that'll likely need to be kept in the refrigerator and freezer.
Some of my favorite foods to keep on hand are:
Ground flax seed: can help lower cholesterol and blood pressure, as well as reduce breast cancer risk.
Chia seed: super high in fiber and great for gut health.
Hemp seed: high in protein and doesn't affect the taste of your smoothies like most protein powders will.
Leafy greens such as kale and romaine
Microgreens such as broccoli sprouts (off-the-charts high in cancer fighting nutrients)
Fresh herbs such as parsley and cilantro
Carrots, zucchini and celery: easy to sneak into any green smoothie
Fresh ginger: this is especially refreshing in green smoothies
Bananas, frozen in chunks
Frozen: blueberries, strawberries, raspberries, blackberries, peaches, mango, pineapple and cherries. I also like to stock up on frozen kale and spinach for smoothies.
Cauliflower rice: frozen cauli rice is another veggie you can easily sneak into any smoothie.
Almond butter
Cashew butter
Walnuts
Lemons
Limes
Oranges
Your smoothie pantry: liquids and spices
You don't need to have a million superfoods on hand to make delicious smoothies, but having a rotation of spices and other ingredients on hand can help you keep things exciting by mixing up the nutrients and flavors from day to day.
Here are some of my go-to, shelf-stable ingredients:
Medjool dates, pitted: adding a date is a great way to sweeten your smoothies
Shelf stable unsweetened plant milk: my favorite is Westsoy soy milk because the only ingredients are organic soybeans and water
Canned coconut milk: I prefer using light coconut milk
Canned pumpkin and sweet potato: it's a fun and seasonal way to add fiber and nutrients to your fall and winter blends
Cacao powder (unsweetened): chocolate… need I say more?
Vanilla extract
Cinnamon
Once you've stocked up on the basics, you may be inspired to add these:
Almond extract
Peppermint extract (I like using this in my Healthy Shamrock Shake)
Cayenne pepper (this can help "warm up" your smoothies during the winter)
Pumpkin pie spice blend
Nutmeg
Cardamom
Chai spice blend (I make my own — here's the recipe)
I also really like PB2 for peanut butter flavor with less fat
Rolled oats: add a 1/4-cup to add fiber and make your smoothie more satisfying
Silken tofu for non-dairy creaminess and texture

Smoothie bar logistics
Once you start building your smoothie bar, you'll probably want to stay organized so you can make smoothies more quickly and use your ingredients before they expire. Here are some of my tips for keeping everything sorted…
Create a smoothie section in your refrigerator. Build your smoothie bar for speed by reserving a section of your refrigerator door for the ingredients you use most days. For me, this means putting flax seed, chia seed, hemp seed and walnuts all on one shelf of my refrigerator door. When everything you need is sitting in one place (and stored in mason jars!), you can build your smoothie in seconds.
Create a smoothie section in your freezer. Keeping all of your frozen fruit on one shelf or in one section is a much appreciated timesaver when it comes to morning smoothie-making.
Keep your recipes handy. If using paper cookbooks, use office supply page tabs to mark your favorite recipes. Or, if you use recipe print-outs, keep them in a file folder on your cookbook shelf. If you like browsing recipes on Instagram, create a smoothie recipe collection as part of your saved posts.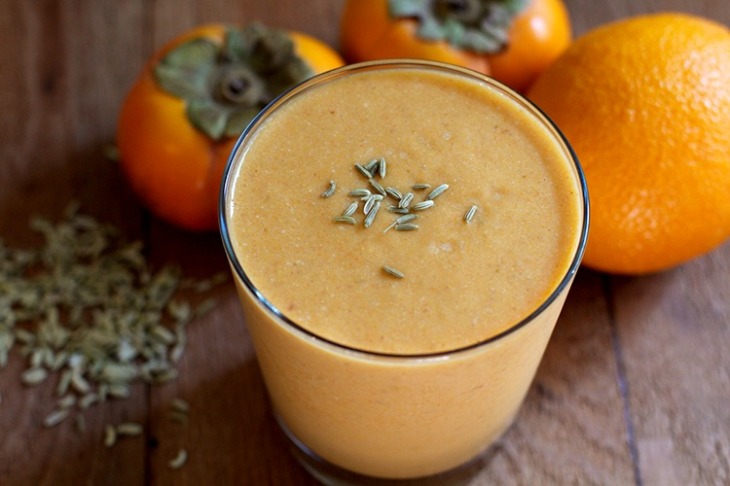 What about protein powder?
You've probably noticed I didn't include protein powder as one of my smoothie bar staples.
Sometimes, I'll use protein powder. If I have it on hand. But usually I like to use whole nuts and seeds and nut butters — as well as other ingredients — for my smoothies.
Here's why: I've tried a wide range of protein powders, and have decided to use whole, unrefined protein sources instead. One: nuts and seeds are tastier. And two: I don't love using processed powders that come with a long ingredient list that includes isolates, mysterious and "natural" flavorings, sweeteners, guar gum and random additives I don't recognize. Nuts and seeds provide protein, healthy fats, fiber and minerals — and they help with weight loss and improved metabolism.
Besides, did you know you could make your own smoothie blend? If I'm making a certain smoothie frequently, I'll make a blend of those particular nuts and seeds and use that for my morning smoothies. Here's a link to my post on DIY Smoothie Blends. 
Need smoothie recipes?
All this smoothie talk has me thinking about some of my favorite recipes. Here are a few to get you started:
I hope you found today's post helpful. Let me know what you think by heading over to Instagram @thehealthycookingcoach— I'd love to hear from you.
---
Need more support for your healthy cooking journey?
Get on the waitlist for my monthly membership: the More Veggies Cooking Club
Each month, I provide new recipes and step-by-step cooking videos to help people learn more about healthy cooking and add yummy recipes to their rotation.
If you could use some more support for your healthy cooking game, sign up for the waitlist and I'll let you know when enrollment opens.