She was a little high-maintenance — this seasonal salad I brought to a dinner party.
The salad offered a harvest bounty of little gem lettuce, sliced radicchio and shredded napa cabbage. The greens were threaded with ribbons of carrot and cucumber, and studded with edamame beans and roasted peanuts. All showered with cilantro and toasted coconut, then tied up in a bow with a creamy miso ginger dressing.
She was a lot to put together. But worth it. Because: dinner party. 
The wives and I gathered around the island while I made the salad and the guys watched football. 
"Sometimes I see Monica's instagram and I'm inspired to cook," my friend said. "But other times I think — I just need to be married to her."
My friend's already happily married.
But couldn't we all use a cooking-wife time to time?
I mean, damn! What would it be like to come home every night and have some tasty (and healthy) food on the table?
Well, the truth is sometimes this cooking-wife feels like making food like that salad (parties and potlucks).
And most nights I need to take it down a notch. 
The formula that works for me most weeknights is simple, as few ingredients as possible… and ideally, a meal that's already been partially prepped on the weekend. 
Which brings me to the subject of today's post: a salad that's not nearly as high maintenance, but one that still brings some delicious harvest vibes.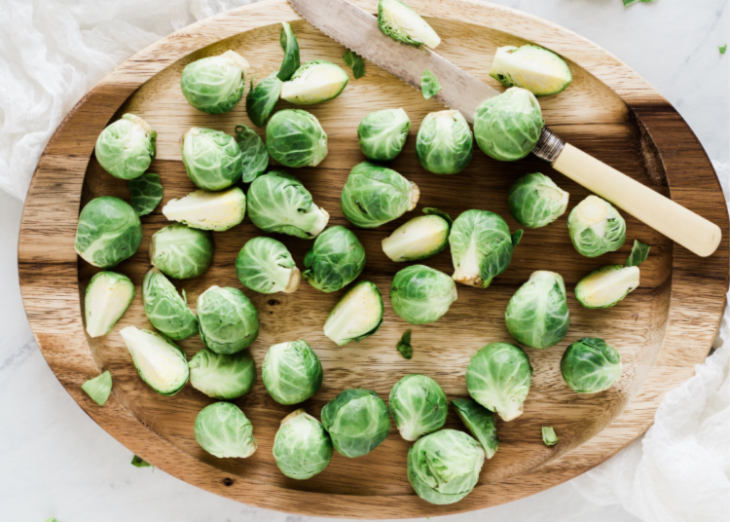 Seasonal salad: brussels sprouts and apple salad
This Brussels Sprouts and Apple Salad is easy to customize and has plenty of savory-sweet flavor and crunch. 
Now, let's talk about the nutrition stuff — and what makes this salad so healthy. 
As you may know, brussels sprouts are naturally low in calories and high in fiber. But they're also a great source of vitamin C, as well as vitamin K which we need for healthy bones and blood clotting.
And kale? Well we all know kale is the best. A nutritional rockstar.
And radicchio's no slouch either. It's high in vitamin K as well.
To finish, we add sliced almonds and pumpkin seeds for flavor and some healthy fat, as well as hemp seeds for protein. And some dried cranberries for sweetness.
But don't stress if you don't have all of these ingredients. Use whatever greens, nuts and dried fruit you have on hand.
I hope you enjoy this seasonal salad as much as my family does. If you need anything along the way, tag me on Instagram. I'd love to hear from you!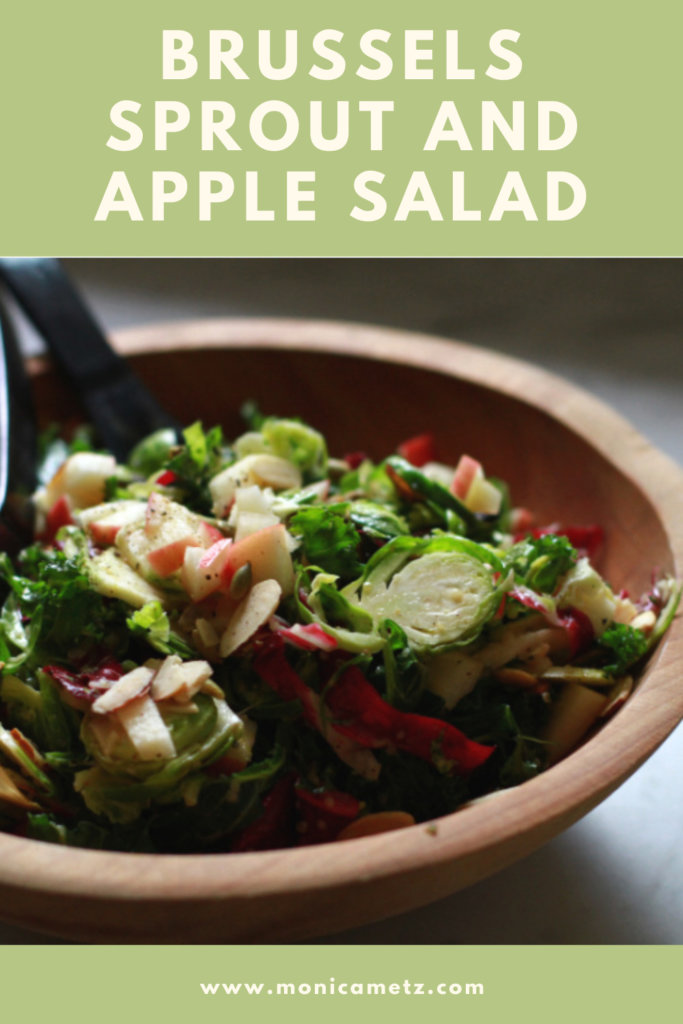 ---
Do you want to eat a more plant based diet — but don't want to go all in?
Get on the waitlist for my new program, Part-Time Vegan.