This post, on the surface, is about Curried Coconut Red Lentil Soup. But, as with most things in life, it's about something else too. 
Does life seem like a lot these days? It sure does to me.
I feel like my primary care doc was subtly nudging me towards anti-anxiety meds at my last appointment — or at the very least, letting me know they were an option.
"I don't think I'm quite there yet," I said.
Although I certainly made a mental note to get back to the yoga and meditation that have served me so well in the past.
And then, my acupuncturist shared with me that in her 20+ years of practicing, she's never seen so much anxiety and depression among her patients.
Which leads me to back to the start of this little note…
What to do when life seems like a lot
It's okay if it does.
In fact, it probably should feel like a lot, or we'd be completely in denial. I mean — we're still making our way through a pandemic and all sorts of other chaos, right?
I'm not a therapist, of course. But as your unofficial cooking therapist and healthy habits cheerleader, I just wanted to say that I see you, and that I get it when life feels like a lot.
So here's what I do when life feels like a lot:
I go to bed as early as I can get away with.
I take hot baths — which become too hot for me after a few minutes (middle age!), but those first few moments of soaking are heavenly.
And I focus on foods that will actually help me feel strong and resilient in my body.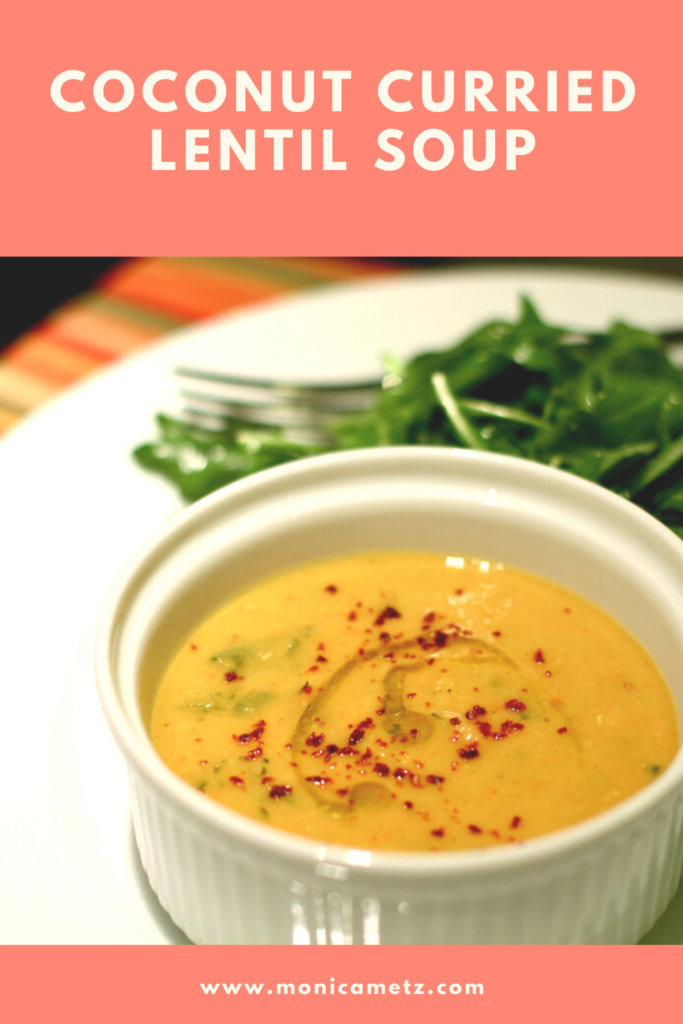 Reinventing comfort food
That said, I wanted to tell you about my Coconut Curried Lentil Soup.
It's one of my most popular recipes — probably because it sounds exotic and fancy. But it's actually a simple recipe made largely with pantry staples like dried red lentils and coconut milk.
But don't let its simple ingredients fool you. This soup is both big on flavor and utterly satisfying.
And from a nutritional standpoint, it's high in protein (lentils) and fiber (also lentils).
It's the kind of heart-healthy soup that I imagine would taste best served by a crackling fire, something to warm your spirit after a cold and rainy day.
Just the kind of soup that — if these things were possible for a soup — could get you all cozy with pillows and Pendleton blankets, and erase the stresses of the day while sending you off to sleep with calm and untroubled thoughts.
That's a tall order for a soup, I know.
But if this soup had a vibe, that would definitely be it.
That's why I hope you try this recipe, and that it brings some peace and nourishment to your day.
Here's the Coconut Curried Lentil Soup recipe if you want to check it out.
PS: Have you checked out my FREE Part-Time Vegan Starter Kit yet? It has all sorts of tips and recipes to help you get more veggies into your life.