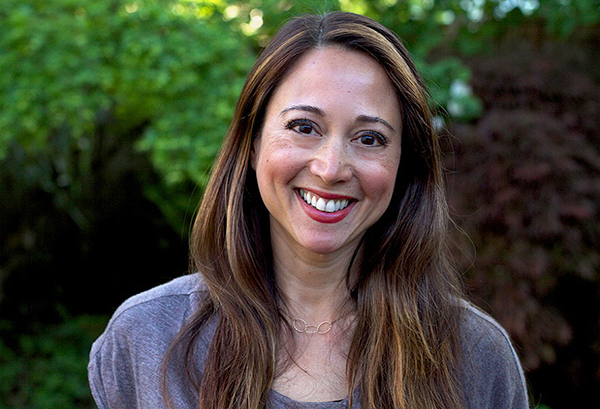 Hello — I'm Monica Spoelstra Metz!
My mission is to help people like you live a healthier and happier life in spite of the over-committed, over-scheduled, and Big Gulp-fueled world in which we live.
Healthier and happier. Sounds awesome, doesn't it? But how do we get there when Healthy and Happy Land seems so far away? When we're so burned out we need a super sized cup of coffee just to brave the morning commute? When our days are so crammed with meetings, email inbox overload, to-do lists, deadlines — and school functions, athletics and playdates for our kids — that we're sprinting for that glass of wine at the end of the day?
What can we do when, night after night, we go to bed later than planned and fret about the sleep we're not getting, and then reflect on another day gone without working out. The chips we had at lunch. The jeans that will never fit.
No wonder so many of us wake up — in the middle of the night or after hitting the snooze alarm God knows how many times — stressed out, freaked out and desperately wanting things to be different. You know, healthier and happier.
This is where I can help. I can show you the tools to make that healthier, happier life a reality. For real, and for the long haul — not just so you can lose five pounds for your reunion and gain it all back a month later.
How? I'm a certified nutrition counselor and lifestyle coach, and I help people get serious about their health.
Step by step, I can help you figure out what to eat so you can have more energy, look and feel younger, and lose the extra weight that has been bumming you out for years.
Why do I think I can help you?
For starters, I received my training through the Institute for Integrative Nutrition, the world's largest and most cutting-edge nutrition school.
More importantly, perhaps, is the fact that I'm a superb listener and I care deeply about your long term success. I'm committed to helping you discover the dietary and lifestyle modifications that will work specifically for your individual needs, goals and aspirations. I firmly believe that one person's food can be another person's poison. And what worked for you years ago might not work for you today.
Lastly, I believe I can help you because I understand what you're up against. I'm a recovered workaholic who once toiled through 80 hour weeks, lived out of a suitcase, and as a result, ate almost exclusively at the nearest mall food court. I've ignored my gym membership for years at a time (yes, years), blown through many a bag of peanut butter filled pretzels, and struggled with troubling health issues such as migraines, infertility and pre-diabetes.
So, I get it. I understand what it means to wish for a healthier life but be simultaneously overwhelmed by the prospect of making it happen. And because of my own not-so-healthy phases and experiences, I bet I'll understand you more than most other health coaches out there. Together, we can explore the tools you need to improve your health and well being in ways you may never have dreamed possible.
Want to find out more?
Great! Just click here to read my handy FAQ.
You can also sign up for my free email updates and receive healthy recipes, lifestyle tips and news about services and upcoming workshops — delivered right to your email inbox. It's easy —just fill out the form below.
In case you're looking for something more formal, here's my "professional bio"
Monica Spoelstra Metz is a certified nutrition counselor and lifestyle coach who works with busy, overcommitted individuals to get serious about their health, have more energy, and lose the weight that has been bumming them out for years.
Monica received her training from the Institute for Integrative Nutrition's (IIN) cutting-edge Health Coach Training Program. During her training, she studied more than 100 dietary theories, practical lifestyle management techniques, and innovative coaching methods with some of the world's top health and wellness experts.
Monica's teachers at IIN included Dr. Andrew Weil, Director of the Arizona Center for Integrative Medicine; Dr. Mark Hyman, NY Times bestselling author and international leader in the field of Functional Medicine; Dr. Deepak Chopra, leader in the field of mind-body medicine; Dr. David Katz, Director of Yale University's Prevention Research Center; Dr. Walter Willett, Chair of Nutrition at Harvard University; Geneen Roth, bestselling author and expert on emotional eating; and many other leading researchers and nutrition authorities.
Monica's education has equipped her with extensive knowledge in holistic nutrition, health coaching, and preventive health. Drawing on these skills and her knowledge of different dietary theories, she works with corporations and individual clients to help them make lifestyle changes that produce real and lasting results.
Monica began her career in marketing and public relations, working with a variety of high-profile organizations including the Portland Trail Blazers (NBA), Anaheim Ducks (NHL), the PGA of America, US Figure Skating Championships, Portland Timbers, Nike and Portland State University.
Passionate about writing and communications, Monica has a Master of Fine Arts in fiction writing. She earned a B.A. from the University of Notre Dame, where she also learned how to guzzle gin and tonics, live on pepperoni pizza, and abuse caffeine — important, albeit unhealthy, experiences and life lessons that inform her nutrition practice today.
She loves a great cardio workout as much as a chill yin yoga class, and is a licensed Zumba instructor. She lives with her husband and young son in Portland, Oregon, where, in "Portlandia" tradition, they make their own nut milk, mainline kale, and figure out new ways to "put a bird on it."
Want to find out more?
Sign up for my free email updates and receive healthy recipes, lifestyle tips and news about services and upcoming workshops — delivered right to your email inbox. It's easy —just fill out the form below.