Introducing the Spring Break Smoothie…
My healthy living segment on More Good Day Oregon this week is about a refreshing, vitamin C-rich smoothie that can help support your immune and digestive system as you get ready to go on — or return from — spring break.
Check out the video below as I make this energizing smoothie, step by step.
Freebie: Spring Break Prep + Recovery Plan
Also, a reminder that I created a special freebie for you: the Spring Break Prep + Recovery Plan. This downloadable, printable PDF covers:
A cheat sheet with ways you can prep for (or recover from) spring break
Recipe: Tummy Tamer Smoothie
My tried-and-true formula for tasty salads
Recipe: 5-Second Salad Dressing
Recipe: Creamy Cauliflower Soup
7-Day meal planning/healthy habits planner for before or after vacation
To download the PDF, please click here or on the graphic below.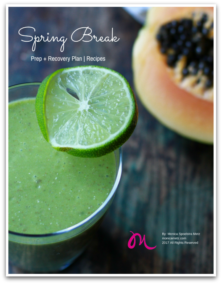 Inspiration Behind the Spring Break Smoothie
This citrusy concoction contains:
Vitamin C-rich fruit to help strengthen your immune system for upcoming travel.
Ginger and chia seeds for digestion support (and to help reduce bloating).
Coconut water for pre- and post-workout hydration.
The Spring Break Smoothie also includes carrot juice for extra antioxidants such as vitamin A. And because fresh carrot juice tastes freaking amazing.
I just love including carrot juice in a smoothie, because it delivers a unique earthy, yet sweet flavor. It's one of those ingredients that can really take your smoothie next level.
However, finding fresh carrot juice (or making it) can be a bit high maintenance. So, feel free to omit it.
Or, throw in some fresh chopped carrots. Or frozen ones. The carrot flavor won't be as concentrated as it is with juice, but the smoothie will be just fine.
It'll still be delicious, in fact!
Want to check out the recipe? Click here!
Looking for more ways to stay healthy during spring travel?
I've got you covered!
Check out my blog post: 9 tools and resources for healthier travel. 
You can also download this fun freebie: the Spring Break Prep + Recovery Plan. 
Happy travels!