What makes a good gift for our health-minded family and friends? I have so many ideas! Check out my latest live chat recording as I walk you through my Healthier Holidays Gift Guide.
Several of these brands are local to Portland, but I bet you can still find these kinds of items, locally produced, wherever you live.
Or if you've got some rolled oats in the pantry, roll up your sleeves and bake up a batch of granola, which I talk about in this live chat recording.
For instance, fancy store-bought granolas are often high in sugar, and they can be expensive as well. If you make it at home, you can control the amount of sugar, and the finished product is often much tastier than store-bought granola. If you're looking for ideas, try my Cinnamon Coconut Granola, or this Chocolate Pecan Granola with Tahini.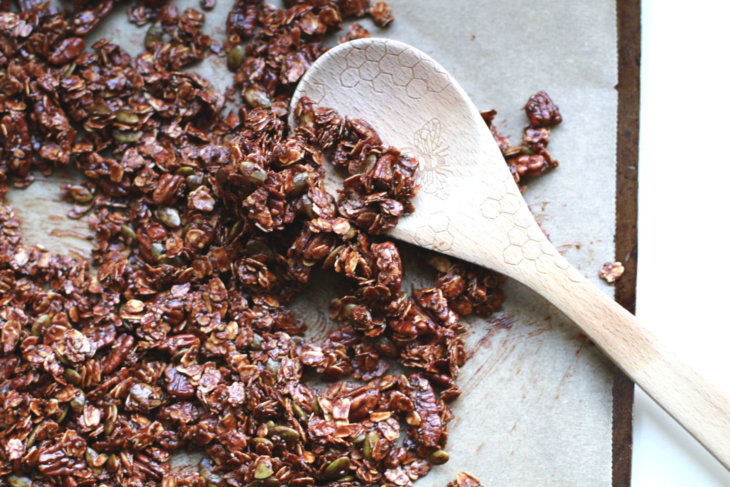 Some of my favorite things included in this video:
– ANYTHING from Missionary Chocolates (confession: I got a bag of chocolate covered potato chips for my own stocking LOL). These plant-based truffles and treats are absolutely delicious!
– Check out the latest treat/collaboration from Seed and Mill and Just Date Syrup. You can use it to make an insane hot cocoa.
– Instead of booze or wine… how about some exotic flavored vinegars, such as this Katz vinegar I got at Real Good Food. You can also find interesting vinegars at local vinegar shops, or at any gourmet grocery store. Some of my favorites are blackberry, fig, peach, and other flavors.
– Get spicy with these salsas and hot sauces. Locally made salsas and hot sauces are super fun to give and receive — or you can look for something from New Mexico, official hatch chile territory.
– I talk about this Spicy Miso Condiment that blows my mind. I'm obsessed! I use it on noodles, rice bowls, stir fries, stews and soups. The combo of spice and miso paste is glorious.
– How about a good cookbook? I share my favorite healthy (and healthy-ish) cookbooks these days.
Healthier Holidays Gift Guide: Watch the Video
Listen to the audio recording like a podcast
I hope these quick picks help you with some last minute gifts for a healthier holiday.
Wishing you peace, love, and broccoli,