"You can totally do this on your own," she says.
I'm sitting in my hairdresser's chair as she winds my hair around a curling iron, coils the curled strands around her finger, and pins them to my scalp to cool.
"You have big clips like these, right?" she says.
I nod yes.
But I don't tell her they're sitting in my bathroom drawer — undisturbed since she gave them to me years ago.
I watch her work. It really does seem so simple.
I start to think — of course I can do this at home. She makes it look so easy!
Plus, she has unwavering confidence in me.
A little while later, I leave the salon feeling like Super Bowl J Lo.
But I go straight home because it's COVID times and I can't show off my new look anywhere except my own kitchen 😛
Days later, I'm getting ready for a TV shoot. The curling iron part goes okay. But the pins. What do I do again? I forget.
And then it hits me. Who am I kidding? I can't do this.
I don't have the skills. Or the right angles. Or the patience, to be completely honest.
Back to my usual style I go.
Which is fine, of course, but I'd been hoping I could pull off one of my hairdresser's looks just once.
After all, I've heard "you can totally do this at home" quite a few times over the years.
What does a hair style have to do with healthy food?
So why am I talking about all this?
Because I'm super excited about my latest recipe for Hummus Bowls with Roasted Vegetables.
Why?
Because it starts out with a base of what I call "restaurant hummus."
You know how restaurant hummus is totally different than the hummus you make in a food processor at home?
Restaurant hummus is totally pro. Like hair styles only your stylist can create.
Food processor hummus is all right in its own way, but it's like restaurant hummus' no-nonsense cousin: a rough paste that gets the job done, but with little finesse.
In other words, like my curling iron skills: basic.
In contrast, restaurant hummus is silky and creamy, almost fluffy.
It often arrives at the table smoothed elegantly onto a shallow bowl and topped with other fancy restaurant things like fried cauliflower, pickled onion and fresh herbs.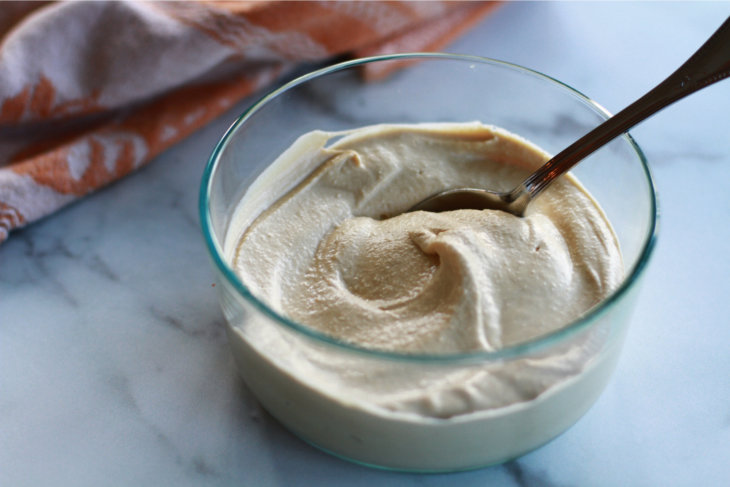 How to make hummus bowls like a pro
Real talk: you can totally do this at home. I mean it.
Which brings me to this week's recipe, which I made on More Good Day Oregon recently.
Fancy restaurant hummus can be yours if you have a high speed blender, chickpeas, some lemon juice, ice water… and a LOT of tahini.
I've made this hummus recipe many times after discovering it in Eden Grinshpan's amazing cookbook, Eating Out Loud.
And I loved it so much I thought, why not make this snack into a full-blown meal?
The great thing about this recipe is that it's actually very straightforward.
The preparation is simple, but the result looks like a professional made it.
And then you add your favorite toppings and it becomes even more special.
So are you ready for a delicious "pro" recipe you can make at home?
One that tastes like you ordered it from a restaurant, but in fact only took you minutes to make?
Then let's dive into the video and recipe…
Watch the video and get the recipe
Wishing you peace, love and broccoli,
Monica
PS: Big news! I'm getting ready to open up enrollment — to "friends and family" only (aka people on my list, like you!) for my membership program More Veggies Less Meat. Stay tuned!