I recently made these easy Banana Walnut Overnight Oats on More Good Day Oregon. This is one of my favorite grab-and-go breakfasts because it's high in fiber and very satisfying — with a nice boost of heart-healthy fat from the walnuts. To see me make this easy recipe step-by-step, check out the video below…
The Inspiration Behind Banana Walnut Overnight Oats
I like regular stovetop oatmeal just fine, but I actually prefer overnight oats because they're easy to prep ahead — you can line up your mason jars, and make 3-5 of these on Sunday to enjoy throughout the week ahead. It's much healthier than grabbing a scone on your way to work, which is what I used to do.
These Banana Overnight Oats are creamy, yummy, and packed with nutrients:
Fiber — Oatmeal is a wonderful source of gut-friendly, digestion-supporting fiber. Oatmeal's soluble fiber has also been shown to reduce LDL cholesterol (the bad kind), and reduce the absorption of cholesterol into your bloodstream. Lastly, the high amount of fiber in this recipe, along with the healthy fat, will help keep you full longer.
And more fiber — I've added some chia seed to the Banana Walnut Overnight Oats because chia seeds are also an excellent source of fiber. In fact, just one ounce of chia seed provides nearly 11 grams of fiber! Chia seeds also provide important minerals for bone health, such as manganese, phosphorus and calcium. I also like how the chia seeds expand when exposed to liquid, forming a digestion-friendly gel that give the overnight oats a pudding-like quality.
Healthy fat — The Banana Walnut Overnight Oats get a tag-team of healthy fat from flax seeds, as well as walnuts. Flax seeds, as I've mentioned before, are amazing for their cancer-fighting and blood pressure regulating properties. Walnuts, as I mentioned here, are basically nut royalty. Walnuts can reduce LDL (the bad cholesterol), increase HDL (the good kind), and reduce C-reactive protein, which is a marker for inflammation associated with atherosclerosis and heart disease. Walnuts can also improve blood vessel function, and can even suppress cancer cell growth in in vitro studies. So eat your walnuts, 'kay?
Antioxidants — Totally optional, but adding some fresh berries will take this breakfast next level. I like to add blueberries or sliced strawberries. If you want to get really crazy, you could even stir in some chopped spinach before you let the oats set up overnight in the fridge. Spinach has such a mild flavor, it'll fit right in. People might look at you weird, but we don't care about that, right? Not when we're too busy getting our antioxidant game on point.
No added sugar — The sweetness from this recipe comes exclusively from fruit — I use a half of a banana, but you could use the whole damn thing if you like things sweet. No worries — it's just fruit!
 
When to enjoy Banana Walnut Overnight Oats
You can enjoy these oats anytime, really. But here's how I like to use them:
Grab-and-go breakfast — pack into your bag before heading to work, or your kiddo's basketball/baseball/lacrosse game. Here's why I say this: our mornings are often rushed, and I prioritize making breakfast for my little athlete… and then run out of time to make something for myself. Not good, when you find yourself sitting in the bleachers, starving and trying to avoid the concession stand muffins and Doritos.
Pre- or Post-workout meal — I actually find this to be a lot of food right before a workout, so I usually eat only half of it about an hour before my workout, and then the rest after my workout.
Snack time —  A half-portion of these oats make an easy, filling afternoon snack. If eating oatmeal as a snack sounds weird, it shouldn't. After all, we'd think nothing of eating oatmeal cookies, right? And this is kind of the same thing, except without the cholesterol (butter) and refined sugar.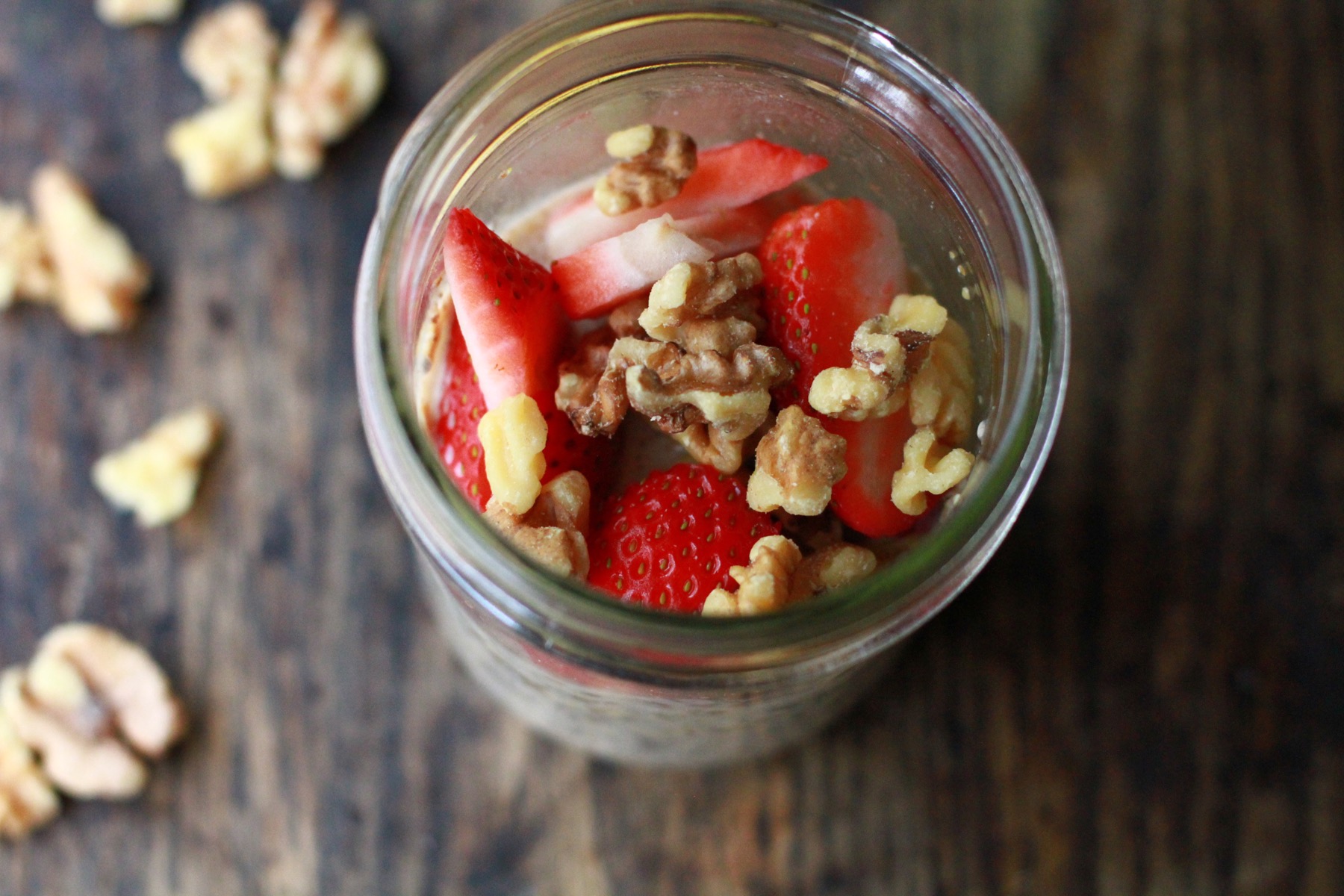 Ready to try these Banana Walnut Overnight Oats?
Step one: the next time you're at the store, pick up some simple ingredients and a couple of mason jars with lids.
Step two: set aside a few minutes to make the oats, like after dinnertime. Pop on a lid, and put the oats in the fridge, where they'll soften into a delicious oat-chia pudding overnight. In the morning, add your fruit and walnuts, and you're good to go.
And remember to tag me on Instagram if you try the recipe. I'd love to hear from you!
To try the recipe, just click on the green box below.