This week on More Good Day Oregon, I made a Grain Free Granola that has become an instant favorite in our family. Check out the video as I make this simple and scrumptious recipe step-by-step…
Grain Free Granola
I believe that whole, intact grains such as oats and brown rice can be an important building block in a healthy diet. Personally, I use an assortment of whole grains such as oats, brown rice, and black "forbidden" rice in my daily diet.
In fact, the longstanding Framingham Heart Study found that three or more daily servings of whole grains were associated with a slimmer waist. Another study found that the eating of three whole grain portions a day reduced high blood pressure as much as medication did. Whole grains may also help lower risk for prediabetes, Alzheimer's disease, osteoporosis, cancer in general, and breast and prostate cancer in particular (Source: Nutritionfacts.org).
Why Grain Free?
However, some people don't do well on grains, and find them difficult to digest.
Or, they're following a specific autoimmune protocol that prohibits grains.
So, I got to work making a Grain Free Granola that's sure to please anyone in the group, grain free or otherwise.
This recipe uses large coconut flakes instead of the traditional oats. In addition, we add different nuts and seeds to provide a pleasing texture, as well as a full nutritional line-up of fiber, protein, and omega 3's, a.k.a. healthy fat.
Why Walnuts?
For every meal, I like to think about the star of the show.
And while there's a lot of healthy players in this Grain Free Granola, one definitely stands out: walnuts.
I know walnuts may not be your favorite. Kinda boring, right?
In fact, walnuts haven't always been my favorite. Pistachios, almonds, macadamia nuts — there are so many more exciting nuts out there.
Well, that's what I used to think. Until I started doing my research on walnuts. Now, I try to have them daily.
Here's the scoop on walnuts…
Compared to other nuts, walnuts have among the highest levels of antioxidant and omega-3 levels.
Walnuts contain a kind of omega-3 called alpha-linolenic acid (ALA). The body can then take the ALA and turn it into EPA and DHA, which are considered the power-twins of healthy fats.
What else can the lowly walnut do? Its superpowers might surprise you:
Raise HDL levels (good cholesterol) and lower LDL levels (bad cholesterol)
Reduce levels of C-reactive protein (CRP), a marker for inflammation that has been associated with higher risk for atherosclerosis and heart disease
Improve mood
Provide protective benefits for the heart, due to special vitamin E content
Reduce issues related to metabolic syndrome, and reduce belly fat
Improve blood vessel function
Suppress cancer cell growth (in vitro studies)
So come on! Eat your walnuts!
If you're the kind of person who picks them out of chocolate chip cookies or banana bread, now's your chance to step up and do your body a solid.
Start enjoying a small amount (such as a quarter cup) on a daily basis.
Or, try a scoop full of this walnut-rich, Grain Free Granola in your cereal bowl in the morning.
Here are some other ways to enjoy your granola:
Add a couple spoonfuls on top of Chia Pudding
Add some to a parfait made with non-dairy yogurt such as coconut or almond
Sprinkle over salad greens and blueberries, with a balsamic dressing
Crumble over baked apples or fresh berries for a healthy dessert
Make it Your Own
I've made this version grain free, but if grains don't bother you, you could always substitute one of the nuts for an equal amount of rolled oats.
Or, you could make an oil free version by omitting the oil, and substituting with a bit more maple syrup — just use enough to lightly coat all of the ingredients.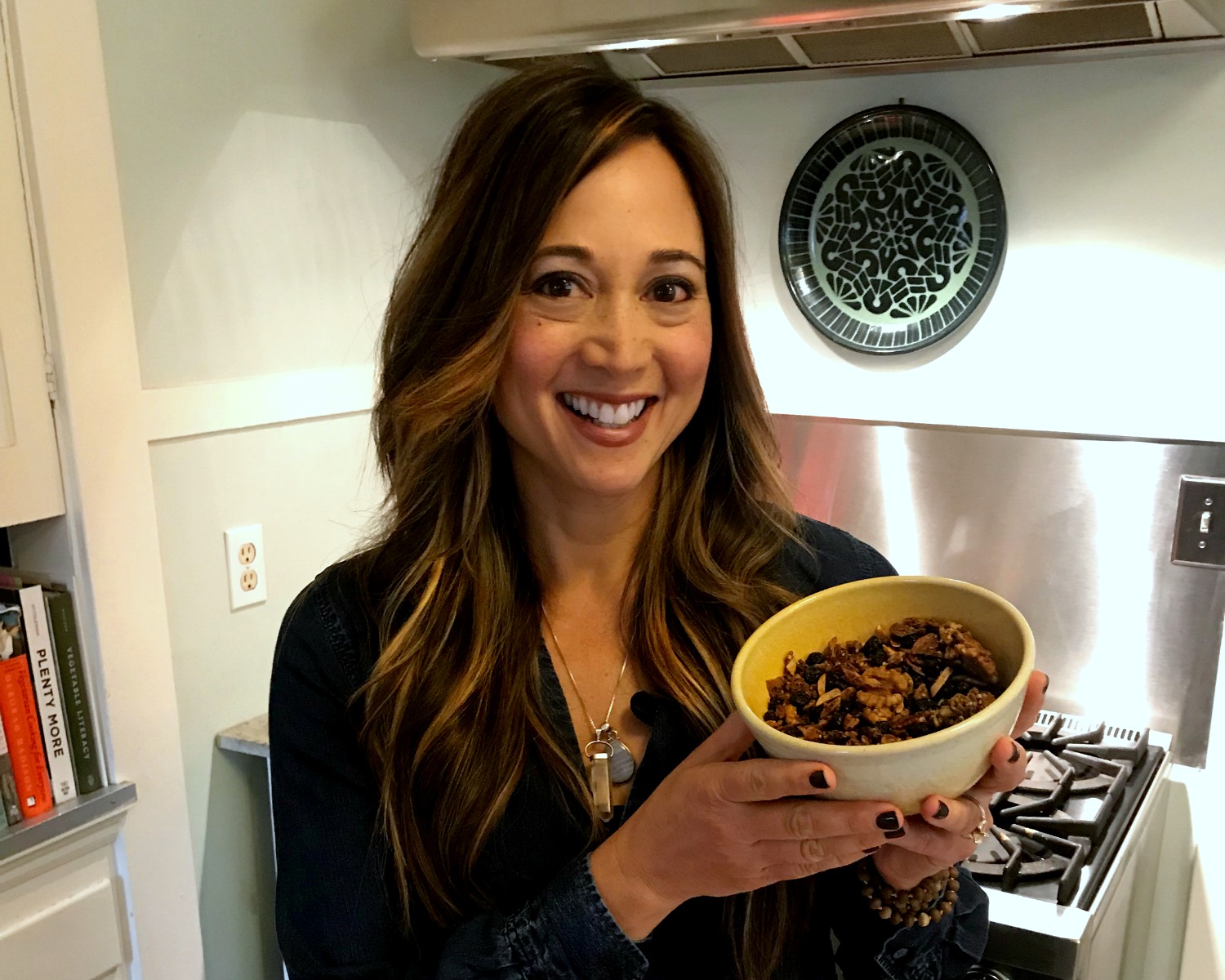 Ready for the Recipe?
I'm so excited for you to try this Grain Free Granola. It's super crunchy and yummy, with a hint of sweetness and cinnamon.
For the recipe, just click on the green link at the end of this blog post.
Also…
---
Download my latest freebie,
5 Reboot Recipes for a Healthier New Year
In celebration of the new year, I created a fun freebie for you!
This special PDF includes 5 recipes to keep your body healthier and happier in the new year.
All of these delicious recipes are plant-based, gluten-free, and dairy-free. They're also very simple to prepare. Because we're all busy, right?
Here are the recipes you'll find in this PDF:
Blueberry Flax Smoothie: Packed with antioxidants, fiber, and healthy fat.
Green Tangerine Smoothie: Take advantage of citrus season with this healthy smoothie.
Kale Salad with Maple Tahini Dressing: Tame those bitter greens with this subtly sweet dressing.
Creamy Dairy Free Tomato Soup: My makeover of the Pioneer Woman's Sherried Tomato Soup.
Coconut Curried Lentil Soup: Hands down, one of my most popular recipes.
Ready to get started?
Great!