Recipe crush: Spiced Chickpea Stew with Turmeric and Coconut
Every once in awhile, I'll see a recipe that's so inspiring and yummy looking, it haunts me. It demands my attention, saying "Cook me now! Right now! Tonight! Even though you had something else planned and you already shopped for it, and the ingredients are waiting in the fridge."
When this happens, I can't stop thinking about the recipe. It'll start to ricochet around my brain until I can't focus on writing or whatever else I'm supposed to be doing.
I'll go to the grocery store even though I don't really "need" to, with the sole purpose of getting the required ingredients.
I'll blow off the dinner I had planned for that night, even if I was organized over the weekend and actually did the meal prep ahead of time. 
Until I have a chance to get cooking, I'll start to worry the recipe won't live up to expectations.
Could it really be as delicious as it looks?
Will it be a pain in the ass to make?
Will I have to wash a lot of dishes?
And the true litmus test… will my family eat this? And be happy about it?
Well, my friend, my latest recipe crush — Alison Roman's Spiced Chickpea Stew (also known as #thestew) — turned out to be the real deal. Totally tasty, and totally lived up to the hype.
The stew doesn't require a whole lot of prep. It gets cooked in one pot, so there's not a lot of clean-up involved. And my family liked it — my husband even said he'd love to see the stew in our regular rotation.
Winning!
How I made the Chickpea Stew more nutritious
The first time I made this Insta-famous chickpea stew, it was indeed delicious.
And I was pleased that I already had most of the ingredients — canned chickpeas, coconut milk, veggie broth, turmeric, ginger — in the pantry and ready to go.
I followed the recipe's instructions for the most part — except for doubling the garlic and adding a whole lot more ginger, which is something I do often.
In addition, I made it in the Instant Pot since we're in the middle of a kitchen remodel and I'm still using a temporary kitchen set up.
That said, the stew turned out a little thinner than I wanted — more of a soup than a stew. I'm guessing it's because I made it in the Instant Pot instead of on the stovetop. So, I ended up adding another can of beans and a lot of greens to bump things up a notch.
The next time I made the stew, I reduced the amount of liquid to help with the desired stew-not-a-soup outcome.
The nutrition part of things received an upgrade with the addition of cumin and smoked paprika; by the way, did you know that dried herbs and spices — besides being delicious — are a great source of antioxidants? True story. Crack open that spice drawer every day.
I also added some finely chopped cauliflower to bring some cancer-fighting antioxidant firepower, and to further thicken the stew.
Finally, the greens. I like to add a couple different kinds of greens — a mix of chard, kale and/or spinach — to diversify the nutritional benefit. After all, more plant diversity in our diet equals better gut health, right?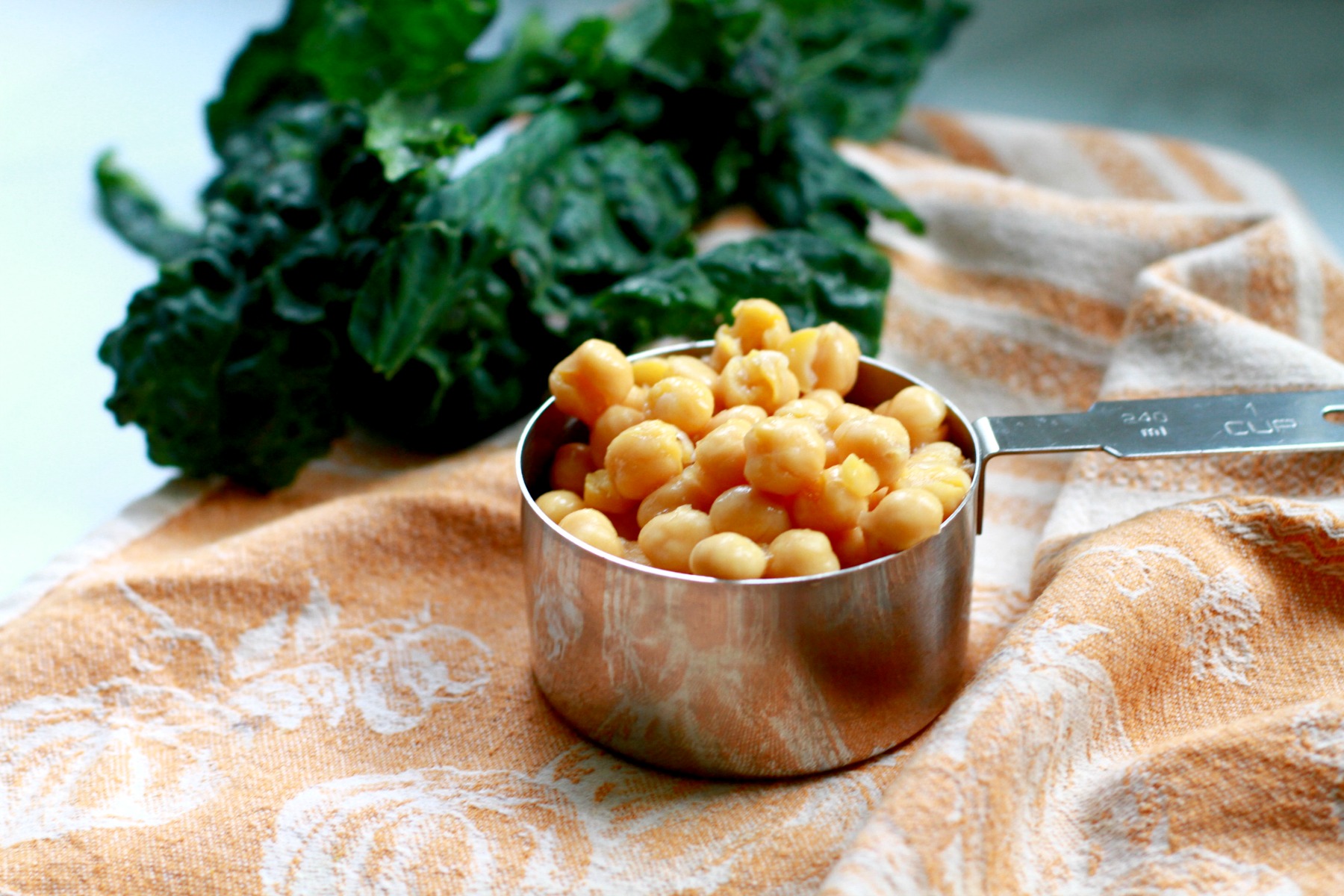 How to make the Chickpea Stew easier to make
So let's talk about how to make this beautiful Chickpea Stew easier to make.
First, don't be embarrassed to use pre-chopped onion packs. Trader Joe's has a great and inexpensive option for that. Just check the sell-by date to make sure you're getting a fresh pack. Sure, peeling and chopping an onion only takes a few minutes. But if your fairy sous-chef has already chopped it for you and it's ready to go, even better. Same goes for buying peeled garlic. So handy, especially if you're a garlic lover like I am.
Second, if you have an Instant Pot, bust it out for this stew, and use the modifications you'll find in my adaptation of the recipe.
I adore my Instant Pot, and not just because I'm cooking my meals in a temporary kitchen that doesn't have a stove or oven or dishwasher.
The reason I love the Instant Pot so much is because:
I like slow cookers, but I'm not great about doing the onion sautéing or other slow cooker prep you're supposed to do in the morning.
The Instant Pot is great for last minute, after-work, what-should-I-cook nights. You can have a "slow cooked" meal with about 15-20 minutes of active time, and then 40 minutes of free time while the Instant Pot does its magic.
The Instant Pot doesn't need constant babysitting or stirring during the cooking process. It's truly a set-it-and-forget-it experience. That's meal prep gold, in my opinion.
Ready to try the recipe?
So are you ready to make this Chickpea Stew or what?
I think you're really going to love this one.
It's creamy, satisfying, and filling — with just enough spice to keep things interesting, but not enough to scare off the kids. You can even leave out the red pepper flakes completely if that works better for your family.
I hope this healthy and delicious recipe finds its way onto your table soon.
If you have any questions along the way, connect with me over in Instagram at @mospo. I'd love to hear from you!