Recently on More Good Day Oregon, I whipped up a batch of Nacho Cheese Kale Chips. If you're new to kale chips — or you've only had store-bought — you're in for a major treat! Check out the video below as I make this recipe step by step…
The Inspiration Behind Nacho Cheese Kale Chips
So why kale chips?
Hasn't there been enough hype about kale in recent years?
Are you so over it?
Well, I might be inclined to agree. I get tired of food trends like anyone else.
But kale chips are different.
For one thing, they're delicious and crispy, and they have that same melt-in-your-mouth quality that seaweed snacks do.
Kale chips are also full of nutrients.
For starters: kale. There's a reason there's so much buzz around kale!
Here's why: kale, like other cruciferous vegetables such as broccoli, may:
Boost mood
Lower cholesterol
Prevent DNA damage
Improve immune function
Prevent cancer (like breast and kidney cancer)
Increase cancer survival rates
Reduce the risk of chronic age-related diseases
Source: nutritionfacts.org
Here's another reason I love these kale chips: nutritional yeast. Also known as "nooch."
Now, you may not yet appreciate the wondrous nature of nutritional yeast.
I admit, it doesn't sound super appetizing.
But nutritional yeast is a rockstar in the plant-based world. It provides a rich, savory, "umami," and cheesy flavor to all sorts of dishes. Here are some fun ways you can use nutritional yeast:
Where can you find nutritional yeast?
It's actually easy to track down — just look for it in the bulk section. You can also often find it in other parts of the grocery store — sometimes with the salad dressings and croutons, or with the spices.
Besides being delicious, nutritional yeast is also packed with nutrients — hence, the name:
High in B vitamins — Getting the recommended amount of B vitamins can be tricky when following a plant based diet, so consuming nutritional yeast is a great way to supplement. Nutritional yeast is a natural source of some B vitamins, and is often fortified to include B12 (Source: Dr. Axe).
Immune system support — The beta glucans in nutritional yeast have been researched for their ability to help boost the immune system overall and, specifically, provide anti-tumor immunity (Source: nutritionfacts.org).
High in protein — just 2 tablespoons of nooch contain 9 grams of protein (comparable to an ounce of beef). Source: Dr. Oz.
Supports healthy digestion — Nutritional yeast contains both fiber and prebiotic material, which supports the "good" bacteria in your gut.
Rich in folate — Important for pregnant and nursing women.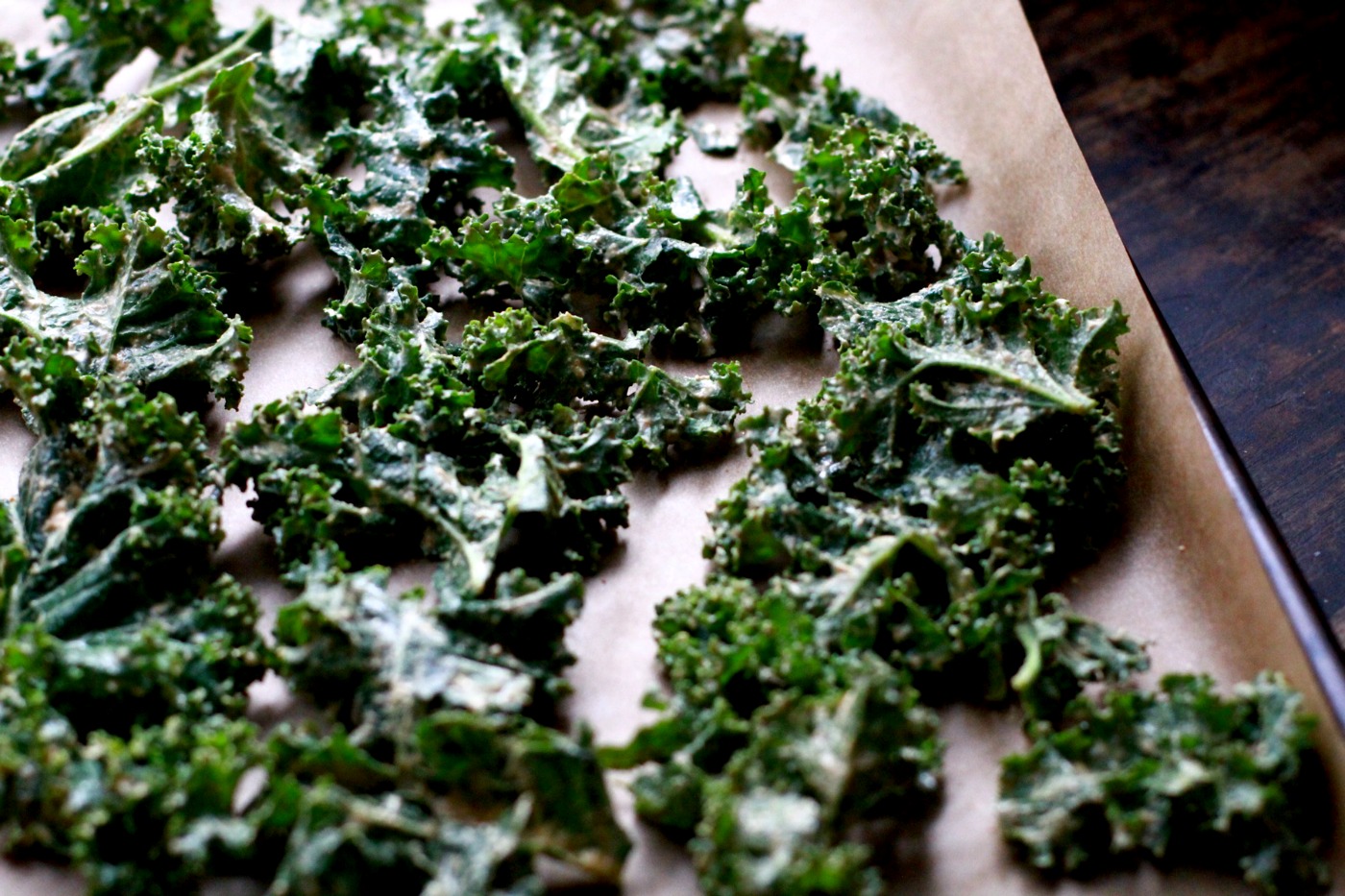 Ready to try these Nacho Cheese Kale Chips?
So there you have it: super healthy kale meets delicious and nutritious nutritional yeast. Two great reasons to upgrade your snack to one your body and taste buds will approve of.
Next — add some chili spices, and you have a healthy snack that delivers nacho cheesy goodness, without all of the dairy drama, artificial flavorings, or other additives you'll find in Big Brand chips.
To try the recipe, just click on the green box below.
Remember to tag me on Instagram if you try the recipe. I'd love to hear from you!
Also: check out my latest freebie…

I have a fun FREEBIE for you: Healthy + Family Friendly. This downloadable PDF includes 6 delicious and family-friendly recipes including:
Banana Walnut Overnight Oats
Peppermint Brownie Smoothie
Veggie Packed Chili
Coconut Curried Lentil Soup
Nacho Cheese Kale Chips
Maple Tahini Salad Dressing
Ready to get started?
Great!