Today's post is all about how to make healthy granola — in a way that's easy on both your schedule and your wallet!
To get us started, I have a new video for you. My healthy eating segment on More Good Day Oregon this week featured a Chocolate Pecan Granola that I think you're going to love.
This recipe offers great flavor and chocolatey goodness — and while it may taste "fancy," you'll be enjoying it at a fraction of the price of many store-bought, small-batch granolas.
How to make healthy granola: choose your base
There are two main types of granolas out there these days: the kind made with oats, and the kind made with no grains at all (marketed as "grain free").
I happen to like both oat-based and grain-free, but find myself eating oat-based most often.
Here's why: last week's post talked about how most Americans (about 97%) are deficient in one very important nutrient.
This nutrient, by the way, is NOT protein. Protein, in contrast, is actually something that most Americans are getting too much of, if you can believe that!
This mystery nutrient is soooooo important, because it can:
Help regulate blood sugar levels (and prevent risk for diabetes)
Help you feel full longer
Optimize digestion
Strengthen the immune system and "feed" beneficial gut bacteria
Improve blood cholesterol levels and support a healthy heart
Reduce risk for several kinds of cancer
What's the mystery ingredient?
Time to reveal the mystery nutrient: it's fiber.
Yep, boring, not-supersexy, wake-me-when-it's-over fiber.
Fiber's like the Clark Kent of the nutrition world — a superhero in disguise, quietly detoxifying our body and moving our bowels along like a BOSS, never complaining about what a thankless job it has.
Well, I see you, fiber. And I'm super grateful for your service.
So I'm helping spread the word about your heroic acts as much as I can.
Which brings me back to why I like the oat-based kind of granola better.
Why?
You guessed it: fiber!
Rolled oats — which is my granola grain of choice — has a good amount of fiber at 6 grams per half-cup. The daily recommendation for fiber intake, in case you're wondering, is 25-30 grams for most women, and 38+ for men.
I then like to add some extra fiber — to my granola, smoothies, and energy bites  — usually in the form of chia seeds (10g/ounce).
And then I like to add even more fiber — as in berries (3-4 grams/serving) on top of my granola.
Now, if you're grain-free for some reason, no worries! I have a yummy grain-free granola recipe for you as well.
And here's the good news: my grain-free granola uses nuts and seed as the base, which are also rich in fiber.
Add some healthy fat
Next, I like to add a form of healthy fat. This will help keep the oats from burning, as well as help you feel full for longer.
Usually, I'm using melted coconut oil, which infuses the granola with great, coco-nutty flavor.
I've also been loving tahini as a source of healthy fat. Tahini is made from sesame seeds — kind of like a loose sesame butter.
Sesame seeds, by the way, are a great plant based source of calcium — who knew?
For years, I just used whatever tahini I could find at the grocery store, but now my tahini of choice is from Seed and Mill. Sure, it requires a little extra effort to order online, but I'm telling you, friend, it's worth it!
Add some protein
Nuts and seeds provide a tasty protein boost. This also helps round out the granola and make it feel more substantial.
Feel free to experiment with whatever nuts you have on hand: cashews, almonds, hazelnuts, macadamia nuts, and even peanuts.
As for seeds, I tend to use pumpkin seeds most often, but you could also incorporate sunflower seeds. Since sunflower seeds are so small, I recommend adding them after the granola has baked and cooled — as an "add-in" (see below). This will help keep the sunflower seeds from burning.
Bump up the flavor (and sweetness)
Let's talk flavor. Most granola recipes call for vanilla extract and cinnamon. No brainer, right?
Now, if you want to make your granola even more delicious — and a tad exotic — you could add:
Unsweetened cacao powder
Spices such as cardamom, nutmeg, pumpkin pie spice, and ginger
Chai spices such as garam masala, allspice, cinnamon, nutmeg, and black pepper
Maple syrup
Honey
Molasses
Coconut nectar
As for sweeteners such as maple syrup and honey, I recommend starting with a small amount, such as a quarter-cup (to 2 cups of oats). You can always add more.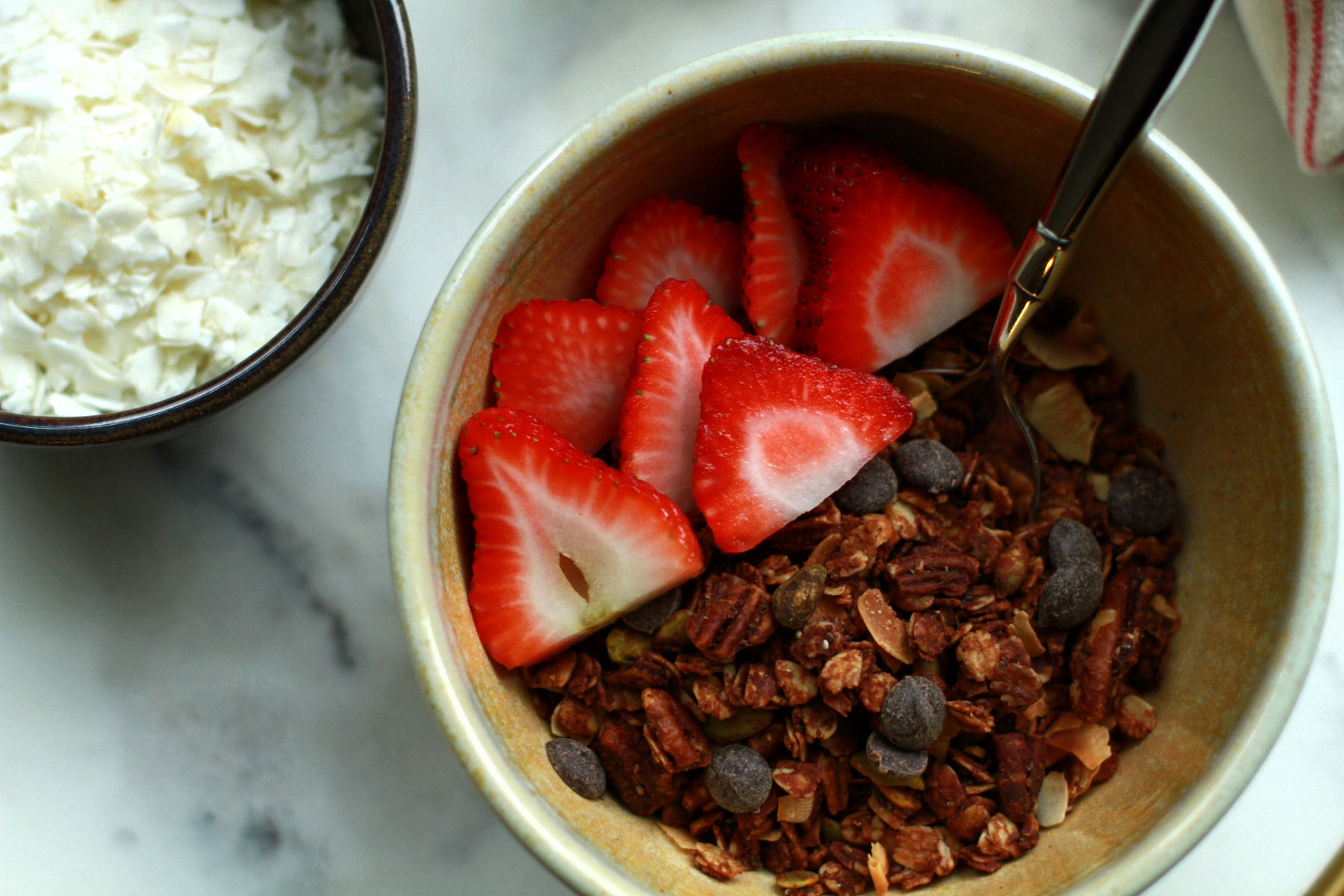 Final step: the healthy granola add-ins
Okay, so some things you will bake as part of the granola "batter": oats, sweetener, spices, etc.
And some things you'll want to add later, either because they might burn if you don't prepare them separately (small seeds or coconut flakes), or because they might melt (chocolate chips), or they're already perfectly prepared (dried fruit, candied ginger, etc.)
Some of my favorite granola add-ins include:
Toasted coconut
Hemp seeds
Dried berries: cranberries, blueberries, goji berries, etc.
Dried fruit: chopped apricot, dates, prunes, raisins, etc.
Pre-roasted nuts I have on hand: cashews, almonds, etc.
To serve, I also like to add sliced fruit or berries, and a generous glug of homemade or store-bought plant based milk. 
Ready to try a recipe?
I think you'll find that making your own granola is both easy and simple. And you'll probably have many of the ingredients in your pantry already, which is always a plus.
In addition, you'll be able to make a batch of granola for 2-3 bucks, depending on the ingredients you decide to use.
So here are a few recipes to check out:
Connect with me on Instagram
So how about you?
What are your favorite granola flavors and ingredients?
Let me know by connecting with me on Instagram — also, be sure to let me know if you have any questions along the way. I'd love to hear from you!