You and I are passionate about healthy food, but we want it to be fast, right? Because if healthy food can't happen fast, then we won't be eating healthy, veggie-packed meals on a consistent basis. And consistency is what helps us move the needle on our wellness goals. So here's one of my favorite healthy fast food hacks: freeze your smoothies.
Smoothies are, hands down, one of the top ways that people can sneak more veggies into their diet on a regular basis.
Of course, smoothies are easy to make. But sometimes we want to save even more time and get even more efficient in the kitchen.
For example, this comes in handy if you have kids and they love smoothies. But you're too busy in the morning to make one.
Another example would be if you work out in the morning, and don't want to deal with the blender before you head to the gym or yoga studio.
Or if you start work really early, and don't have time to make breakfast in the morning.
Whatever the reason, I highly recommend that you consider freezing your smoothies to save time and energy during busy weekday mornings.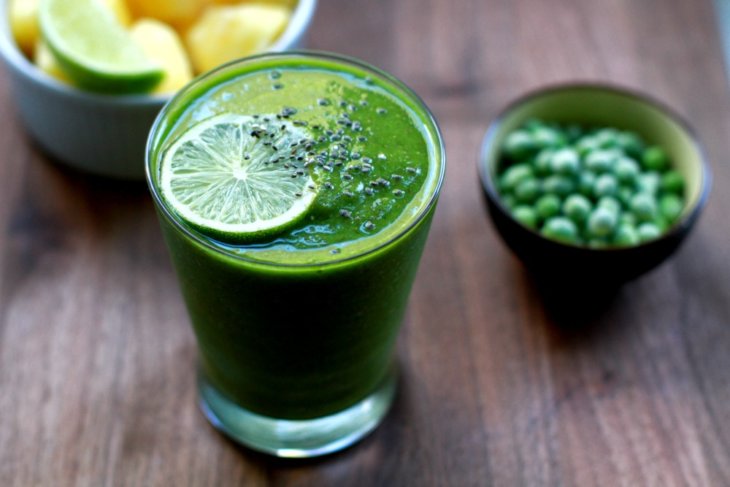 How to freeze your smoothies
Usually, I like to blend and enjoy my smoothies right away, but some mornings are just too busy for that. When life gets super busy, there's nothing like reaching into your fridge for a grab-and-go smoothie.
If you're headed to work (or your home office), this is the perfect portable breakfast.
Freezing your smoothies is actually a very simple process, although I have some tips to help with logistics and flavor retention:
Use wide-mouthed, glass mason jars — Don't fuss with squeezing contents out of plastic bag. Use a glass jar that you can drink out of later. As for size, I prefer pints. This is perfect for a single serving, and easy to fit into your freezer. Just pop on a lid and you're good to go!
Leave some room at the top — Wide mouthed mason jars do well in the freezer, as long as you don't fill them to the brim with liquid. Leave an inch or two at the top so the contents have room to expand.
Omit the ice while blending — When I blend smoothies for immediate use, I usually add some ice to keep it cool. However, you won't need that if you're freezing the smoothie — extra ice tends to "water down" the flavor.
Plan for defrosting time — If you want to enjoy the smoothie first thing, then let it defrost in the refrigerator overnight. If you'll be taking it to work, I find it thaws out pretty quickly if you leave it on your desk for awhile. Once defrosted, just stir and enjoy. I'm sure this goes without saying but… whatever you do, don't microwave it. Not tasty!
Enjoy soon — I'm a huge fan of short-term freezing. That way, your frozen food doesn't have enough time to develop freezer burn. Or get lost behind the frozen corn or berries, only to be discovered the next time you have to defrost your freezer. My advice: once you freeze your smoothie, plan on enjoying it within a week or so.

Want to try freezing your smoothies?
I hope these quick tips help you get some healthy fast food into your life, while saving you time and energy in the kitchen.
If you need some recipes to try, here are some ideas:
I hope you found today's post helpful. Let me know what you think by heading over to Instagram @thehealthycookingcoach— I'd love to hear from you!
---
Need more support for your healthy cooking journey?
Get on the waitlist for my monthly membership: the More Veggies Cooking Club
Each month, I provide new recipes and step-by-step cooking videos to help people learn more about healthy cooking and add yummy recipes to their rotation.
If you could use some more support for your healthy cooking game, sign up for the waitlist and I'll let you know when enrollment opens.