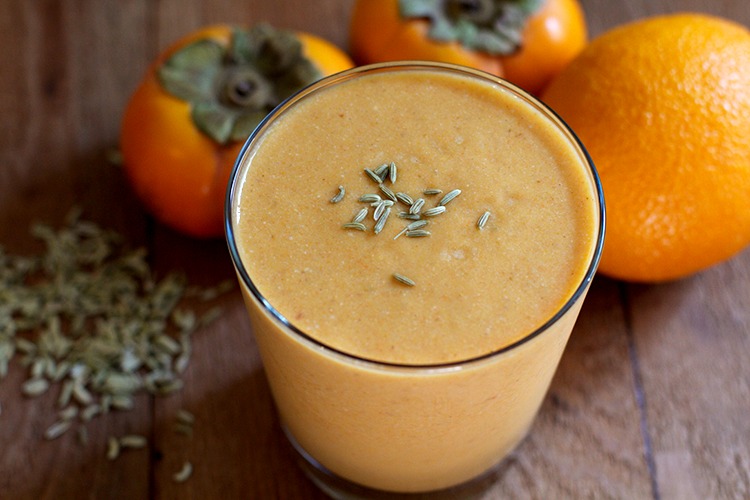 If your Thanksgiving was anything like mine, it was filled with all sorts of indulgences.
I ate a little bit of everything I don't usually eat — from the not-so-unhealthy sweet rolls and green bean casserole with bacon… to the criminally unhealthy supersize Cheetos (I know — don't ask).
I mean, who knew supersize Cheetos even existed?
Not me… and I quickly discovered that I still don't have much will power when my favorite childhood junk food is around.
So, back to clean living I go.
Because it's all about striking a balance this holiday season: Cleanse, indulge, reset. Cleanse, indulge, reset. Cleanse, indulge, reset.
When you're consistently coming back to healthier living after indulgent meals or days, it evens the scale — often, literally.
And when you repeat this process throughout the holiday season, chances are you'll arrive in the New Year healthier and happier than you were before the holidays started — instead of ending up bloated and burned out like most people.
Want to Experience a Healthier Holiday Season This Year?

Registration for my Healthier Holidays Program officially closes on Monday, December 1, so now's a great time to join this powerful group program. This special online nutrition course includes:
Done-for-you, flexible meal plans to accommodate both home-cooked and restaurant/party meals.
Tips and strategies for eating/drinking at restaurants and parties.
Simple "real food" recipes for delicious smoothies, juices, salads, soups, entrées and snacks.
Healthier recipes for potlucks and cocktails.
Weekly conference calls featuring a Q&A session.
Nutrition/lifestyle coaching tips sent directly to your email inbox.
Access to a private Facebook Group for extra support and community.
All of this is included in the package price of only $89! 
Earlier this week, I shared one of the Healthier Holidays recipes, the Cranberry Orange Smoothie.
Today I'm sharing my new Persimmon Smoothie. It offers a refreshing change if you're getting burned out on green or berry smoothies. It also includes turmeric and ginger to help support healthy digestion and soothe holiday party-induced inflammation.
Blend one of these up for a clean, energizing start to your day.
It might even help you stay away from those supersize Cheetos

PERSIMMON SMOOTHIE RECIPE
Serves 2.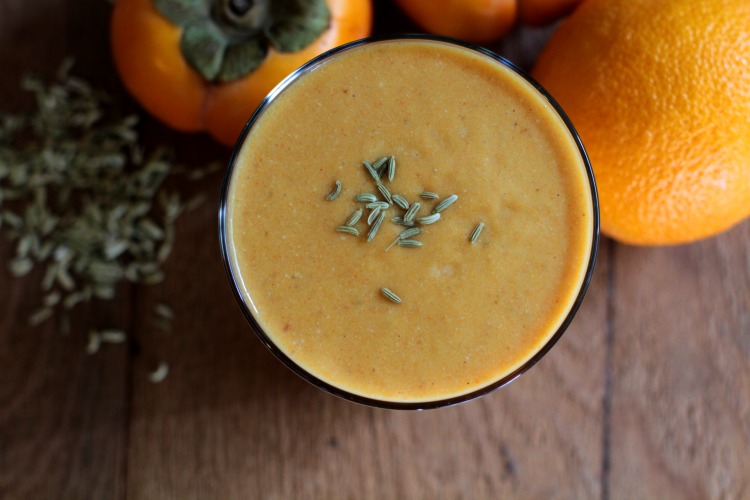 INGREDIENTS
1 cup of organic, unsweetened almond milk
1 cup of filtered water
6 tablespoons of hemp seed (or 2 servings of your favorite plant-based protein powder)
¼ avocado, chopped
1 ½ cups Fuyu persimmons (the kind you eat firm), peeled and chopped
2 small oranges; peeled, seeded and chopped
1 medjool date, chopped (omit if you have pre-diabetes or diabetes)
¼ teaspoon fennel seeds (you can always add another ¼ teaspoon if you want a stronger flavor)
½ teaspoon grated fresh ginger
1 teaspoon vanilla extract
½ teaspoon ground turmeric
a pinch of sea salt (optional)
1/2 cup of ice (optional)
INSTRUCTIONS
Place ingredients into blender, adding ice last. Process until creamy and smooth. Add water a quarter-cup at a time if you want a thinner consistency. Serve immediately or store some in fridge for later. Salud!
For more healthy recipes and lifestyle tips, sign up for my newsletter — it's free!