Today we're diving in to healthy recipes for Super Bowl. But before that, it's confession time… some of our — yours, mine — Super Bowl parties of the past have been a little messy. Am I right?
In my case, I'm thinking specifically of a 90s era Costco tub of margarita mix that went into the freezer and miraculously transformed into a potent margarita slushee.
Or going multiple rounds with slow cooker Buffalo chicken dip.
Or feeling super gross and burned out come Monday morning.
Well, the good news is that we grow up eventually. The parties become more about the game (or, you actually do something else during Super Bowl. Hello Nordstrom!).
And/or the food on the buffet table becomes a little healthier here and there.
You notice I said "here and there" because for the most part, the food on the buffet table is downright not-healthy.
But when we're invited to the party, something healthy shows up, right?
The party host doesn't usually need any help filling out the dessert section of the buffet table. Plenty of other people are happy to sign up for that.
But you and I — the brave and the willing — are excited about taking something healthy to a Super Bowl party because we know that if all else fails, we'll at least have our own healthy food to enjoy.
Alongside anything else we choose to partake in. Because it's all about balance, right?
So if you're in need of a few healthy recipes for Super Bowl, here's my starting line-up. These are my tried-and-true, most-popular, party-tested recipes…
Healthy recipes for Super Bowl
Okay, I'm not suggesting that you take a blender of smoothies to a party. But I *am* saying that it'd be a good idea to start out Super Bowl Sunday morning with a healthy breakfast. Squeeze in some extra veggies before the craziness happens, right? For something fresh, greens-packed and bright with citrusy flavor, try my Fresh Start Smoothie.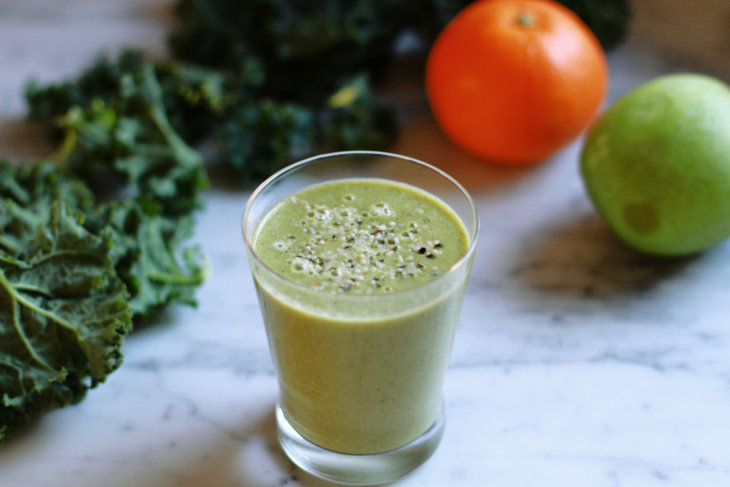 Feel like taking an appetizer? Everyone loves hummus, and people love homemade hummus even more. That way, you get to control the texture, creaminess and flavors. Also, garnishes are key here.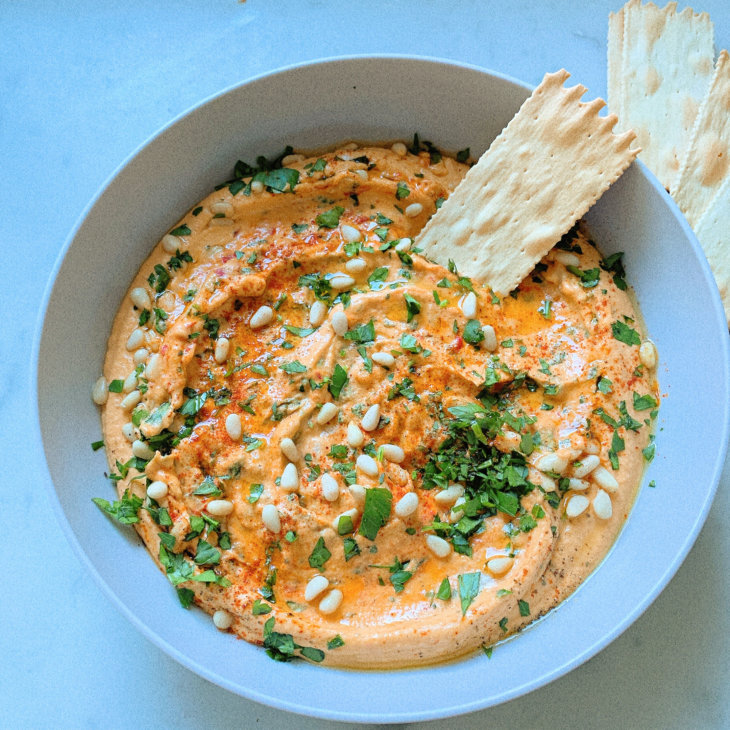 Take this Easy Party Hummus, for example. Simple, classic and delicious. Then we make it a teensy bit fancy with a scattering of pine nuts and chopped parsley.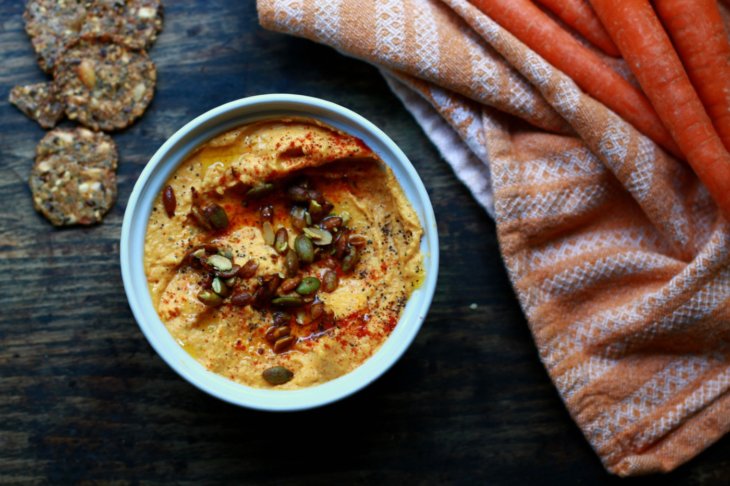 Thai Carrot Hummus: A little spicy, a little sweet. This isn't your usual plastic-tub hummus, and it's bringing its A-game to Super Bowl.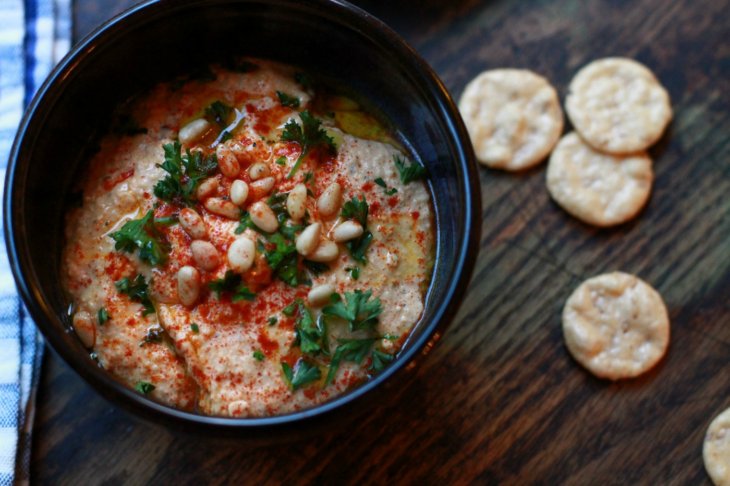 Spicy Sriracha Hummus: If you like sriracha, you're going to looooooove this hummus! Another crowd pleaser of an appetizer.
Burned out on hummus?
You could try this healthy take on Mexican Layered Dip — all the flavor, but without the gut-bomb part of most layered dips. It's super easy to make because you'll be using canned refried beans and store-bought salsa. Add some fresh chopped tomato, avocado, and cilantro and you're ready for go time. No need to give anyone a tummy ache with a bunch of sour cream and cheese.
You know what would go great with that Mexican Layered Dip? A hefty drizzle of my Vegan Cheese Sauce. It's also great on its own, as a dipping sauce for chips and veggies.
Yes, salads
The older we get, the more appreciative people are when we take a salad to a party.
And Super Bowl is no exception. I mean, people need to take a break from the ribs and chicken and chips at some point, right? Believe it or not, they're especially excited when they see a gorgeous salad on the table.
Beet Bliss Salad: this salad celebrates winter flavors with roasted sweet potato, earthy beets and toasted walnuts — all tossed with a delicious maple miso dressing.
Mediterranean Farro Salad: Now this is a hearty, entree style salad. The perfect salad to take if you're worried there won't be anything for you to eat at the party. Load up your plate with this beauty and you'll be super satisfied.
Roasted Cauliflower Salad with Pomegranate and Hazelnuts: This one's a little fancier: pomegranate seeds. It's stunning on the plate and full of that roasted cauliflower goodness we've all come to appreciate over the years.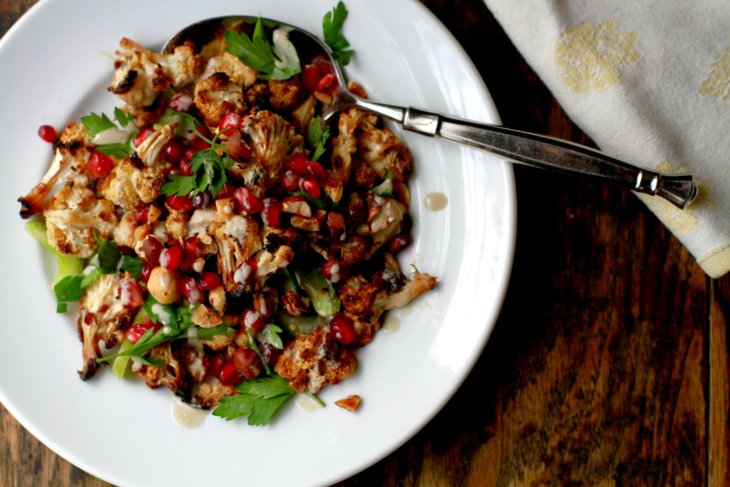 Thai Chopped Salad: Colorful and vibrant, this is another one of my most popular salads. It's a buffet table stunner, and people love this one. The ginger-lime vinaigrette is also a nice complement to any margaritas or lime LaCroix you may be having.
Veggie Packed Chili: Yes of course I have my own version of chili! And this is hands down one of my most popular recipes ever. It tastes just like the chili you've been making all these years, but I've swapped some (or all) of the ground meat with chopped veggies, mushrooms, and cauliflower rice. Should I say it again? People LOVE this chili!
Mango Macadamia Nut Bites: Like I said earlier, the dessert section of the buffet table will be as crowded as a Trader Joe's parking lot on Saturday morning. But if you want to run the option with something healthy, try these Mango Macadamia Nut Energy Bites. They're rich in protein and fiber, delicious, and so much better for you than those soft pink frosted cookies all the kids love these days — or anything else you'll find on that buffet table.
What about beverages?
We can't forget about drinks, right?
If you want to take a break — either between rounds or for the day — here are some zero-proof bevvies to check out:
Some other booze-free beverages worth mentioning are:
I hope these healthy recipes for Super Bowl help you enjoy a healthier Super Bowl Sunday this year. Let me know if you try anything here by tagging me on Instagram at @thehealthycookingcoach. I'd love to see what you come up with!
---
Need more support for your healthy cooking journey?
Get on the waitlist for my monthly membership: the More Veggies Cooking Club
Each month, I provide new recipes and step-by-step cooking videos to help people learn more about healthy cooking and add yummy recipes to their rotation.
If you could use some more support for your healthy cooking game, sign up for the waitlist and I'll let you know when enrollment opens.