I'm all about the healthy holiday recipes these days. This week on More Good Day Oregon, I made Roasted Butternut Squash with a Maple Tahini Sauce. It's simple to prepare, but fancy looking. Which makes it the perfect party or potluck dish to make for your health-minded friends and family. 
The inspiration behind Roasted Butternut Squash with Maple Tahini Sauce
This dish is delicious and savory-sweet, and looks gorgeous on the dinner party table.
If you have leftovers, you could also put a few wedges onto a green salad for an easy weekday lunch. Drizzle with some delicious homemade salad dressing, and you're good to go!
Butternut squash for healthy skin, hair, and immune system
Butternut squash, as well as the other winter squash varieties, is high in beta carotene, which the body converts to vitamin A for healthy hair, skin, and immune system.
This makes it a great dish to prepare for those long winter months, which can be tough on the skin — and tough on the immune system as well.
The other nice thing about this recipe is that it uses fresh sage and thyme to infuse the squash with flavor. Herbs — both dried and fresh — are a great source of antioxidants and nutrients, so they're wonderful to include in your everyday cooking. 
This recipe is adapted from this recipe on the Feedfeed, which features an amazing tahini from Seed and Mill.
For years, I've been using regular old tahini from the grocery store. But once I tasted Seed and Mill, I couldn't go back. It's well worth special ordering it online. And if you do, be sure to try a wedge of Seed and Mill halvah — it's insanely delicious and completely crave-worthy.
Looking for more healthy holiday recipes?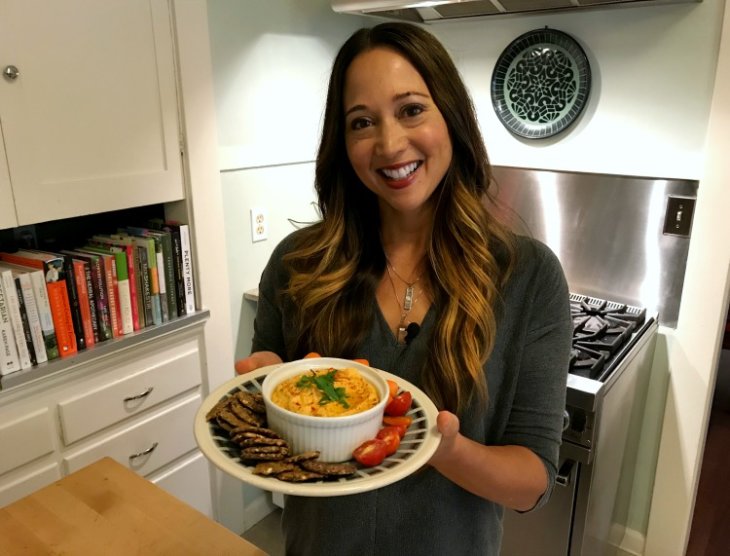 If you're looking for additional healthy holiday recipes, here are some ideas:
I hope these recipes help you feel nourished, supported, and all glow-y this holiday season.
Remember to tag me on Instagram if you try the recipe — I'd love to hear from you!